Attention L&D Professionals! Pave Way for a Successful 2023! [Webinar]
Change is part and parcel of life! It brings with it various opportunities to learn, improve, and grow. As we embrace change and start with 2023, make the best of it by being well-versed and keeping up with all the L&D trends. Join our webinar to know more!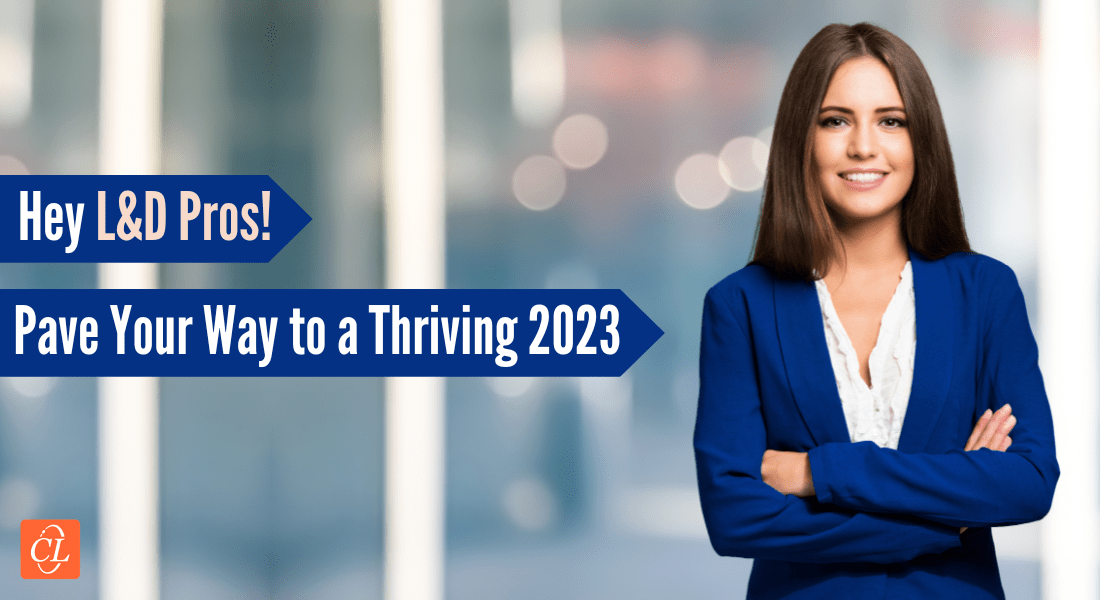 2023 is here! With that, I'm sure you would have heard people say, "New year, new me!" and seen them making resolutions as we step into a new 365-day chapter to explore various possibilities, grow, and make the most of every opportunity this year brings to us. Well, in all positivity and good hope, we do need to be aware and prepare ourselves to realize the chances. If you, our esteemed L&D professionals, intend to make a difference and mark 2023 as your year, this is a golden opportunity for you!
Hey, L&D Experts! The Future is Bright and Promising!
Here are a few aspects to look closely:
Skills you need to address
Training formats to consider
Top investment areas

Emerging Technology
We have organized an insightful, informative webinar for you that will walk you through the various trends and details to help you comprehend how it is the best time to be in the L&D industry. With such information and research-based analytics at your disposal, you can easily make timely decisions and harness your skills to claim 2023 as a milestone in your journey to success.
Without further delay, let's get started!
2023: A Pivotal Point in the Future of L&D Professionals
In terms of individual learning and overall industry growth, the year 2023 has some amazing things in store for you guys! So, let's take a look at a few aspects that are ready to impact the future of L&D in 2023.
Skills L&D Experts Need to Address
As business scenarios are evolving rapidly, learning and development (L&D) teams play an increasingly important role in helping organizations and employees navigate the changing landscape and succeed in the face of new challenges and opportunities. With that said, their role has evolved significantly as they are no longer mere training facilitators. Instead, L&D experts actively participate in the strategic decisions and influence the course of training.
With that said, to ensure effective and up-to-date training outcomes, L&D professionals also need to focus on building their own skills. Learning agility, emotional intelligence, and design thinking, to name a few. This is a crucial aspect as it will help them gain a holistic understanding of the present business scenario, the desired goals, and how to bridge the gap between the two. Therefore, tapping into the right skills is the key to an efficient 2023. Curious to know more?
Our webinar will cover it all. From knowing which skills to master to things that you need to keep in mind when designing eLearning courses for your learners. So book your slot now!
Training Formats to Consider
In today's fast-paced world, learning habits are changing faster than ever. They greatly impact the way we consume, retain, and implement information. Failing to select the right training format slashes the training efficiency, thereby impacting the learning outcome and overall business goals. To avoid such dreadful consequences, it's always good to be prepared. And if you are wondering how? The answer is by being well-informed and up-to-date on industry trends.
Having a thorough knowledge of various types of training formats offers you an edge in creating innovative, immersive, and learner-centric training material. It will help you cater to different kinds of learners to augment productivity and performance, which will further boost the training ROI. Some of the popular training formats include Virtual Instructor-led Training (VILT), gamification, microlearning, eLearning, simulation, etc. Wish to know which format can benefit you and how? Then this webinar is something you shouldn't miss. Register now!
Top Investment Areas for Your L&D Expenditures
What, why, when, and how are essential attributes of training investment. They play a very important role in deciding the outcome of your corporate training and have a great impact on your business and your employees. So, investing in the right tools, instructional design, and software is indispensable. It will help you maximize the training output in a better, more cost-effective, and time-saving manner. The top areas to invest your allocated L&D budget can vary from Learning Management System (LMS) to social learning to rapid eLearning accelerators. But what's the popular choice? Are you headed in the right direction? Well, all these questions will be answered in detail in our webinar. Register and become a part of the enriching experience now!
Emerging Technology
In today's innovation and tech-driven world, there are ample tools and software that facilitate quick and efficient training solutions. Modern technology help minimize human effort, save cost, and improve the quality of the content to ensure an engaging and motivating learning experience. Therefore, such emerging tools and technology should be well within your consideration radar. It can be Artificial Intelligence (AI), Machine Learning (ML), image editing software, text-to-speech software, a video editor, or other tools. Well, that seems like a lot. Isn't it? Depending on your requirement, it may vary. But don't overwhelm yourself. There's a simple solution to this. Join our webinar and learn more about the emerging technology that you should incorporate into your training ventures to ensure a successful and productive 2023.
Wrapping It Up!
Enhance your skills and knowledge, boost your career, and stay competitive in today's fast-changing world. Get ready to learn and grow with us by signing up for the webinar. It is scheduled for the 7th of February 2023, at 11:00 AM EDT. The duration of the webinar will be one hour, out of which 15 minutes will be dedicated to the Q&A session. We will be excited to have you with us and look forward to your active participation. Don't think too much! Register now!