Ho Ho Ho! 5 Ways to Make Your Virtual Office Christmas Party Magical and Memorable!
Christmas is here, and so is the time to celebrate! If you're holding yourself back just because you have a remote workforce, it's time to cheer up and get into action. In this blog, we have compiled some virtual office Christmas party ideas for you!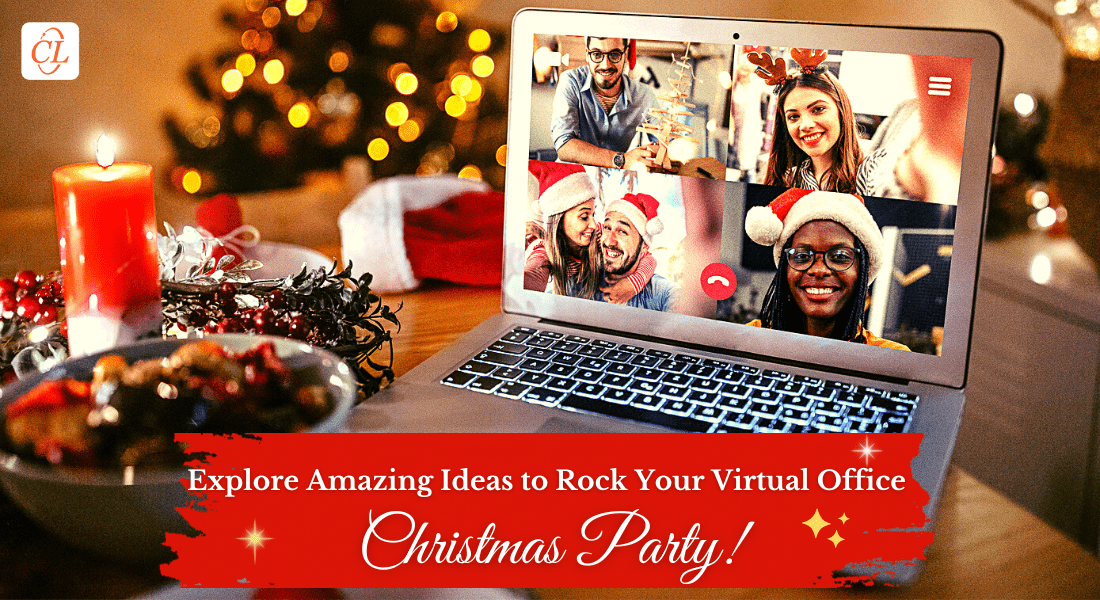 Christmas is a very special time of the year, full of traditions and holiday cheer. If you're running a virtual office or have employees who work remotely, this is the perfect time to engage and include them in the celebratory fun! If you're wondering how? The answer is pretty simple. Throw a virtual Christmas party!! That's right. It can work wonders and give a kickstart to the festive mood! We are excited already. And you can't wait to celebrate either. Well, that's why you should do all in your power to create an engaging, memorable, and warm atmosphere at your Christmas party (let not the virtual element hold you back).
Hey! We Heard the Elves Talking About Virtual Christmas Party Ideas!
Here's the list:
Send virtual Christmas cards
Jazz up in Christmas Colors
Create a Christmas playlist
Organize Christmas-themed games
Set Christmas backgrounds
In this post, we'll go through 5 ways on how to bring the spirit of this holiday to your company by organizing a Christmas-themed event that's fun for employees and all ages alike! Let's get started.
5 Ways to Make Your Virtual Office Christmas Party Magical and Memorable!
Send Virtual Christmas Cards
You can share a heartfelt text, an email, a photograph, or even a tickling meme, but nothing beats the warmth and joy of sending and receiving a Christmas card. That's right! It helps you convey to your employees that you value their presence in the company. Moreover, you can even motivate your employees to create eCards and send them to their colleagues. This thoughtful gesture offers a win-win situation as it brilliantly captures and promotes the Christmas essence of goodwill and solidarity.
If time permits, you can add personalized messages and customized designs that convey the essence of the festive mood. You can get creative as there are endless possibilities. All these things will help your employees feel at home than just some regular workplace meeting or event.
Jazz up in Christmas Colors
If there's one thing everyone loves about Christmas (besides… everything), it's probably getting dressed up for the festive. And nothing says "Christmas" like red, green, silver, and of course golden!! So wear those colors proudly as you host this year's Christmas party!
This will enliven the party and augment the spirit of Christmas. To make things more entertaining and take your virtual Christmas party up a notch, try including the Christmas characters. You and your employees can dress up as Santa Claus, an elf, an angel, a reindeer, a snowman, etc. Well, there are plenty of options out there. Pick the one that works the best for you!
Create a Christmas Playlist
Party without music. What kind of party is that? I know, right! It's like designing an eLearning course without interactivities. Boring! It is understandable that you might not be able to have those loudspeakers that get you grooving on the dance floor, but that shouldn't stop you from having fun. You can certainly create your very own Christmas playlist for the virtual party to set the mood right and get your employees in the holiday cheer. From #trending to evergreen Christmas carols, ask your employees to share their favorite picks for the festival and this season. You can even select a music platform where you can create a playlist, share it with your employees, and ask them to add the songs that they like. This makes them feel involved in the celebration process, which further augments their festive feeling.
But if you decide to take the responsibility of creating the Christmas playlist, make sure they're safe for work. Don't go overboard with your choices; try to choose something that fits both the party vibe and the kind of business you are into.
Organize Christmas-themed Games
Are you on the playful list? Ho Ho Ho! Well, games are a great way to keep your employees entertained and engaged in the online party. They provide you with ample opportunities to share laughs, spread joy, and have fun! You can choose different types of games, such as board games, trivia games, puzzles, etc. The game elements help you break the ice among the participants and get them to collaborate and know each other well to share a good time.
You can include multiple game options like Christmas Bingo, Christmas Selfie, Gingerbread House Decorating Class, Steal the Gift, Costume competition, Secret Santa, etc. Moreover, you can also plan a virtual festive movie night and select the movie based on popular demand and relevant to the occasion. Games without a prize are just like a journey without a destination. Make sure the winners are duly rewarded for their efforts. Since it is Christmas and the festive feelings are stronger than ever, it is recommended that you offer small gifts as participatory rewards and a gesture of appreciation to every employee. So Christmas games and activities can definitely help you get everyone into the holiday season mood.
Set Christmas Backgrounds
Set a solid groundwork for your virtual Christmas party by putting a festive background on your meeting platform. It will make your virtual office Christmas party feel more like a real celebration than a mere online event. You can choose any background, like a winter landscape, Christmas tree, wreaths, lights, stars, scrumptious food, etc., that you associate the most with Christmas. You can ask your employees to choose relevant backgrounds well in time to showcase their creativity and enthusiasm during the online party.
Even better, during the virtual party, backgrounds can also work as an icebreaker among colleagues as they can talk about the background themes, making the interaction more interesting. Wish to spruce up things a little more? Well, you can certainly use the Christmas filters to add to the holiday magic! This will brighten up the mood of your employees and help them tap into the spirit of Christmas.
Signing Off with Warmest Greetings!
Christmas is the magical time of the year! With the year coming to an end, we are reminded of the joys, love, friends, the family we are blessed with, and even the workspace and colleagues that we should be so thankful for. Every feeling and experience culminates into a sense of achievement and demands celebration. And having a remote workforce should not stop you from that. Rather it should be all the more reason to make the virtual Christmas party one of its kind! It helps boost employee morale and fosters a sense of belongingness. So put on your party planning hat and make this Christmas a memorable one!
We at CommLab India wish you
a MERRY CHRISTMAS!!
Psst! Here's an after-party idea for you. How about some hot chocolate and a good read? Treat your inner champ with this eLearning Champion eBook to gain practical insights, implementation ideas, tips, and more on eLearning. Check it out now!