How Articulate 360 Helps You Build Highly Interactive eLearning Courses
Authoring tools play a crucial role in the development of interactive and engaging eLearning courses. Articulate 360 is one of the most popular online authoring tool suites and this blog explores the apps provided on the platform.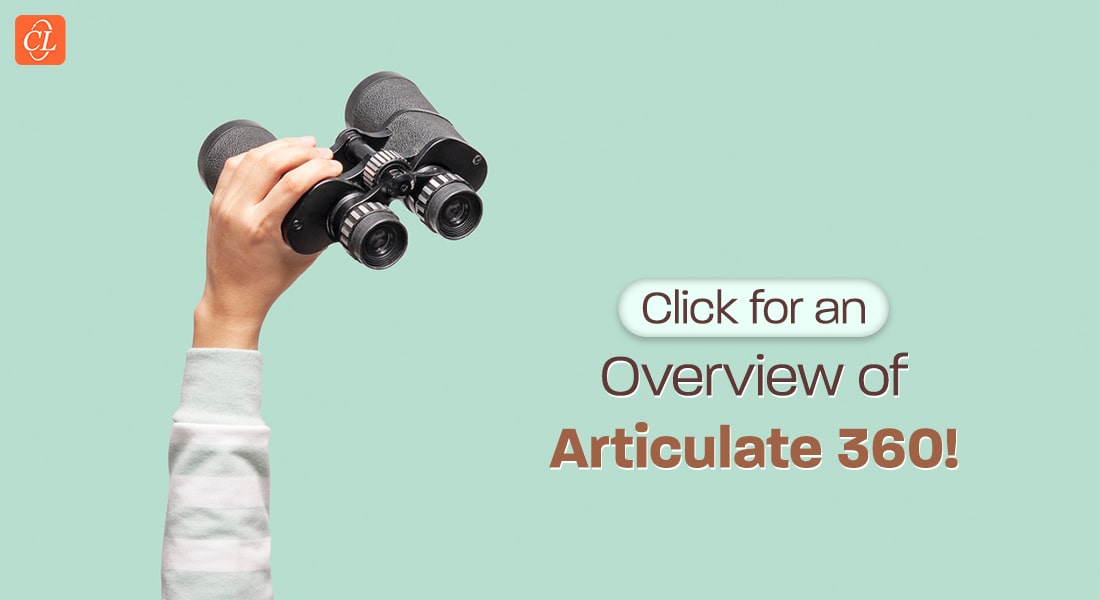 Technological advancements are off the charts in this modern digital era probably in every possible industry. The eLearning industry, being no different, has been innovating itself a lot lately with the introduction of contemporary-age authoring tools, learning management systems (LMS), etc. Articulate 360 is one such authoring tool suite that consists of various top-quality creator tools to help you create eLearning modules quickly and effectively. Articulate includes 9M+ assets and templates, review apps, on-demand training, collaborating options, etc. This blog helps you explore the apps provided by Articulate 360 for eLearning development.
Did You Check Out Articulate 360 for eLearning Course Development Yet?
If not, here are some of the primary apps offered by the platform to get started:
Storyline 360 – a desktop-based authoring tool for eLearning development
Studio 360 – used to create and incorporate interactivities within courses
Rise 360 – a cloud-based tool for responsive authoring
Review 360 – used for reviews and collaborations
Read on to explore the remaining apps provided by Articulate 360.
Articulate 360 apps can be divided into 2 major categories – desktop-based apps and cloud/web-based apps.
Desktop-based Services or Applications
These applications need their executable files to be installed on your desktops so that they can function. Articulate 360 provides 4 primary desktop-based applications, they are:
1. Storyline 360
Articulate Storyline 360 is an eLearning authoring tool that helps us develop any sort of eLearning course for almost every modern-age device. You can easily add quizzes, media, or other interactive activities to make your courses more engaging. The pre-built templates, stock pictures, and other assets help you create basic yet interactive eLearning courses in minutes. The responsive player adjusts your course's resolutions to suit your device without you actually tweaking it. Courses built on Storyline 360 allow mobile-friendly playback and supports various touch-screen gestures to facilitate a comfortable mobile learning experience.
2. Studio 360
Articulate Studio 360 helps you create various interactivities within your courses to make them more engaging. It comes with 3 different categories of tools that assist you with the different aspects of course creation. They are
Presenter 360 – This tool lets you create interactive PowerPoint-based eLearning courses.
Quizmaker 360 – Create and embed different types of quizzes and surveys within your eLearning courses.
Engage 360 – helps you create first-hand interactions for your online courses.
3. Replay 360
This is a video editor and recorder that allows you to record your screen activity or your webcam or both at the same time. The developers can also add external media clips and other media assets and edit them all together to create the perfect video they desire. They can also add text on the bottom part of the screen which makes it easier to highlight important information wherever required. Apart from developers, it also helps the instructor guide the learners throughout the course because it captures their screen activity and webcam at the same time to create a professional-looking screencast.
4. Peek 360
It is very similar to Replay 360 but works specifically to record your screencast activities on your desktop. You can select and record the app of your choice, adjust your microphone settings and edit the recordings. You can easily upload the screencasts to Articulate Review 360 to have a seamless review and feedback from all the involved stakeholders. You can also download the recordings to load them effectively into your LMS.
Web-based Services or Applications
Tools that are web-based don't have to be installed on your desktops because they can be accessed on your browsers from anywhere, on any device. Just like desktop tools, Articulate 360 offers 4 web-based services as well. They are:
1. Rise 360
Articulate Rise 360 is a web-based authoring tool that allows eLearning courses to be designed for multiple devices where mobiles are the most preferred. Due to the fact that Rise 360 is efficient in responsive authoring, it is extremely beneficial for small businesses as well. Rise 360 has a lot of block templates such as text blocks, image blocks, and interactive multimedia blocks that allow the developers to add various lessons or assessments and stack them together to create engaging eLearning courses. Responsive courses can adapt to your screen size and adjust the resolutions accordingly, to have an uninterrupted eLearning experience on the device of your choice. Just like Storyline 360, you can create beautiful and effective courses within minutes, and publish them.
2. Content Library 360
This is a big repository of 9M+ images, customizable templates, 100k+ combinations of characters, and videos that are regularly updated. eLearning developers get to use whatever they need, at no extra cost as access to the complete content library comes in with your articulate subscription. These pre-existing templates and other assets help developers create eLearning courses quickly and efficiently. Since there are so many assets available, developers can incorporate several instructional design strategies like gamification and scenario-based learning to design engaging and immersive eLearning courses.
3. Review 360
Articulate has its own review tool where courses can be directly published and shared with all the stakeholders with a unique link so that everyone can give their feedback. Due to the fact that this is a web app, no one has to download a separate file and install it, which facilitates an easy review process. Feedback can be addressed and resolved individually with context while all comments can be viewed in a single place as threads which helps in seamless collaborations among all the stakeholders in an eLearning project.
4. Training 360
If you are facing any sort of issues, or you wish to learn about various tools in detail, Articulate Training 360 provides exclusive videos, on-demand sessions, and training webinars to help you understand the basics and advanced features of Articulate 360 and create productive courses with it.
Articulate 360 Pricing!
Articulate 360's pricing is divided into 3 sub-categories named "companies", "freelancers", and" academic". Articulate also offers a free trial of 30 days that does not require a credit card to sign up.
Companies – Teams plan – $1399 annually, per user
Freelancers – Personal plan – $1099 annually, per user – Teams plan – $1399 annually, per user
Academic – Personal plan – $549 annually, per user – Teams plan – $699 annually, per user
Wrapping Up!
Articulate 360 is one of the leading authoring tools suites available for eLearning professionals to design creative and engaging eLearning courses. Articulate has a variety of tools available in a single place so it saves a lot of time for the developers to search and operate different tools for different purposes. Articulate publishes content in Tin Can API 1.0‑ or SCORM‑ that is AICC-compliant to work seamlessly within your learning management systems (LMS). Since it provides so many benefits, it allows developers to design interactive courses easily inclusive of various instructional design strategies. Here is a free webinar recording to help you explore modern instructional design strategies and create engaging eLearning courses.