Articulate Review: 4 Smart Tips to Gather Consolidated Feedback from Stakeholders
This blog post shares a few tips on gathering feedback on e-learning courses from stakeholders using the Articulate Review app. Articulate 360 includes Articulate Review, a web-based app that helps multiple reviewers share feedback and keeps all of them in the loop.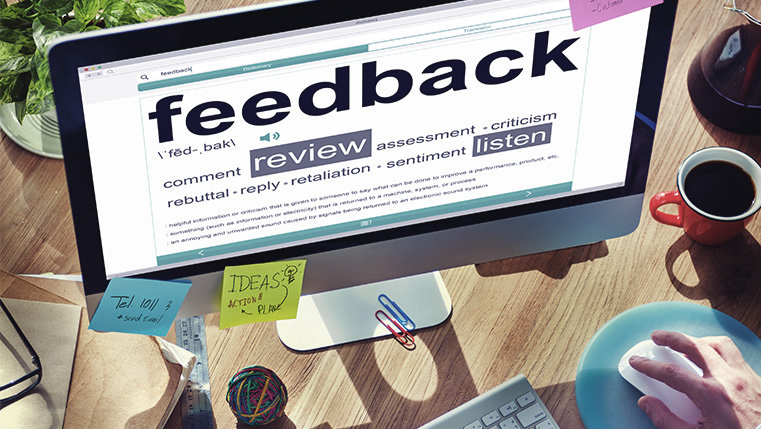 In a world where clients are globally dispersed, it becomes quite a task when feedback on e-learning courses has to be gathered. The process of collecting feedback from all the SMEs or stakeholders involved in reviewing an e-learning course can become tedious. Sometimes, reviewers might share feedback informally, which is not documented. How and where can this feedback be gathered and shared? How do you streamline project feedback in one place so as to avoid confusion?
Well, the interactive eLearning development tool Articulate 360 includes Articulate Review, a web-based app that offers reviewers/stakeholders a common platform to share course feedback and keeps all of them in the loop.
In this blog post, I will share a few tips on gathering feedback from stakeholders using the Articulate Review app
Tip 1: Comment in Articulate Review without an Account
With Articulate Review, reviewers can add comments and share their feedback without having an Articulate ID. This feature makes it more simple to get feedback from several stakeholders. The app prompts reviewers to provide their email ID to post their comments.
However, it is also possible for reviewers to comment on the course without signing into an account. They just have to open the Articulate Review app and check the option "Allow users without Articulate ID to comment" from the Share tab. This small enhancement makes the environment more collaborative for stakeholders.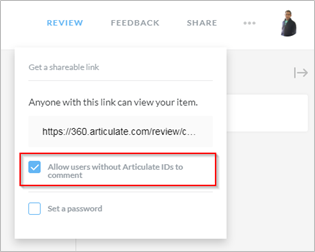 Tip 2: Manage Comment Notifications in the Email Digest
You have the option to choose when you wish to receive notifications, either hourly or daily email digests, or the default instant delivery. But you have to change the settings by signing into the account and making the changes.
You have 2 options to set the notifications.
Select "Notification Settings".
Click the ellipsis (…) on the upper right corner and Select "Project Notifications".
This setting will apply to all your Articulate Review projects.
Tip 3: Attach Files to Your Comments
With this feature, reviewers can attach files in several formats such as PDFs, audio, videos, screenshots, and others assets along with their comments on the same page to ensure all changes stay in one place.
To attach a file, click the attachment icon in the comments box. Then browse for the required files. Click Enter to post the comments along with the attachment files. You also have the option to download or delete files that have been attached.
To download the attachment, you need to click the icon and choose the place to save it. To delete an attachment, hover the mouse over it and click the 'X' icon. The attachment can be deleted only by the owner of a comment. Each attachment file size is limited to 5 MB and each comment allows to attach up to five files.
In addition, you can add/mention your team members who will be notified of a comment. Also, remember to add emoji as they add value to words to present more advanced learning communications efficiently.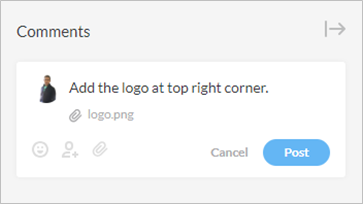 Tip 4: Export Comments to a CSV or PDF file
Articulate Review also supports exporting comments to PDF and CSV files. When the comments are consolidated in a single file, it becomes easier for designers to fix all the assigned comments. That's because it allows them to analyze the comment, take backups, or note the requirements. You can also download files offline, as it makes it simple to resolve issues offline.
Here's how you can do it:
Select Export Comments.
You can choose the Comments Order drop-down to organize your comments by recent view and incorporate them in your report.
Choose the Export format drop-down to select the preferred format from the list.
Finally, you can click the Export button to save your report to view it offline.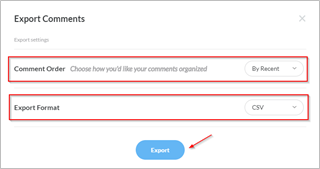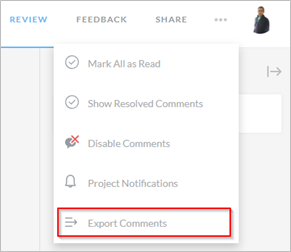 This is one of the best ways to easily gather feedback from your clients in one place, without any hassles.
With Articulate Review from the Articulate stable, you can streamline and speedup the feedback gathering process for efficient course development. I hope these tips help you. Do share your insights about the tips shared.