Looking for Rapid VR in eLearning? 5 Ways CenarioVR Makes it Possible
Looking for affordable virtual reality in eLearning? Here's CenarioVR by Trivantis that enables the easy and fast creation of VR eLearning.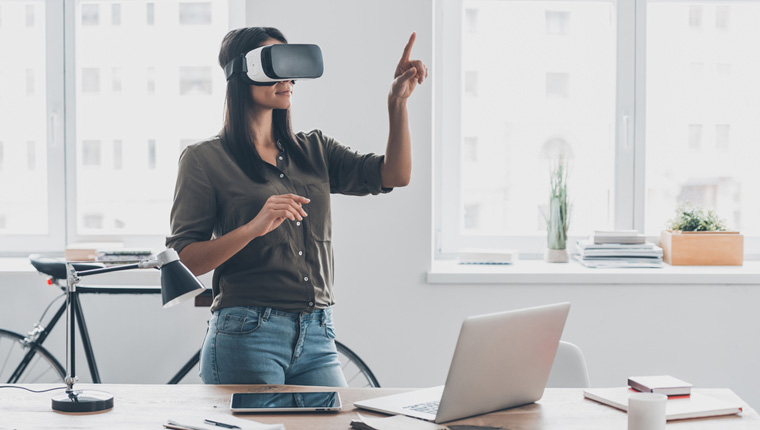 Thanks to technological advancements, we are witnessing various ways Virtual Reality (VR) is impacting different industries. According to a report by Zion Market Research, the global VR market is expected to reach approximately USD 26.89 billion by the year 2022. Virtual reality is also being increasingly used in eLearning. It offers organizations the ability to create artificial environments in which employees can learn by practicing in a consequence-free environment.
Quick and Easy VR Authoring with CenarioVR
What is CenarioVR?
CenarioVR is an online authoring tool by Trivantis that allows the hassle-free creation of virtual reality simulation courses.
5 Ways CenarioVR Facilitates the Rapid Authoring of VR Solutions
Get started with scenes
Make learning engaging with interactivities and conditions
Publish to different formats
Deliver content on multiple platforms

Track learning activities with an in-built API
For instance, in an experiment, Google used VR to run a simulation of an interactive coffee machine. Google made a group of employees try their hand at brewing coffee virtually before the actual task, while another group tried to learn the same skill using hands-off medium – ­­­­YouTube videos – and compared the results. These are the findings:
Those who went through the VR simulation required only two practice runs before feeling confident to use a real coffee machine, while those who watched YouTube took about three runs.
Those who used the VR simulation committed fewer mistakes and took less time than those who watched the videos.
Although the benefits of VR in online training are evident, there are still difficulties in terms of set-up and creating custom learning content. And this is where Trivantis is aiming, to make the process easier with its immersive learning platform, CenarioVR. And the best part: It is affordable and even offers a free trial!
Before I get started with how CenarioVR makes easy and fast authoring a reality, let's know about it a little closely.
What is CenarioVR?
Introduced in 2018, CenarioVR is an online authoring tool that comes as part of the Trivantis suite. CenarioVR allows the creation of virtual reality eLearning simulations where learners can explore and learn in a 360-degree virtual environment. VR allows being in the moment and learning in the actual situation learners will be working in. For instance, the shop floor of an organization can be simulated for a safety training program.
CenarioVR offers a lot of options to learners such as 2D embedded videos, dynamic feedback, and branching scenarios. In turn, this allows them to interact with the VR course on multiple levels. However, implementing VR in eLearning is time, cost, and resource intensive. The idea behind CenarioVR is to enable the creation of VR-based eLearning courses without burning a hole in your training budget.
5 Ways CenarioVR Facilitates the Rapid Authoring of Virtual Reality eLearning
1. Get Started with Scenes Easily
All you need to get started is a 360 ̊ photo or a video which will be the initial source piece. So, if you want a virtual reality simulation on how to operate a machine, the actual environment where the equipment is used has to be filmed first. And how do you do this?
You can use 360 ̊ cameras such as Yi 360, Samsung Gear 360, Kodak PixPro, and Ricoh Theta SC. However, there are certain factors to be kept in mind to ensure the usability of the source pieces:
Images have to be in the PNG or JPG format
Audio should be in the MP3 format
Videos should be in the MP4 format
Compress recorded videos (which generally have a high resolution of 4K and more)
Once the images or the video of the actual environment are recorded, the starting scene of the course can be selected. The next step is to make the scene intriguing and engaging. This can be done by adding questions, hotspots, and interactivities using CenarioVR's built-in editor. It's as simple as it sounds! Shoot-Capture-Select to get started.
2. Make Learning Engaging with Objects, Interactivities, and Conditions
Now that the scenes for the eLearning simulation have been decided, it's time to make them eligible for immersive learning. To do so, it's imperative to add objects, interactivities, and conditions to the scenes. How do you do so?
CenarioVR offers a range of objects which can be added using the "Add Object Button." The objects that you can add to the scenes are:
Hotspots
Questions
Info Cards (similar to text boxes)
Audio
Images
Moreover, you can add videos in the 3-D scenarios of virtual reality eLearning courses. However, these videos should be 2-dimesnsional. For instance, if you want to show a close-up of how a part in a machine functions, you can incorporate a video that shows the same. Learners can select that specific part and see how it works. They can move the scene and map how it fits in the 3D scenario of the entire machine.
When it comes to making the scene more action-oriented, you can link different scenes together, hide and show certain part of the scene, allow panning within the scene, and jump to different scenes on the timeline of the scenario, making them interactive. You can add conditions to these actions.
3. Publish to Different Formats
Once the actual development of the virtual reality course is done, it's time to think about publishing the learning content. Before the final publish, you might like to check if the course is up to the mark. This will ensure your learners get a course which is error-free. To help you do so, CenarioVR offers the "Preview Mode" that can be used to view how the scenario will appear to learners.
Moving on, CenarioVR allows several ways to publish your virtual reality eLearning courses. Some of them are:
Publish to CenarioVR Live and Mobile: This gives learners access to your virtual reality scenarios on mobile apps. Moreover, the content will automatically be attached to the analytics (depending on the plan you opt for).
Publish to the HTML5 format for hosting on website
Publish to xAPI, SCORM(1.2/20024) for hosting on a Learning Record Store or a Learning Management System
Moreover, you can choose to publish courses publicly or privately. While public content will be open to everyone, private content will be only available via invitations. This can be done for membered lists or specific user groups.
4. Deliver Content on Multiple Platforms
You have published the virtual reality eLearning course. What about how your learners will access it? Can your learners access them on their mobile devices or VR headsets? Courses developed in CenarioVR can be accessed on:
Web and mobile devices
Mobile apps
Popular VR headsets such as :

Oculus Go
HTC Vive Focus
Oculus Rift
Samsung Gear VR
Cardboard Headsets
And much more!
5. Track Learning Activities
Another way CenarioVR offers an easier and faster authoring solution? It offers in-built xAPI data tracking feature. Tracking helps you analyze learners' progress and performance. For instance, you can track course status, number of attempts, scores, and enable bookmarking. xAPI or Experience API can also track learning outside the eLearning course, be it videos, blog, games, or offline activities. Moreover, you can view data regarding the virtual reality scenario and learners from the Analytics tab.
Apart from tracking basic metrics such as overall score and completion rates, you can even view metrics such as:
Leaderboards
Full experience timelines
Time taken by learners to answer certain questions
What's the best part? You can track performance in real-time, while your learners are taking the virtual reality eLearning course!
Tying it All Up!
So, these are the 5 ways CenarioVR enables the fast and easy creation of virtual reality eLearning courses. Evidently enough, CenarioVR is a powerful authoring tool to have in your training arsenal.
Here's a whitepaper by Trivantis on "5 Tips for Creating a Winning Immersive Learning Strategy" that you can download for free. It will give you insights on how to conceptualize a strategy, what makes an immersive learning strategy effective, and much more!