The New Lectora 19 Suite: Rapid eLearning Authoring at its Best
The newly updated Lectora 19 authoring suite is in the market and enhances the scope for rapid eLearning. With an enhanced template library, built-in screen recorder, CenarioVR integration, rapid eLearning is going to be easy.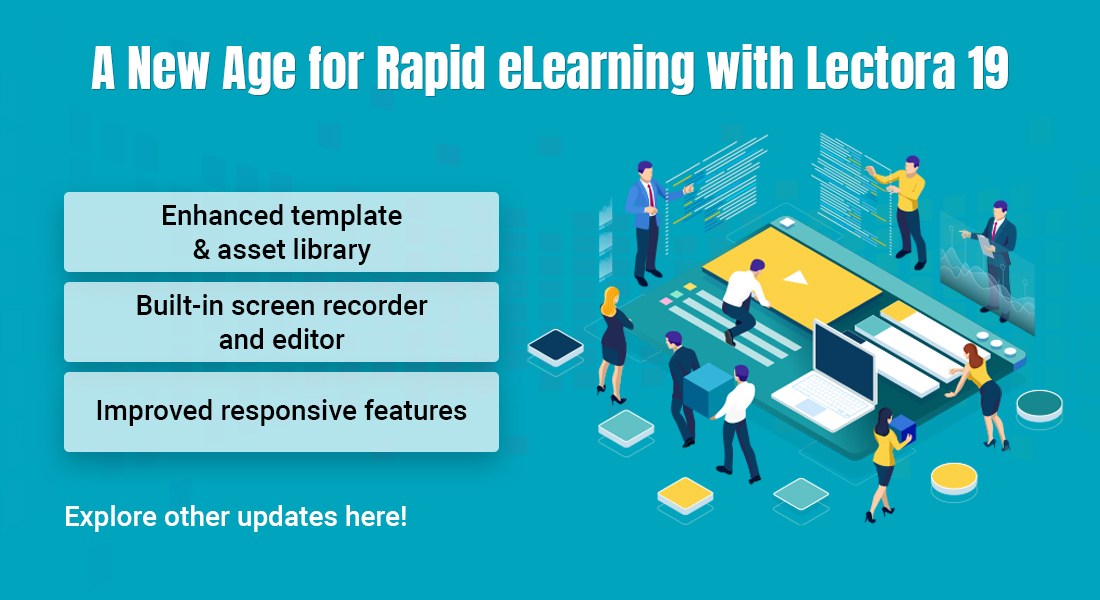 Hello Training Managers! Did you hear about the new Lectora 19 suite and its amazing features? I have to say, nothing makes us corporate L&D professionals happier than cool authoring features that enable rapid eLearning design and development. After the last few months of unprecedented training challenges, I am sure you too are eager to get your workplace training programs back on track. And what better way than with rapid eLearning using a newly updated authoring tool?
Improve Rapid eLearning Development with Lectora 19
Enhanced asset library
Built-in screen recorder and editor
XLIFF format for simplified translations
Immersive 3D experience with CenarioVR integration
Section 508/WCAG updates for accessible learning
But Why Rapid eLearning?
Rapid eLearning is a training design and development strategy that places more value on speediness and cost-effectiveness over the ostentatious displays of traditional eLearning. It is the go-to solution when you need to quickly deliver eLearning courses for your employee training. It is practical, minimalist, and focused on creating effective and engaging learning experiences through the application of robust instructional design principles. It can help you cut down eLearning design and development time by 40-60% without compromising on the quality of learning, and it does so with the help of rapid authoring tools.
Why go for Lectora 19?
TrivantisLectora is one of the most popular and commonly used authoring tool suites in the market today. It has long been a favorite of corporate training managers because of its features – such as the switchable language interface and Responsive Course Design (RCD) that are so useful to train remote workforce. This year, Trivantis was acquired by eLearning Brothers and are offering the newly updates Lectora19 version for eLearning authoring. This updated version comes with three separate packages
Silver Suite: This includes the Lectora Online authoring tool, ReviewLink App, and in-app access to the asset library.
Gold Suite: It includes both Lectora Online as well as the desktop version, along with the ReviewLink app and in-app and full access to the new asset library.
Platinum Suite: It provides access to CenarioVR, an authoring tool that can be used to build VR-based eLearning courses along with Lectora Online and Desktop. It also has the ReviewLink app and both in-app and full access to the new asset library.
Now that you have a good idea of what Lectora 19 has to offer, let's get down to the features of this authoring tool and see how they can help in rapid eLearning design and development.
5 Features of Lectora 19 for Rapid eLearning
1. Enhanced-suite Template & Asset Library
A built-in library of multimedia assets always gives an authoring tool additional brownie points. With its new updates, Lectora 19 now offers more than 40 times the amount of stock multimedia assets as before – over 120 million stock images, 89000 customizable icons, 9000 PowerPoint layouts, and 1500 interactive templates.
All these ready-to-use assets will definitely cut down a lot of time, effort, and money which otherwise would have been spent on designing and developing assets from scratch. Templates also have built-in xAPI statements and tons of accessibility legwork already done. They will facilitate rapid eLearning, ramp up your eLearning course quality, and make courses more visually engaging for learners.
2. Built-in Screen Recorder and Editor
A screen-recorder and editor comes in handy when you need to create 'watch-try-do' software simulations. With the new built-in screen recording and editing feature in Lectora 19, you won't need to use any additional tools like Camtasia and Snagit anymore.
You can set up your webcam and add your own live recording to the screen to give learners a guided learning experience. You can also liven up the course by adding text, images, animations, and transitions.
3. XLIFF Support for Simplified Translations
eLearning translations is a very important but tedious aspect of corporate training. It is important because it enables you to train your global workforce in the language they are comfortable in and helps maintain consistency irrespective of the learner's nationality or geographical location. With Lectora19's new built-in translation tool, you can easily import and export translation files in an XLIFF format (Localization Interchange File Format).
The XLIFF format allows the easy transfer of files that need to be translated as well as localized between tools. It is different from the previously used RTF format (a proprietary of Microsoft) that only allowed translation. Unlike RTF, XLIFF is an open format and hence easy to update. XLIFF enables rapid development of multilingual eLearning courses that can be localized to fit language-specific content as well.
4. Immersive 3D Experiences with CenarioVR Integration
Immersive learning is steadily gaining popularity in corporate online training. But many training managers are still skeptical about using VR-based eLearning, mainly because of the high development cost. But rapid eLearning authoring tools like CenarioVR provide the much-needed solution for this.
Just like any other authoring tool, CenarioVR too enables course development using built-in templates; the only difference is that you get to use templates that are 3 dimensional to make you eLearning courses come to life.
With the newest CenarioVR update, you can also use:
3D objects in the GLB format (the binary form of gITF or Graphic Library Transmission Format) that can be rotated, positioned, animated, and used as hotspots that trigger animated movement. You can import 360⁰ images, 360⁰ videos, and 3D objects from the built-in library.
You can add audio exactly where you need it in the course using the spatial, immersive audio feature.
Earlier, you had to purchase the licensing for CenarioVR separately. But with the Lectora 19 Platinum suite, CenarioVR comes as part of the package. Integrating CenarioVR with Lectora 19 will allow you to directly import and export course files across these two tools and help build engaging VR-based eLearning courses.
5. Section 508/WCAG Updates for Accessible Learning
Your training endeavors will not be complete until all learners can access training easily, irrespective of their abilities or challenges. That is why it is necessary to implement accessibility standards like section 508 and WCAG in eLearning course design.
The new updates to Lectora 19's accessibility feature include accessible labels, predicted focus, Aria-described prompts, correct tabbing order, and keyboard shortcuts. The text-to-speech feature to is updated to improve the sound bandwidth and audio quality of eLearning courses. Standard and custom lightbox pop-up windows and custom radio buttons and checkboxes now support WCAG and Section 508 requirements.
Latest Enhancements that Lectora 19 Offers
Desktop and mobile publish sizing options will now allow you to set maximum width for screens. This optimizes the RCD (Responsive Course Design) feature so that courses don't scale past the screen size.
A new timeline feature will enable timed animations and triggers to steamline and sync all page events.
The new custom button state feature will allow you to set unique style and appearcance based on requirement.
Summing it Up!
Choosing the right authoring tool is an important decision that cannot be taken lightly. I think I have given you a lot of food for thought on the merits of using the authoring tool Lectora 19 for rapid eLearning design and development. All its features are dedicated not only to enable rapid eLearning development but also to create a more engaging learning experience for learners.
For more information on how rapid eLearning design strategies can help you rollout quick training, download our eBook.