What is Vimeo and Why Should We Use It?
Vimeo is an online platform where you can share, host, or stream your videos. But, why Vimeo and not YouTube? This blog will cover all the detailed insights on why Vimeo is a viable option to create and share your work globally.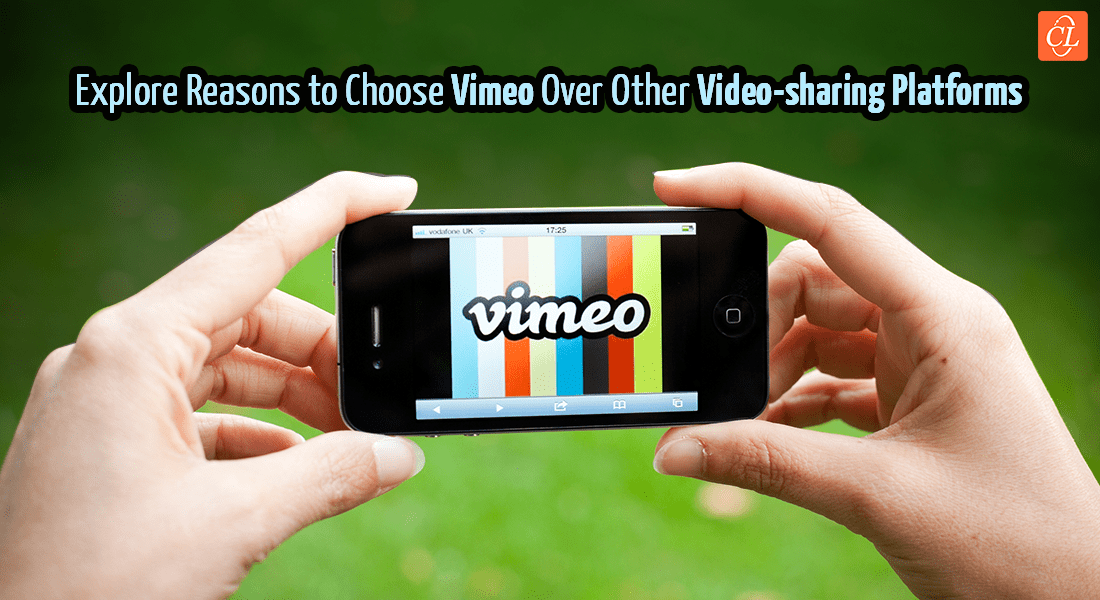 Vimeo is a video-sharing platform, we all must have heard of somewhere, but only a few might have a catch about what exactly Vimeo is. Why? Because when we mention "video sharing platform" the first thing that pops up in the mind of a sane human being is YouTube. Just like YouTube, Vimeo is a platform that is used mostly by artists or professionals to share or promote their work. The basic functions such as uploading your own video, browsing through the available videos by different creators, like, comment, etc. are similar to YouTube, so why Vimeo? Let's explore the uniqueness of the platform.
Planning to Switch to Vimeo for Sharing Your Videos Professionally?
Explore some of its best features to get started with:
Replace video feature – replace/update existing videos while its URL stays the same.
Pay-per-view service – rent, sell or set subscriptions for your videos.
Team collaborations – multiple users can coordinate as a team for a single project.
Live streaming – live stream an event, gameplay, or conduct eLearning sessions.
Read on to find out the key differences between Vimeo and YouTube.
What is Vimeo?
Vimeo is an optimized video-sharing platform that allows live streaming and high-end customizations as well. Since the platform was founded by a group of filmmakers, back in 2004, Vimeo has had a dedicated outlook towards customizations, to match the needs of artists and other professionals around the globe. The platform is ad-free, so it gains its revenue with its paid subscription model. Plans are well crafted as per the use cases for Individual creators and business professionals separately.
Vimeo also offers SaaS (Software as a service), and the services it offers are video creation and editing, broadcasting, and connecting with others. Vimeo's video and audio quality are pretty high-end when compared on a generalized basis. Due to this premium quality, professionals can showcase their work whether in the form of portfolios or tutorials and reach out to a global audience. But all these options are provided by YouTube as well, you might ask me, so here's a quick comparison between Vimeo and YouTube to clear your doubts and confusion.
Vimeo vs YouTube
| | |
| --- | --- |
| Vimeo | YouTube |
| Offers a sleek browsing experience because the free basic version has a certain limit to uploading, i.e 500MB per week, and 5GB total. | No limitations on the upload size, but only verified accounts can add videos that exceed 15-minute duration. |
| It has multiple subscription plans ranging from $7 to $75 to suit different requirements, and because the paid feature is required for users to be able to upload more, content is able to maintain its quality. | YouTube is free for everyone, to access most of its features, but offers a premium of $11.99 which is basically an ad-free version. |
| Ad-free, but gains revenue through other things such as subscriptions, VoD (Video on Demand), and other services. | A considerable part of YouTube's revenue relies on ads so you might have to experience a few ads in between your video streaming sessions. |
| Mature community due to the segregation of "free" audience and "paid" audience. | Everyone is on YouTube, and thus, an unwanted mix of opinions might flood your comment section. |
There are a lot of organizations that want a classified audience for their content, and get constructive feedback, so definitely YouTube isn't an ideal place for it. Here's how the premium features of Vimeo can support professional organizations and businesses.
Best Vimeo Features (Mostly Professional Tier Onwards)
1. Replace video (All users)
Vimeo allows you to replace your existing videos with the updated ones, while the URL stays the same. So the next time you discover a mistake in a video, or if it feels outdated, you don't have to upload a new video entirely, just update the previous one.
2. Web player customizations
Vimeo offers a lot of customizations for its web player and the degree enhances with your subscription plans. The 1st subscription plan called "plus" will allow you to change the color, size, and buttons on the player. As you pay more, for "pro" and above, users get the option to add clickable links, autoplay videos, add their logo and video chapters, and third-party player support.
3. Pay-Per-View service
starting from "pro", users are allowed to rent, sell, or set subscriptions for their video content at their desired price.
4. Detailed analytics
Vimeo can help you track most of the activities of your users along with detailed statistics to support those tracks. Just to name a few, with Vimeo you can track your video's performance over time, track the locations of your viewers(obviously not to the exact pinpoints), their preferred devices, and time stamps when they were most and least engaged in your videos, and how did they even find your videos. If you have a "business" plan or above, you can integrate your channel with Google Analytics as well.
5. Team collaborations
Multiple user accounts (up to 10) can manage and upload on a single channel and access all the owner features or can be provided specific permissions required to collaborate on a team project or multiple projects. Those users can work and coordinate on a real-time basis along with the ability to share time-coded notes.
6. Live Streaming
This is a feature only applicable for Vimeo "premium". It allows the same customizations to live streams that were available to video uploads. You can stream an event, gameplay, eLearning sessions, or even on social media. Once the stream ends, the auto-archive feature saves the recording for future access.
Parting Thoughts!
Vimeo is indeed a platform that has allowed many creators to find the right audience for them. Vimeo follows a 'Freemium' approach for its users, which means, the free version users only get limited features, and the better plan you pay for, the more personalized benefits you receive. Overall, Vimeo is worth the money you invest, if you are looking for a highly customizable platform that can help you cater your work to a suitable section of the audience.
Vimeo can be really helpful to create microlearning videos and other eLearning assets along with facilitating VILT training as the organizations can upload personalized videos or live stream a private VILT session, as per the requirements. So, if you wish to convert your conventional classroom training sessions to VILT sessions that can later be hosted or streamed on Vimeo, you can access this free webinar recording to understand the process of converting classroom sessions to VILT and explore its benefits.