How Synthesia Helps Organizations Produce AI Videos At Scale in Minutes
Synthesia is one of the best web-based platforms that leverage the power of AI, ML, and DL to create wonderful professional-looking videos that can have multiple use cases. Explore the amazing features of Synthesia below.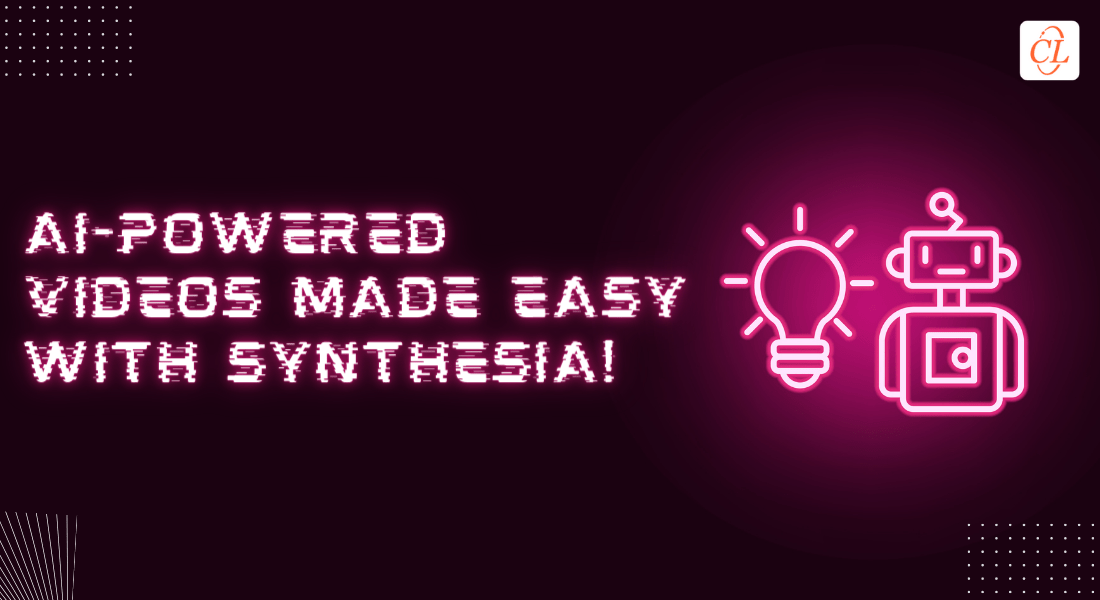 Videos are one of the most essential formats to deliver corporate training for the modern workforce. Creating live videos from scratch requires a lot of time, cost, and effort but every organization cannot have such a hefty budget to ensure top quality. Synthesia, one of the world's leading AI video creation platform, can help you create interactive and engaging videos using AI avatars, templates, media libraries, and other assets. It has a lot of advanced features that make the job of developers very easy and only specific work would have to be done by humans, the rest is covered by Synthesia.
Say Goodbye to Your Conventional Video Creation as Synthesia is Here!
Check out some of its amazing features below –
Professional AI avatars as your visual and voice actors
Huge media library to create top-quality videos in minutes
Advanced video editing features to edit and update videos easily
Synthesia Academy to learn development from scratch
Integration with your favorite tools and platforms
Read on to explore its various use cases and pricing models.
5 Amazing Features of Synthesia to Create Professional AI Videos at Scale
1. Professional AI avatars as your visual and voice actors
When videos are created traditionally, a room, studio lights, a camera, and other expensive equipment, and a professional speaker are required. To save you from all this, Synthesia has over 70+ AI avatars to act as your video presenter/speaker. You can also get an exclusive avatar for your organization or brand, or you can even get your custom avatar created by the Synthesia team. These avatars are created using AI, ML( Machine Learning), and DL( Deep Learning) technologies so apart from being visually distinctive and representing different nationalities, they can also speak 65+ languages with their respective accents. You can edit or update their voice scripts the same way you edit a document.
2. Huge media library to create top-quality videos in minutes
Synthesia has over 50 pre-designed video templates that are completely customizable so you can choose the template which suits your brand the best, or else you can get a custom template created for you as well. After choosing a template, you can add your brand font, logo, icons, and other assets to completely customize your video slides. The media library gives you access to all the royalty-free assets from Shutterstock and Unsplash so that you can add to your videos in a few clicks.
3. Advanced video editing features to edit and update videos easily
Synthesia comes with a pre-built video editor that has a very user-friendly and simple interface where every edit can be done without any prior extensive knowledge of video editing. It allows you to add text, images, shapes, icons, transitions, animations, music, etc, and edit them as per your wish. Apart from the in-built and externally added videos, you can also record your screen activity directly, and use it accordingly. The duplicate feature helps you to update your entire video course as many times as you want. These features can collectively help you create professional-looking AI videos effectively. The videos that are created can easily be shared or embedded on your websites or can be downloaded in MP4 format in Full HD 1080p resolution.
4. Synthesia Academy to learn development from scratch
If you are a complete newbie, Synthesia has short and effective actionable tutorials for the different relevant use cases of the app along with some beginner courses, training lessons, and recorded webinars to help you learn everything from scratch.
5. Integration with your favorite tools and platforms
Synthesia can easily be integrated with your various daily-use apps, tools, and platforms to facilitate hassle-free AI video development. The range of apps it is compatible with is quite impressive, as it can be integrated with learning and development platforms like Moodle, Easygenerator, Talent LMS, and Articulate 360 to popular design & marketing platforms like YouTube, MS PowerPoint, Tolstoy, Medium, and Shopify. There are more apps, and a complete list can be explored on their website.
Popular Use Cases of Videos Created By Synthesia
1. Training Videos
Synthesia can create impactful and engaging video lessons for various types of corporate training sessions such as sales training, product training, onboarding, compliance training, and even technical training to an extent. Learners tend to learn and remember more when they grasp any piece of information through videos. These videos can easily be integrated into your respective LMS and provided to all your learners efficiently, saving a lot of your training budget and time.
2. How-to Videos
Apart from your training videos, you can create short and effective how-to videos for instant job support. Microlearning videos are one of the most engaging ways to deliver information to the corporate workforce and Synthesia can help you create and share these videos in mere minutes, that too in multiple languages.
3. Marketing Videos
Suppose you have a YouTube channel for your marketing purpose or you post marketing videos on social media platforms, Synthesia can create interactive and professional-looking videos quickly for you. You just have to type your script, choose the relevant template and avatar, record the screen and merge if required, and click generate video. You can create explainers, video case studies, and video newsletters with the help of Synthesia.
Pricing
Synthesia premium subscriptions come in 2 tiers, personal and corporate. The pricing for the personal plan is ₹1999 per month and all you need to do is create your account to get started. If you want to scale your training video production, you can choose their corporate plan, but they don't disclose the pricing so you have to contact them personally by clicking "book a demo".
Parting Thoughts!
The AI videos created by Synthesia are indeed a lifesaver for all the big organizations that are working on tight deadlines and packed budgets. eLearning videos are one of the most used formats to train employees across the globe by organizations, and if an AI platform can make things so easy for them, it works like an eLearning hack at this point. Now, this is one hack, there are a lot of hacks that can jumpstart eLearning in your organization, and this eBook will take you through 32 such amazing hacks, access it from our store now.