How to Create Professional AI Videos with Synthesia
Synthesia videos are AI-powered and instantly accessible from your browser. You can develop intriguing videos without the hassles of production costs or complexity. Explore the features of Synthesia and its advantages for eLearning!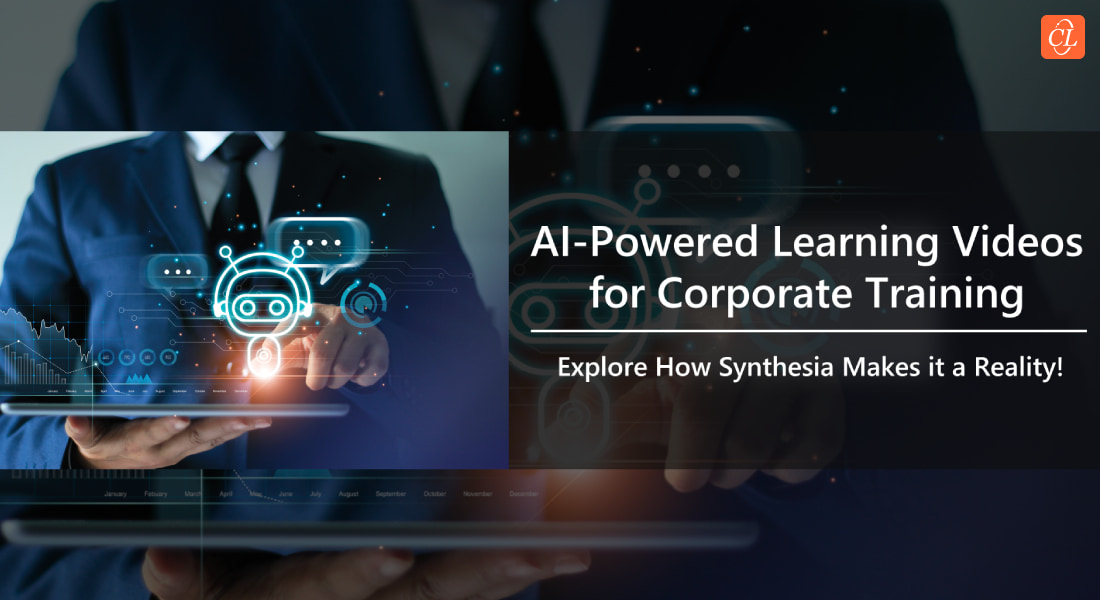 Let's admit it. You want to go with the popular trend of using videos for employee training. But are getting bogged down because developing a high-quality video does takes a lot of time, effort, and money. Thankfully, there is a solution to your problem – Artificial Intelligence (AI) techniques! Synthesia, a well-known audiovisual video creation software, can help quickly produce aesthetically appealing videos from text.
3 Simple Steps to Convert Text to Video with Synthesia
It's very simple to create a video using Synthesia. No prior video production experience is needed. All you have to do is choose an avatar, write a script, and choose elements (such as the background and language). And then sit back and wait for Synthesia to process and create the video.
Choose your AI presenter: Choose from over 40 different video avatars. Or design your own. You only need an Internet connection to get started. No need for film crews, studios, actors, or cameras!
Enter your script: Simply write or paste your content in. There is no need for narration as Synthesia supports more than 60 languages. Eliminate language barriers by using native video content tailored to your employees' locations. Languages, tones, and voices can also be used.
Access your AI video: Wait for a few minutes, and voila! Your AI video is ready! You may stream it or download.
Why Use Synthesia for Learning Videos?
You get to:
Create high-quality training videos, quickly
Translate videos into more than 50 languages
Update content, easily
Now you know how easy it is to create professional looking videos with Synthesia, let's take a closer look at its features.
Key Features of Synthesia
1. Text to Video Conversion
The Synthesia artificial intelligence video generating feature quickly transforms plain text into video. It can create high-quality videos up to 30 minutes in duration.
2. Avatars that are Unique to You
Don't want to go with Synthesia's in-built moderators (avatars)? Build your own! It just takes around five minutes to design a modified avatar.
How do you do that? Transfer a photograph of the avatar (character) and let the computer-based intelligence generate an avatar for you. But this custom avatar creation package is not free. It can cost you around $1,000 extra.
If you do decide to take this route, here's how you can create a video with a custom avatar in Synthesia:
Create your own video.
Present the video to Synthesia.
Pay for the extra element (can take up to ten days).
Open the Synthesia studio application and navigate to custom avatars menu.
3. Multi-Language Support
Synthesia supports approximately 40 languages now. Simply select your preferred language and voice when creating the video.
4. Personalized Audio
You may select any song from Synthesia's playlists and add it as ambient sound to your video. Synthesia also allows you to transfer and sync your own recorded voice clips with your video. However, this function is only available in the beta edition.
5. Built-in AI Presenters
Synthesia gives you the option to select an underlying AI moderator to create your own AI moderator. You have over 40 moderators to choose from.
6. Videos with Many Slides
You can consolidate numerous Synthesia videos into a single video. Build a complex slide deck video experience in only a few minutes.
7. Pages and Embeds for Video Sharing
Each video has its own page where it may be shared. You may also place it on your website. Or, you may publish it on your website or send it to co-workers and friends.
Why Use Synthesia for Training Videos?
Quickly Create High-Quality Training Videos
Create videos quickly for different scenarios. Give new hires a warm welcome in new employee onboarding. Instantly adapt videos to your exact needs or requirements. Help your workers or partners become better acquainted with your internal communication technologies, such as Microsoft Teams and Slack.
Translate Videos into more than 50 Languages
Synthesia videos are AI-powered and instantly accessible from your browser. You can make intriguing videos without the hassles of production costs or complexity. Cameras, lights, and microphones will not be required. Translate the videos into 50+ languages and reach out to your global workforce.
Synthesia is so advanced that you won't realize your narrator isn't a native speaker! By providing a hyper-local effect, it redefines how learners access the global marketplace. This makes a significant difference in a world where language is so important.
Make Quick Content Updates, Easily
Making or updating a video is as simple as clicking a button. A new policy or rule? No problem — simply change your video by editing the script.
Export to Your LMS (Learning Management System)
You may export the videos as video files in any authoring tool or LMS – just create your videos and import them into your desired tool.
Parting Thoughts
Synthesia makes it simple for anyone to create on-demand videos. Videos can be used across the learning journey as small learning bytes, aka microlearning. However, contrary to popular thinking, microlearning is not limited to videos. It is more than just disparate bits of knowledge offered in small bite-sized chunks. If you would like to have clarity on what microlearning is and isn't, its key benefits, the different types of microlearning assets, and more, download this free eBook 'The eBook 'Where Does Microlearning Fit in Your Learning Strategy?'.
This blog is co-authored by Nikhil Bhogaraju.