5 Ways to Use Blended Learning for Effective Onboarding
Looking for ways to build a top-notch onboarding program to improve employee retention? Why don't you try blended learning for onboarding? Here are 5 tips to leverage blended learning for an effective onboarding experience.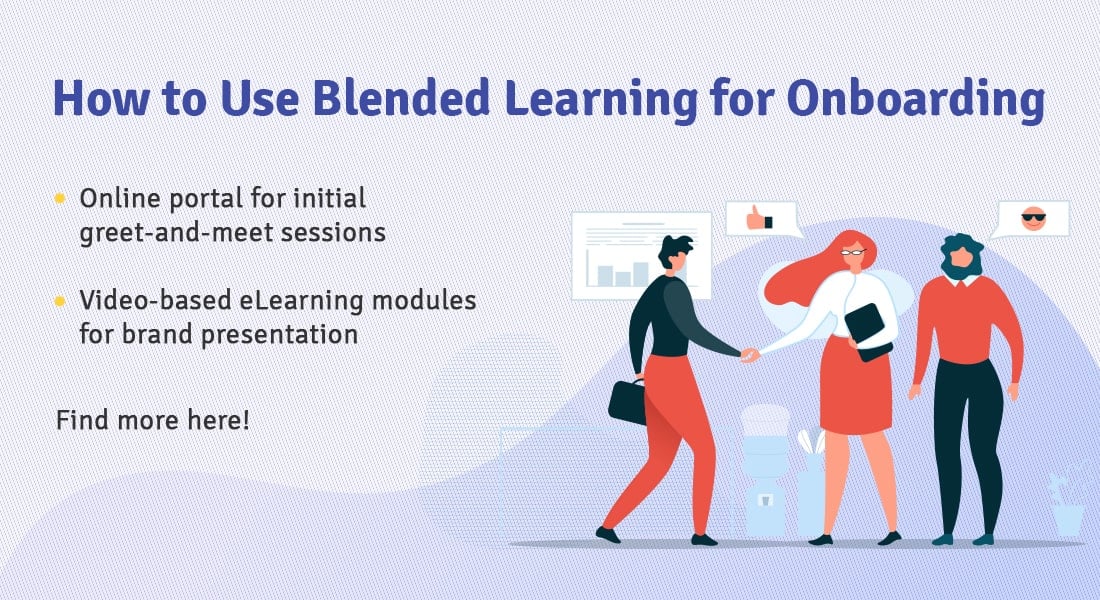 Why should you bother so much about employee onboarding, and why should you consider blended learning for your organization's onboarding program?
The "why?" is simple enough. It's because around 20% of newly hired employees leave within the first 45 days of employment (Forbes). That means, unless you do something, a significant part of your new hires are most likely going to leave within one and a half months of employment – a great loss to the company in terms of cost and time as the average US employer spends around $4000 and 24 days to hire a new worker (Sapling). So, the question is, how do you reduce employee turnover?
Creating an Effective Blended Learning Program for Successful Onboarding
Online portal for initial greet-and-meet sessions
Video-based eLearning modules for brand presentation
Blended approach for formal training sessions
Scenario-based online training for role clarity
Microlearning nuggets for critical support
By building an effective onboarding program!
According to a Brandon Hall report, organizations with a strong onboarding process improve new hire retention by 82% and productivity by over 70%. An effective onboarding program ensures your new employees are given enough support during their integration into your organization and remain a great fit in the long run. All in all, a good onboarding program is critical, and a blended learning approach can offer a mix of different training types to maximize its success.
That was all about the "Why?" of blended learning for onboarding training. Let's now come to the not so easy "How" do you leverage blended learning for onboarding?
5 Ways to Leverage Blended Learning for Onboarding
1. Online Portal for Initial Greet-and-Meet Sessions
An effective onboarding program starts even before your employees join the workplace. Why wait for the conventional in-person first day meet-and-greet sessions when you can do it better online? Provide an online welcome package on your portal, including:
The schedule for the onboarding process
Contact information of team members, mentors, reporting managers
Video messages from team members
Answers to FAQs regarding onboarding
Objectives and expected deliverables
….. or anything else you feel is important from your organization's perspective.
In addition, you can also host a virtual conferencing session to set the ball rolling for interactions – an informal meet to socialize and make the new-hires feel they're all in this together.
This way you'll ensure your new hires are better prepared and well-supported for their onboarding experience when they come to work.
2. Video-based eLearning Modules for Brand Presentation
While the online portal works well to offer an overview of the organization, you also need to introduce your new hires to the core values of your organization. And what better way to do that than through short and comprehensive video-based eLearning modules?
You can opt for engrossing animated videos to take your new employees through the legacy and history of your organization – describing in an engaging way how the organization has evolved over the years. You can also have your top management shoot a talking-head video message to further highlight your organization's values and culture.
Videos are not only highly effective, they also convey huge amounts of information in a short time, saving onboarding time and reducing time to productivity.
3. Blended Approach for Formal Training Sessions
A blended approach not only offers the best of both worlds (in-person + online), but also helps cut down the time new-hires spend in the classroom and offer them the freedom of self-paced learning.
For instance, one of our clients, a Contract Research Organization (CRO), wanted to reduce classroom training time and deliver role-specific training that learners could do at their own pace. We designed a blended learning program with classroom training, eLearning, video-based modules, job-aids, and worksheets.
Classroom instructor-led sessions were used to introduce the new-hires to different departments of the organization (Finance, HR, IT, etc.). They were also trained on how to access the organization's Learning Management System. Each session started with icebreakers that offered an opportunity for interaction among the new hires, followed by group activities using handouts and flipcharts.
Role-based eLearning modules consisted of 'watch-try-do' simulations that took learners through the steps of using a software tool for status tracking and discrepancy management.
You can also leverage the blended learning format for different training topics during the onboarding process.
4. Scenario-based Online Training for Role Clarity
Scenario-based eLearning modules help clarify to the new hires their roles and responsibilities in an interesting and engaging manner.
Scenario-based eLearning involves recreating real-life work situations with the help of an appropriate plot, background, characters and dialogues. This helps your new hires to exercise their acquired knowledge (related to their roles and responsibilities) and get better aligned to their jobs.
In addition, you can conduct Virtual Instructor-led training (VILT) sessions for real-time group-based activities for learners to understand how their roles will impact their team's and organizational performance.
5. Microlearning Nuggets for Critical Support
Effective onboarding doesn't stop with formal training sessions or scheduled programs, you need to ensure your learners are offered support at their moments of need. This is crucial because even after going through a comprehensive training, learners can still get stuck performing a task at work. After all, the initial days can be a bit overwhelming for your new hires.
So, it's essential to reinforce all the learning provided, and what better than microlearning? These bite-sized learning modules offer just-in-time performance support, crucial to complete a task effectively. For instance, learners can quickly glance through a do's and don'ts infographic, or an interactive process map to refresh their knowledge. In turn, this reduces the learning curve and increases employee efficiency.
It's a Wrap!
Give some serious thought to using blended learning for your employee onboarding program because the first impression is the best impression! And happy new hires translate into happy contented long-term employees. While these 5 ways are sure to take your onboarding program to the next level, incorporating social learning throughout the process is going to add a lot of value, especially with the Gen Y and Z workforce.
While you ponder about it, here's a free resource on blended learning that'll help you understand how to combine eLearning with classroom training to accelerate time to proficiency.