6 Blunders to Avoid with Rapid eLearning
If you know why and when to go for rapid eLearning you should also know what no to do with rapid eLearning. Read this to avoid 6 mistakes.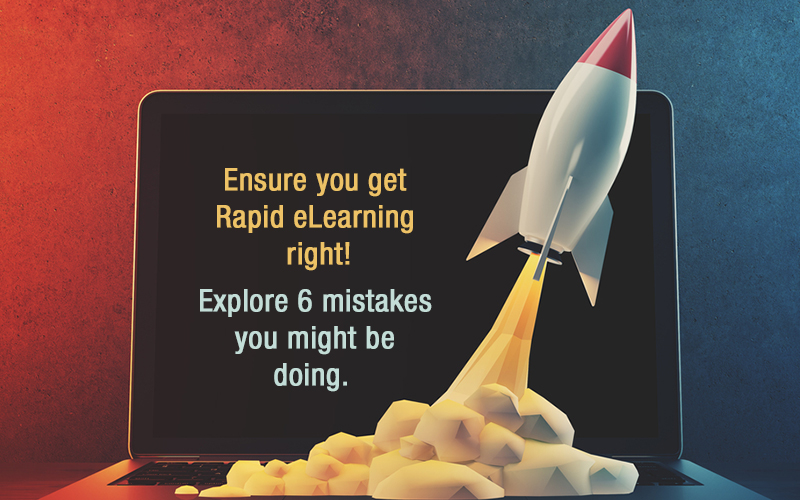 Rapid eLearning does save a lot of time in development, but that does NOT mean there is no instructional design involved! Yes, you save much time and cost in rapid eLearning with the use of authoring tools, but these authoring tools are here to make your work easier, not to create monotonous learning. So, what should be done? And more importantly, what shouldn't be done with rapid eLearning?
Read on to find out what you shouldn't be doing and why.
Are you Doing Rapid eLearning Wrong?
6 Mistakes to Avoid with Rapid eLearning
Believing rapid e-learning is the solution for everything
Dumping content in the authoring tool
Leaving it all on your e-learning developers
Making slide-based courses your answer to everything
Reusing the same templates

Depending on one authoring tool to work with everything
6 Mistakes to Avoid with Rapid eLearning
1. Believing Rapid eLearning is THE Solution for Everything
Rapid eLearning should be opted for the right training need, at the right time. With the technical limitations authoring tools have, rapid eLearning cannot be your 'one-size-fits-all' solution. For training that needs to be highly interactive, with a long shelf life, rapid eLearning might not be the best option – especially if it's templatized. Rapid eLearning might not also deliver highly immersive learning such as game-based learning and branching scenarios.
In such cases, the ideal solution would be blended learning – with the appropriate amount of eLearning combined with instructor-led training (ILT). This will provide the best of both worlds – self-paced online learning and a guide in the classroom to explain concepts and clear doubts.
2. Dumping Content in the Authoring Tool
Unlike popular belief, rapid eLearning involves a lot more than just dumping content in an authoring tool. There are many subtleties that need to be taken care of. Whatever the authoring tool, you need to be clear on what your learners need, what the learning objectives should be, and how you want to present the content. So, plan for an instructional strategy keeping in mind your business goals and your learners' needs.
Assessments are another essential thing! For how will you judge the success of your training if you can't assess your learners' performance or knowledge after the training? Also, customizing these assessments with a pinch of gamification provides amazing learner engagement. Blending these elements into courses makes for a great learning experience with better knowledge retention. So, plan for such instances before you can fit the content into the tool!
3. Leaving it All on Your eLearning Developers
Just because you have the content in the form of a PPT that you need to turn into an eLearning course doesn't mean you don't need instructional designers and SMEs. Instead of force-fitting the content into the authoring tool, you need to see how much of the content is even relevant. And that's a subject matter expert's (SME) job! Instructional designers come into the picture to provide a proper strategy and apply sound instructional design principles to the course. So, take care to involve both your SMEs and the instructional designers in your rapid eLearning projects.
4. Making Slide-based Courses Your Answer to Everything
Here's why we're talking about this – most popular authoring tools are slide-based. Slide-based courses are easy to develop and simple to navigate for your learners, but not everything that is easy can be interesting. You need to understand that sometimes a simple video can be a great solution to your learners' needs than a slide-based course.
Other resources you can go for include interactive branching scenarios, animations, game-based nuggets, gamification, and many more. So use as much interactivity as you can to make learning fun for your learners, and avoid the 'PowerPoint presentation' feel in the course. And this is easy, thanks to the inbuilt assets of modern authoring tools.
Also, although slide-based courses are easy to develop, they may not always offer comfortable viewing on mobile phones (due to the image scalability and font sizes). If you want to avoid frustrating your millennial workforce in training, stop deploying too many slide-based courses with rapid eLearning just because they're easy to develop. Instead, mix them up with real-life scenarios or games to suit the millennials and their mobile phones.
5. Reusing the Same Templates
Yes, you get to save a lot of work for your visual designers by customizing templates and reusing them. However, going through different courses, that look the same, is like eating the same flavored ice-cream the whole summer. It can be a killer of learner engagement, just like killing your taste for that ice-cream flavor.
No matter how much you like a particular flavor of ice-cream, it ceases to be appealing after a certain point. In the same way, when the same template is seen in multiple courses, even though the content is different, it looks the same and feels the same! When learner engagement decreases, so does the course's appeal to learners and knowledge retention.
So, with rapid eLearning, you can customize a wide range of templates for both assessments and interactivities. Build a library of assets and reuse them across projects.
6. Depending on One Authoring Tool to Work with Everything
E-learning development shouldn't be all about working faster, focusing only on the end result. It's also a lot about how it's done. If you think you've found the right authoring tool for your corporate training and that you don't need to look at another one, you can't be more wrong. Just because you've found your best ice-cream flavor doesn't mean you'll never try a new flavor, right?
Different authoring tools come with different features, and of course, limitations as well. One tool can be most useful for a PowerPoint add-on, another might allow you to edit courses online so you don't have to install the software, while another can be most suitable for eLearning translations! So don't restrict yourself to one authoring tool just because it can do most of what you need, it's always better to keep your options open.
Wrapping it up!
Rapid eLearning authoring tools offer you built-in capabilities and content libraries to make eLearning development much faster, and the end result's so much better. But do keep these 6 pitfalls in mind to provide your learners with a great learning experience with rapid eLearning.