What Makes Microlearning an Attractive Learning Strategy for Gen Z Learners?
Will microlearning work for Gen Z? Find out how microlearning boosts learner engagement in Gen Z and helps them learn in the flow of work.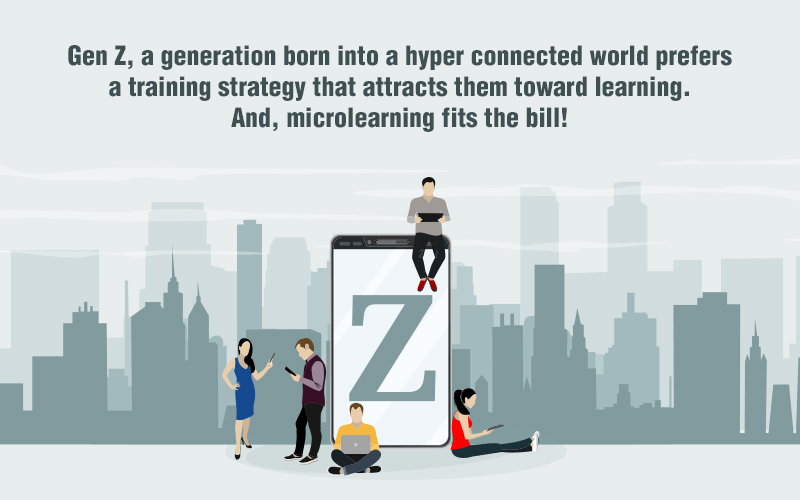 Are you acquainted with the latest entrants to the workforce? I am talking about Generation Z (people born after 1996, according to Pew Research Center). Also known as "iGen" or "Centennials", this is a generation born into a hyperconnected world. According to an article from SHRM, a Google Consumer Survey of 1000 managers in the United States revealed that 29% of managers expect training Gen Z employees to be more difficult compared to the generations before them. Can microlearning help?
Training the Gen Z Workforce
Why is Microlearning a Good Fit?
Caters to Gen Z's mobile-centric attention spans
Enables learning at the point of need
Promotes informal learning experiences
Supports experiential learning
Facilitates learning through mixed-media formats
Why Consider Microlearning to Train Gen Z?
Gen Z has not known a world without the Internet, and it wouldn't be an exaggeration to say that Gen Z was literally born with smartphones in their hands. But, does that mean lengthy eLearning modules made accessible on mobile devices will work for Gen Z?
No! You're dealing with a generation that's on a staple diet of Snapchat videos and Instagram stories here. So, it's essential the training strategy attracts them toward learning. What better than a bite-sized learning strategy in the form of microlearning modules?

How Can Microlearning Improve Learner Engagement in Gen Z?
1. Caters to Gen Z's Mobile-Centric Attention Spans
Gen Z expects technology to be an active part of learning and their life at the workplace. They are rarely found without a smartphone or some cool gadget. According to a report from IBM, 75% of Gen Z'ers prefer to use a smartphone as compared to other mobile devices. So, a mobile-focused training strategy seems to be your best bet if you want to interest them in learning.
Microlearning with its mobile-first design strategy and bite-sized learning fits the bill as it is designed for easy deployment and consumption on mobile devices. It provides a new look at how content is developed and consumed.
2. Enables Learning at the Point of Need
In this age of instant gratification, it's no surprise that Gen Z wants access to resources on demand. Remember, they grew up with YouTube and Netflix, and this is how they approach learning as well. Growing up, Gen Z learners always got answers to their questions with just a few clicks on their mobiles. While this made them self-reliant, they expect the same level of support when it comes to learning at the workplace. For them, learning would mean on-demand access to learning, so they can learn at their exact point of need.
Microlearning, as you might already know, deals with a single performance-based learning objective. What would surely be a hit with Gen Z is making microlearning modules searchable and granting them instant access to precise information that helps them with their tasks at work.
3. Promotes Informal Learning Experiences
Most Gen Z'ers look forward to learning something new, something that can't be found on the World Wide Web. So yes, they would appreciate opportunities for professional development at the workplace – both formal as well as informal. Formal, in this case, doesn't mean lengthy classroom sessions or online manuals accessible on their mobiles. That is not something they would be happy with. But, coaching or mentoring? That is something they would be delighted with.
Gen Z'ers love informal learning experiences – they like to share knowledge online, collaborate, and compete for continuous improvement. They appreciate a learning environment where they can be actively involved in the learning process, especially if it's fueled by technology.
Microlearning is a good choice to provide Gen Z learners an opportunity to learn in the flow of work. They can quickly look up these modules whenever there's a need. Even if you have provided training on a process, there's nothing like the convenience of referring to bite-sized learning modules that offer quick performance support – a short video that explains the process or an infographic that outlines the steps in the process.
4. Supports Experiential Learning
For organizations that believe only in traditional classroom training and do not have the infrastructure that allows blending of technology in learning, it could be a real challenge to train Gen Z.
Just like any other generation of adult learners, Gen Z too looks for practical and relevant content in their training programs. But the difference is that they want it immediately; they want it to be individualized, engaging, and technologically advanced; they also want an opportunity to be actively involved in the training. And that's probably why most Gen Z'ers prefer hands-on learning activities and social learning.
According to Dr. Rumeet Billan, President and Chief Learning Architect of ViewPoint Leadership Inc., Gen Z'ers are both visual and kinesthetic learners. The way they learn, process, and retain information is very different from the previous generations.
Microlearning can be used effectively to rollout experiential learning experiences to Gen Z. Here are a few examples:
Scenario-based training for new hires in the ER team to train them on emergency situations.
Simulations in software training to help learners use a software.
Case studies on industrial safety to help employees in the manufacturing industry understand safety threats and follow guidelines for safety.
In each of these examples, learners are actively involved in the learning process, and Gen Z'ers appreciate learning in the flow of work – effectively delivered through bite-sized learning nuggets.
5. Facilitates Learning through Mixed-Media Formats
It's not simply enough to have a "mobile-friendly" learning strategy to keep Gen Z engaged in learning. This generation loves images and graphics, so the more visually-oriented your training is, the better it can capture and retain their attention.
Here's an interesting fact. Research has debunked the popular perception that Gen Z has a short attention span of 8 seconds. It's not an 8-second attention span that Gen Z'ers have, but an 8-second filter that they use to quickly evaluate the relevance of content presented to them.
Microlearning is a good strategy to capture learners' attention and provide an immersive learning experience – take your pick from interesting formats ranging from videos to infographics to scenarios to many more.
Parting Note
Microlearning can be used to get past the 8-second filter and win Gen Z'ers attention. A quick tap or a gentle swipe of their smartphones, and they have access to the right information at the right time.
Although mobile phones are seen as disruptors in corporate training, perhaps it's time we gave the devil its due.
Microlearning for macro performance from Gen Z is a reality and to find out where microlearning fits in your organization's learning strategy, download our complementary eBook.