7 Reasons iSpring 9.7 is Your Best Bet for Rapid eLearning
If you want rapid eLearning solutions in limited budget, you need not look any further. Read our blog on how iSpring Suit 9.7 is the answer you seek.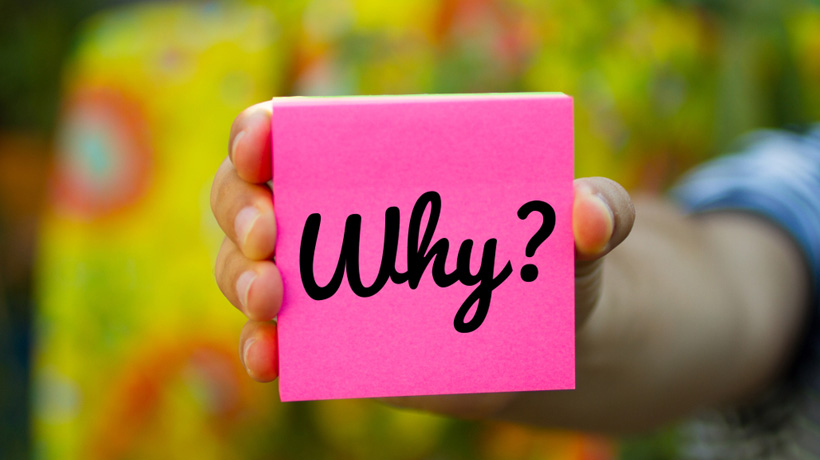 "Create dynamic, engaging, and responsive eLearning content in record time!" reads a blog by iSpring on its newly updated Suite 9.7 authoring software. But is the promise it makes, a promise kept? As a training manager, you must have heard this opinion of many that iSpring has a basic suite of tools, is suitable only for limited low-level interactivities. So, with multiple authoring tools crowding the market, why should iSpring be your tool of choice for rapid eLearning development?
Why use iSpring 9.7 for Rapid eLearning
Short learning curve
Easy conversion of Office files to eLearning
Inbuilt content library with stock multimedia assets
Pre-built assessment templates
Dialogue simulation with branching scenario
Offline learning support
En-suite LMS with authoring feature
iSpring Suite 9.7 is one of the most easy-to-use and agile authoring tools when it comes to rapid eLearning development. It reduces the time, effort and resources needed for courseware development and yet can produce highly interactive courses which enhance learner engagement.
What is Rapid eLearning development?
It is a technique which cuts short the time needed to design and develop eLearning courses, using authoring software. It is estimated that rapid eLearning development reduces the turnaround time by about 40% which makes it best suited to meet the ever-growing training demands of 21st century organizations without being a huge drain on the budget.
Rapid eLearning sticks to the basics of Instructional Design principles while cutting down on the unnecessary time-consuming elements that add no value to learning.
So, let's dispel misconceptions and explore the features that make iSpring Suite 9.7 the best at rapid eLearning development.
7 Features of iSpring Suite 9.7 for Rapid eLearning
1. A Very Short Learning Curve
Once upon a time, developing an effective and highly interactive eLearning course depended on the stupendous ability of software programmers and coders. As you can imagine, it made the development process both tedious and time-consuming. But with authoring tools, this process has become ten-fold easy and development time is cut down by half.
iSpring makes eLearning development even easier by having an extremely user-friendly interface. It is a PowerPoint add-on and much easier to master compared to tools such as Lectora Inspire or Adobe Captivate. Anyone proficient in PowerPoint can easily master iSpring. This rather short learning curve gives an edge to course development.
2. Easy Conversion of Office Files to eLearning
The integration of iSpring with PowerPoint does not end just with its user-friendliness. iSpring Suite 9.7 facilitates the conversion of office files to SCORM/cmi5/xAPI with just a few clicks. xAPI is the latest eLearning technical standard for course-LMS-compatibility and Suite 9.7 providing easy conversion of PowerPoint to xAPI, keeps it ahead of the curve than most authoring tools. It preserves all PowerPoint effects such as text transitions and animations, and the final course will retain all these elements. You can also synchronize videos with PowerPoint Presentations and publish as a video-based eLearning course.
If you are transitioning from ILT to eLearning or have a repository of PPT decks from previous training programs, you can import them to the authoring tool directly. Even subject matter experts and/or instructors can convert classroom PowerPoint decks to eLearning courses – imported files can be reinforced with suitable instructional design strategies and can be made engaging. After adding assessment slides to these decks, they can be published to the LMS with a few clicks. This way, your carefully curated content won't go waste and it will also reduce the course development time.
Word documents and PDFs can also be converted into professional looking, interactive eBooks with page-flip effects. These flipbooks are responsive and can adapt to any screen size and orientation without additional tweaking. So, whether your learners prefer taking courses on their desktops or want learning on the go, they can access information anytime, anywhere they want.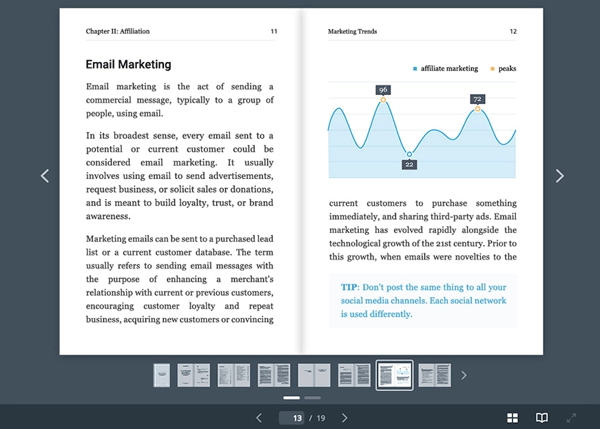 Source: iSpring
3. Inbuilt Content Library with Stock Multimedia Assets
Finding original images and visual elements for eLearning courses is always a challenge. You can't always find pre-made assets which are appropriate for your courses and designing each element from background pictures to icons and buttons will take much development time.
Luckily for you, iSpring Suite 9.7 comes with a content library of stock multimedia assets with 30,000+ stock images and characters (of different ages, genders, ethnicities, occupations and backgrounds), 600 professional icons and buttons, and 230 background images. All you need for course development can be found right within your reach. The library is updated every two months and newer assets are added and archived for use.
4. Pre-built Assessment Templates
iSpring Suite 9.7 comes with a free QuizMaker which makes assessing learners' knowledge extremely easy. This quiz maker has various pre-built assessment templates for multiple choice quizzes, subjective assessments, drag and drops, hotspots and Likert Scale. Each template has in-built feedback slides and info slides for giving out extra pointers and nice-to-know information.
A Look at Assessments
To enable learners to synthesize information and identify relationships between concepts, you can use a drag and drop assessment template where they can drop the correct definitions of terms in the respective drop areas. Similarly, to assess if learners have internalized information, you can use the fill-in-the blanks assessment template where they will be asked to finish the sentence using options from a drop-down menu.
QuizMaker also has an equation editor which can create mathematical assessments for alpha-numeric calculations and equations. In addition to this, iSpring also facilitates the creation of audio-based quizzes and has in-built templates for branching scenarios to make assessments more meaningful and enhance the learning experience.

Source: iSpring QuizMaker
5. Dialogue Simulation with Branching Scenario Templates
Creating simulations is a pretty cumbersome job. Combining it with audio and dialogues within a branching scenario, you will have a nightmarish task at your hand. With iSpring TalkMaster, part of the iSpring Suite 9.7, all you need to do is create a script and rest is taken care of by pre-built templates and the dialogue simulation software.
It is apt for the rapid eLearning development of courses on communication and negotiation skills. Here is a sample course designed using TalkMaster to train learners on effectively negotiating over phone. Click the image to access the course.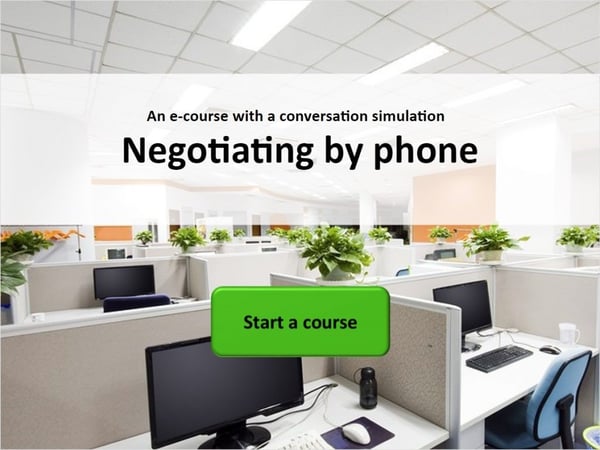 Source: iSpring TalkMaster
6. Offline Learning Support
With iSpring, it's easy to access your eLearning courses anytime, anywhere. This authoring tool provides the iSpring Play Mobile App that lets you learn even when you're not connected to the internet. Talk about enabling rapid eLearning for learners, iSpring Suite fits the bill perfectly!
7. En-Suite LMS with Authoring Feature
iSpring has its own Learning Management System – iSpring Learn. The added benefit of having an en-suite LMS is that you can publish courses with just a few clicks. Moreover, this LMS has an in-built authoring feature which you can leverage to make minor changes and updates to courses, without going through the time-consuming procedure of importing it back to the authoring software. iSpring Learn comes with a mobile app for both android and iOS.
With all these features, it's no wonder iSpring boasts of being an eLearning authoring supercharger. Though it still needs to go far when it comes down to customized course development, it is still by far the easiest and fastest authoring software. If you need your courses to be developed rapidly or are transitioning from ILT to eLearning for the first time, iSpring Suite 9.7 is the authoring tool you always count on.