Leverage SCORM Cloud Testing for Flash to HTML5 Conversion
The time for the Flash to HTML5 conversion of your eLearning courses is running out. SCORM Cloud can be a useful ally during the Flash to HTML5 conversion process for test runs. Read more to learn more about SCORM cloud testing.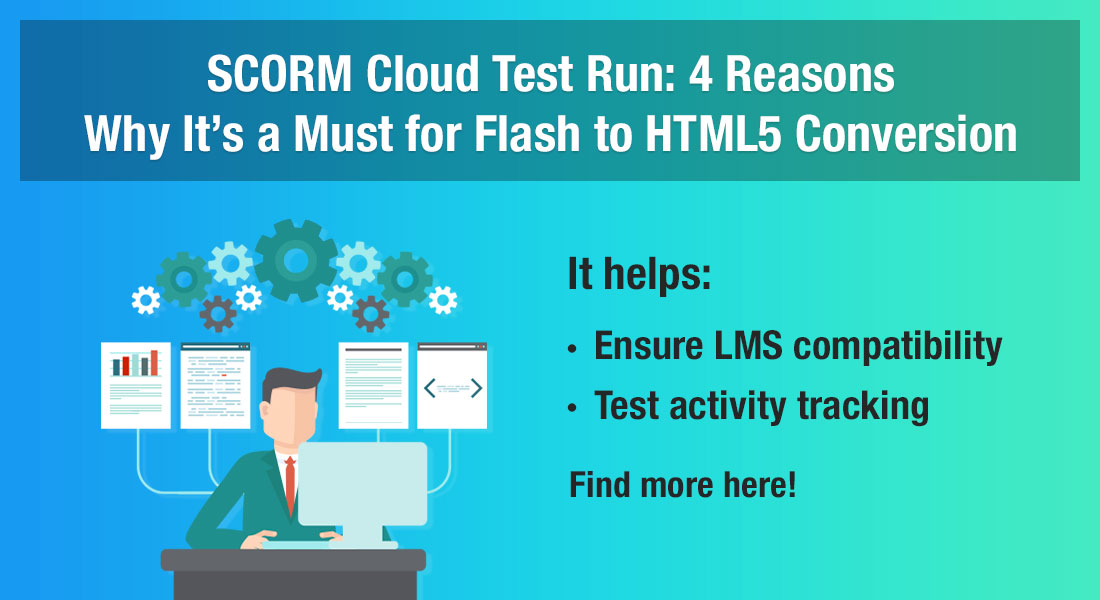 T

he looming 2020 Flash phase-out has made it inevitable for organizations to revisit their archives and get started with the Flash to HTML5 conversion process. Conversations around Flash to HTML5 often involve talks of selecting authoring tools, process of development, outsourcing, but ignore one key element i.e., quality and compatibility check.
Flash to HTML5 Conversion
Why Consider SCORM Cloud Testing?
Check for browser compatibility
Test activity tracking
Examine report generation
Check LMS compatibility
eLearning courses are developed to adhere to certain compatibility technical standards which determine how they interact with Learning Management Systems (LMS). To ensure that compatibility maintained in converted eLearning courses, it is important to test them before launch, and SCORM Cloud is best suited for this job.
What is SCORM Cloud?
SCORM Cloud is a cloud-based application developed by Rustici Software, which has two-fold applications in terms of eLearning hosting, tracking and delivery like an LMS; and SCORM compatibility testing.
Why is it Important to have SCORM Compliant Courses?
Sharable Content Objects Reference Model (SCORM) is a widely accepted eLearning compatibility standard that ensures the uniformity and compliance of eLearning courses across LMSs. A SCORM-compliant course can be hosted, tracked, and reported in any SCORM-compliant LMS. During Flash to HTML5 conversion, all your legacy courses are subjected to change in the publishing format using the Record, Republish, Rebuild, or Redesign strategies. The newly converted courses can have many issues. For instance:
If legacy courses were compliant with AICC but newly converted courses are SCORM-based, a cloud test becomes necessary to check eLearning-LMS compatibility.
Not all Flash interactivities can be duplicated in the HTML5 format. In case you redesign such interactivities using rapid authoring tools, you'll need to check if they are functional.
If newly converted eLearning courses are published to SCORM, you'll need to check if all learning actions are being tracked and reported.
4 Reasons to Consider a SCORM Cloud Test Run for Successful Flash to HTML5 Conversion
1. Check Browser Compatibility
Flash-based files needed extra plugins to play in different browsers. These plugins later turned out to be security loopholes and often caused systems to crash. Converting eLearning courses to HTML5 surely resolves this threat but it comes with its own compatibility issues. Since HTML5 is an open, self-updating, and self-regulating web standard, each web browser interprets these files differently using a small set of tools called rendering engine. Since there is no one specification, but a set of standards which is decoded differently by different browsers, it is essential that all eLearning converted courses are tested for browser compatibility. SCORM Cloud facilitates course compatibility testing across browsers like Internet Explorer, Mozilla Firefox, and Chrome.
2. Test Seamless Learners' Activity Tracking
SCORM compliant courses ensure that an LMS can track learners' activities. Before SCORM Cloud, testing eLearning courses was troublesome and often ineffective. Often courses show functionality errors after they are hosted in an LMS, and this never bodes well for the training program. To do away with these problems, SCORM Cloud provides SCORM testing features, through which you can observe how courses should play in nearly every LMS in the market. The process of testing is very seamless for all you will need to do is import all converted eLearning courses in the built-in sandbox and launch it. If there are any issues with the course, you can observe and troubleshoot them through the debug log. Here are a few things that you can test and track in SCORM Cloud.
Bookmarking: Are learners able to resume their courses from where they stopped?
Course Status: Is the status changing to completed, passed/failed based on learner actions?
Score: Does it show the final assessment result of the learners? Are all scores being compared and added cumulatively?
Learner Attempts: Is it tracking how many times learners redo the course or assessments?
3. Examine Report Generation
SCORM Cloud generates detailed reports of learners' activities during the course and assessment scores during the test phase. With the reportage feature in SCORM Cloud, an admin can generate reports on all learning activities that are tracked and look for bugs hindering the reporting, if any. You can also assign courses to a group of selected users and check if their activities are being tracked and reported. These compiled reports can be drilled down to course level, learner level, or can be viewed in aggregate. All you need to do is access the reporting dashboard and adjust the report generation criteria. These reports can answer the following questions:
Is there an eLearning course that is not frequently used or not used at all?
Which are the popular courses and which courses are not favored by learners?
How many accounts can access eLearning courses?
SCORM Cloud also comes in with a built-in LRS which allows you to get started with xAPI. So on top of the usual reports, xAPI statements and profiles can be tracked and the LRS can generate reports on:
How much time learners take to finish each course
Where learners pause and/or skip content
What learning is initiated by learners outside the cloud
4. Try Out LMS Compatibility
Flash to HTML5 conversion can give organizations an opportunity to migrate to a new LMS (in case they have a SCORM-incompatible LMS or have multiple LMSs). Once courses are tested to be SCORM- compatible, they can be hosted, tracked, and reported under nearly all LMSs in the market. SCORM courses hosted and tested under the Cloud can be directly published to the LMS without additional hassle or exporting and importing them all over again. A Checklist for SCORM Quality Assurance
| | |
| --- | --- |
| Functionality Test | OK/ NOT OK? |
| Are all courses browser compatible with the latest versions provided in the style guide? | |
| Is the course resuming from the place it was stopped? | |
| Is the 'Cancel' button taking users back to the previous page? | |
| Does is show 'Incomplete' if users exit the course window without finishing the final assessment? | |
| Are all locked and unlocked menus displayed correctly in the course? | |
| Does passing a section allow learners go to the next level? | |
| Is the score displayed after finishing the course? | |
| Does failing the final assessment effect bookmarking and allow learners access all sections in the course? | |
Summing it Up!
I hope this blog helped you understand the need for SCORM testing during Flash to HTML5 conversion of eLearning courses. After all, nobody wants unexpected issues ruining a steady flow of work, especially while dealing with hundreds of courses at once. Making a clear and succinct plan for quality assurance and performing test runs on your courses with SCORM Cloud can prevent later misgivings and can ease the burden of LMS administration. If you want more insightful information regarding Flash to HTML5 conversion of eLearning courses, download our eBook.