7 Powerful Reasons To Choose Mobile Learning For Product Training
Mobile learning is leading the charge to impart effective product training for sales reps. Read this blog to know how!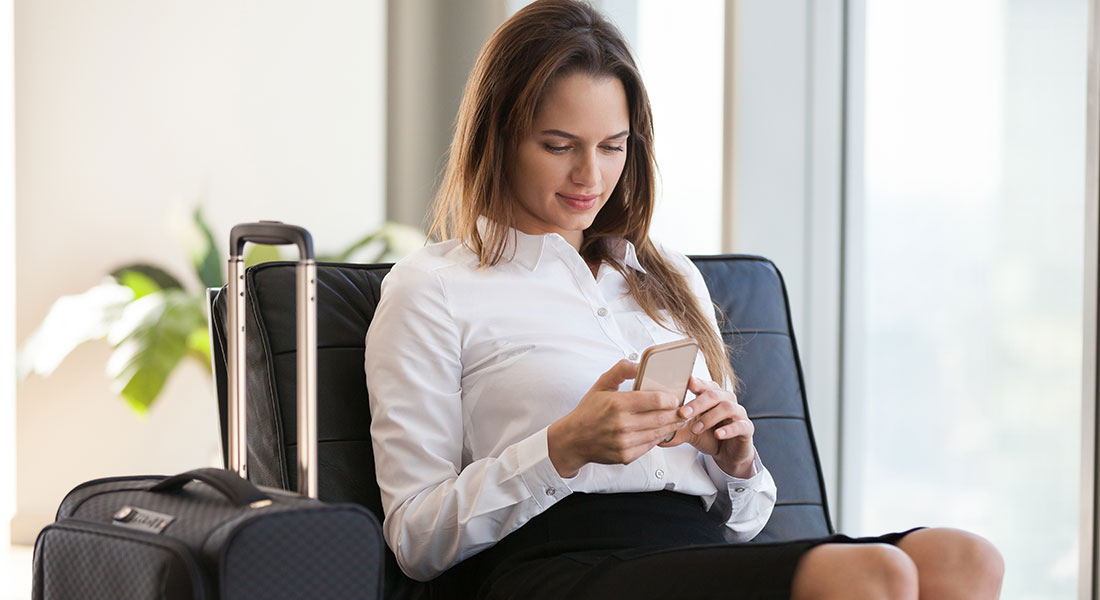 With mobile phones becoming more pervasive than ever, they have naturally become the most preferred way of consuming content. Almost everybody has a smartphone today and is scrolling through their phones whenever they are free. Given this trend, it is a natural progression to use mobile phones for corporate training as well. Plus, the changing workforce dynamics have made traditional training methods obsolete and given rise to mobile learning.
The ubiquitous presence of mobile phones has become the new normal, and mobile learning allows training managers to create a result-driven training strategy for their employees.
Thanks to the convenient and flexible nature of mobile learning, it has applications across various training programs like compliance, onboarding, product, sales, and others.
7 Perks Of Mobile Learning For Product Training
In this blog, we will explore the benefits of mobile learning for product training.
Driving sales is an essential part of any business and having effective training for your sales team can give your business a competitive edge. Sales is not just about having a conversation with the clients and knowing a few things about the product, instead, it requires thorough product knowledge. That's why, it is important to facilitate impactful product training to your employees.
Mobile Learning Offers Effective Product Training!
Here are some reasons why:
Uses mobile apps to give a 'no-training' feel
Offers flexibility and just-in-time learning
Uses microlearning and interactive elements for engagement
Increases knowledge retention
Delivering training to your employees who are constantly on the move requires a flexible and modern approach, and this is where mobile learning takes the lead.
Here are seven remarkable benefits of using mobile learning for product training.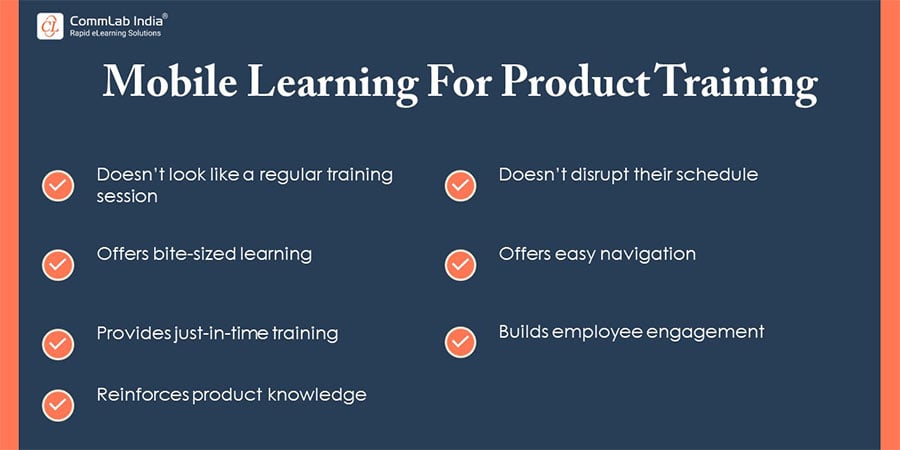 1. Doesn't Look Like A Regular Training Session
The idea of mobile learning stems from the increasing popularity of social media and mobile apps. Everyone spends a lot of time scrolling through social media platforms and checking mobile apps, so what better way to engage your employees other than their favorite communication channels? You can deliver effective product training through mobile apps, yes! Right from content upload to tracking the learner's knowledge, mobile apps come as a handy solution for lengthy product training programs. Plus, since employees are already accustomed to these channels, they do not look at it like a typical training program.
2. Doesn't Disrupt Schedule
Product training is essentially needed for salespeople and service technicians, who are constantly on the move and traveling for client meetings. They also work in shifts and do not have a fixed working schedule. As a result, they have very little time to attend training sessions. No matter how much they want to learn about the product, their working pattern doesn't allow them to take out time for training sessions. This has made mobile learning their preferred choice.
With mobile learning, your employees get complete flexibility to do their training at their fingertips. As they always have their phones with them, it is quite easy for them to start their courses even in between client calls or while commuting.
3. Offers Bite-Sized Learning
Mobile learning is an ideal solution for quick knowledge consumption and easy retention of the same. Product training is especially required to address the learning needs of busy and desk-less employees who have a lot to learn, but very little time to do so, organizations leveraged microlearning via mobile phones.
The overall engagement, performance and retention of the corporate workforce have improved as a result of combining mobile learning and microlearning, wherein discrete informational chunks are served on mobile devices.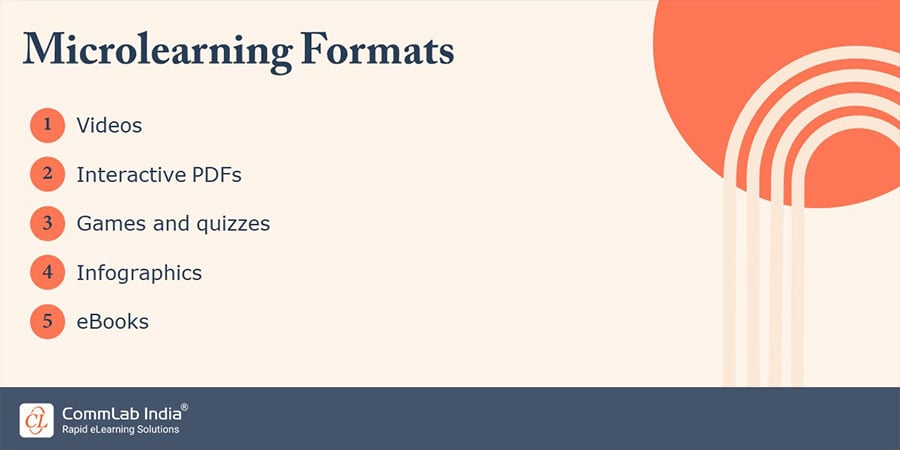 Through microlearning, your employees have access to bite-sized learning modules that target one topic at a time. The delivery and presentation of the content make it easier for the employees to understand information like product features, benefits, FAQs, etc. Thus, microlearning sessions impart effective product knowledge support to your employees.
4. Offers Easy Navigation
Product training is often lengthy as there is a lot to explain about the product, but this usually leads to learner disengagement in the training. However, with mobile learning, where the content is broken into multiple small sessions, employees find it easy to navigate through the courses. They can easily search for anything they want, be it specific product-related information or a quick revision. This ease of browsing is only possible on mobile devices through mobile learning, and hence organizations leverage the same for their product training.
5. Provides Just-In-Time Training
You have just added new features to your product and want your sales team to sell it immediately, but are they on the move and not able to attend a classroom training session? Or your service technician is out for a visit and needs some information about the product? While they can attend the training through their laptops, that is definitely not an easy and quick option. So, what's the solution? The answer is just-in-time training.
Mobile learning assists in the moment of need. Because it can be accessed anywhere at our fingertips and information is presented in small learning modules, the employees can easily brush up their knowledge anytime and anywhere. You can also facilitate learning through a mobile app that provides on-demand access to all information and goes a long way in enhancing the performance of your employees.
6. Builds Employee Engagement
Mobile learning presents a great opportunity to encourage participation as it keeps your employees engaged in the learning. By incorporating video-based learning and game-based lessons in your mobile learning strategy, you can appeal to the learner's auditory and ocular senses which hold their attention for a long time. Leveraging game elements like rewards, leaderboards, scores, etc., you can further enhance their engagement levels during product training. This way, mobile learning can surely yield positive results in corporate training and create a motivating learning environment for your employees.
Watch this to understand the power of implementing video-based learning for product training.
7. Reinforce Product Knowledge
Learning about the product is one thing, but retaining the product information is a completely different game. One of the key challenges faced by most organizations while imparting product training is the lack of retention in employees. Mobile learning can help you overcome this problem in the following ways:
Employees have any time access to mobile learning courses and can revise the concepts as and when they need.
Mobile learning uses small nuggets to share information that can be understood easily without losing focus.
Mobile learning offers frequent repetition of information in spaced intervals of time, thereby reinforcing product knowledge in employees.
Parting Thoughts
Using mobile learning for product training is a flexible, consistent and effective solution for a workforce that requires considerable training. It holds various benefits and keeps the employees aware of all product information- from its features to its functionalities.
So, if you are looking to leverage mobile learning for your organization, our eBook offers great insights on how to successfully incorporate mobile learning in your training strategies.