How do you Choose the Right LMS For Your Learning Needs?
Do you think if the right LMS can improve your training? Join us in this blog to explore LMS basics and key selection factors! for your organization.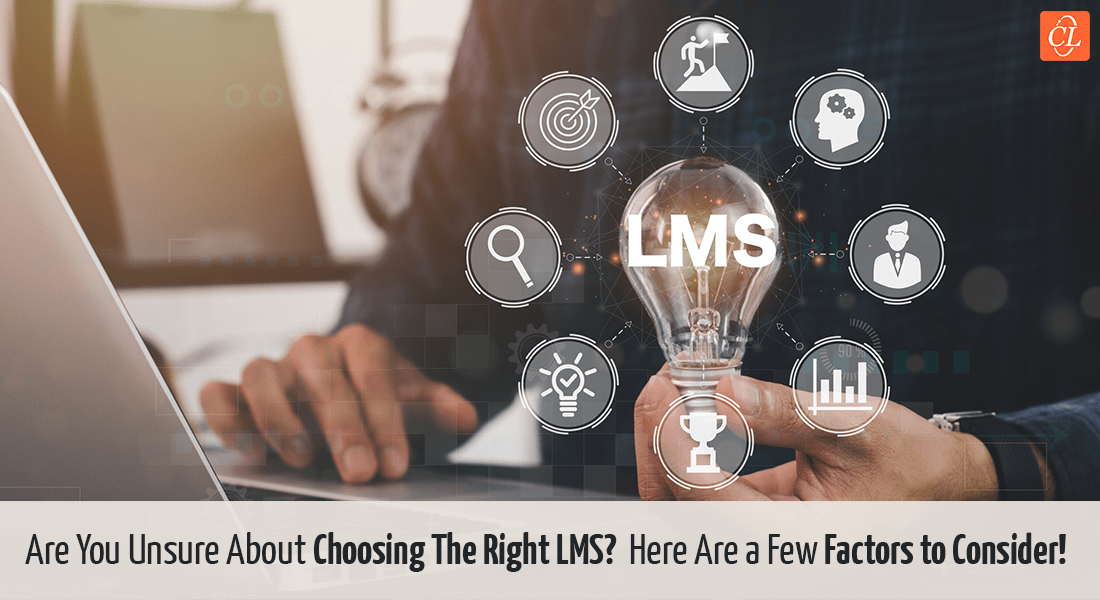 I understand, that what you need is a culture of continuous learning in the organization, and to have an effective online learning system in place. And what you need for that is the right Learning Management System (LMS). LMS is an important factor if you want a seamless online training program. However, with so many LMS options available, choosing the right one might become a task. Let me take the burden off you and list a few factors to consider while choosing the right LMS.
Struggling to Choose The Right LMS?
Here Are a Few Things to do:
List Your Requirements
Build Your Case
Send an RFP (Request for Proposal)
Ask Prospective Vendors for a Sandbox
Read on to Know More…
But before that let me state a few challenges usually faced by the training teams if there is no LMS in place:
Duplicate training programs as one department would not know what the others have.
Mismanaged courses.
Inefficiency in manually tracking and figuring out attendance.
Inefficient tracking of learners' development and their progress.
Difficulty in managing different training requirements for learners.
……. and many more such challenges!
And what is the solution to all these problems? You got it right! The answer is 'Having the right Learning Management System (LMS)!' Let me help you understand what an LMS is and how you choose the right LMS and the right LMS vendor for your organization.
What Exactly is an LMS?
LMS (Learning Management System) is used for the training and development of learners. It is a software application that helps to manage digital training content. It also helps to manage to learn effectively and hence improve employee performance and efficiency. LMS is designed to improve eLearning and make it cost-effective. You can track the learning progress of the learners. Through LMS, all important functions like content delivery, content uploading, etc. become smoother and more efficient.
It is important that you select the right LMS that should align with your training needs.
Here are 6 things you must do before finalizing your organization's LMS!
1. Listing your Requirements
You don't need an LMS full of features that are not needed or used, and to avoid that you need to list your training requirements first. Gather information on the requirements of different users, including learners, trainers, administrators, and customers, this will be your first step before selecting an LMS for your organization.
2. Building Use Cases
Every LMS has its unique strength. Some are meant for customer training, some for hosting and managing courses, reporting, and compliance, while others focus on course creation, and curation. Hence, The LMS you want should be based on the needs of the end user. To make that decision easy, you should build use cases and let your vendors hold a use case demonstration for you.
3. Sending an RFP (Request for Proposal)
Some important sections you should not miss while sending an RFP.
Company Information: Make sure to provide the required company information. For instance: Organization's position in the market, customers and their needs, and obstacles faced with your existing LMS.
Training Goals: Describe what are your expectations from the LMS and also your training goals.
Required functionalities: Also describe what end users like learners, trainers, training managers, and administrators have to accomplish with new LMS.
4. Asking Prospective Vendors for a Sandbox
Asking the Vendor for an LMS sandbox will give you a testing ground. You can get a hands-on demo environment that will help you to evaluate the actual look, and functionalities of the LMS.
5. Having a Pilot Group for the Test
Pilot testing will help you to get additional feedback and assess end-user experience, LMS' ease of use for learners, easy navigation through screens, and access to assigned courses and also eliminate the risk of failure after the LMS goes live.
6. Deciding on a Timeframe for Implementation
Launching your LMS will depend on the organization's internal procedures. It is important that you agree on the timelines with your LMS vendor. The time for LMS implementation will vary depending on how complex the integration is and LMS vendor's efficiency. Hence, it is important you decide the timeframe of LMS implementation including the time required for data migration, admin training, debugging, etc.
While to choose the right LMS is a must, it is equally important to choose the right LMS vendor. Let's now take a look at what you need to do before picking a vendor for your LMS administration and support.
Factors to Consider Before Choosing The Right Vendor For LMS Administration and Support
1. Issuing an RFP to Define Use Cases and Specific Requirements in Detail
Compare the available vendors. You should know what you expect and need from your LMS vendor.
2. Know Your Potential Vendors
It is important to do some preliminary research about them before contacting them.
3. Evaluate the Company's Prior Experience with LMS Admin/Support
Make sure you know all the relevant information about the LMS vendor, Time they have been operating for, number of global customers they have helped, how many LMS implementations they have done so far, and so on.
4. Requesting a Live Demonstration
Make sure to ask each potential vendor for a demo /trial of the product for better understanding.
5. Choose a Vendor Whose Services go Beyond the LMS
Any vendor going beyond the services they offer is a boon for any customer. Make sure to do good research and find a vendor that will go above and beyond to help you. You can also check if the vendor provides post-implementation support.
Conclusion
An LMS is where you find all your training needs. You can store and organize eLearning courses and resources, streamline training processes, track and evaluate activities and also measure the effectiveness and results of training. Choosing the right LMS from among the multiple LMSs in the market can be a task. To make your job easier, here's a rapid, plug-and-play LMS – Effectus – for your consideration. It is easy to use and customize, it is fun and engaging to make learning effective.
Despite all the efforts put are you not getting the expected results from your LMS? Don't worry! Go through the webinar recording and get insights on the important factors you need to be aware of to get the best out of your LMS.