4-Point Checklist to Select the Right LMS Vendor
Rubbing the lamp or wishing upon shooting stars won't help you select the right LMS vendor. But, this blog that describes 4 points to select the right LMS vendor for your corporate training definitely will!
Let's get straight to the bottom: Is there a right way to go about picking an LMS vendor?
Today, organizations that are looking to invest in a learning management system (LMS) to streamline their training operations have far too many options to choose from—but this isn't always a good thing, especially if it's their first time. With a high influx of LMS vendors in the market over the last decade, and remote corporate training induced by COVID-19 demanding more effective learning management, companies truly have their work cut out them and effectively leveraging an LMS has become crucial more than ever.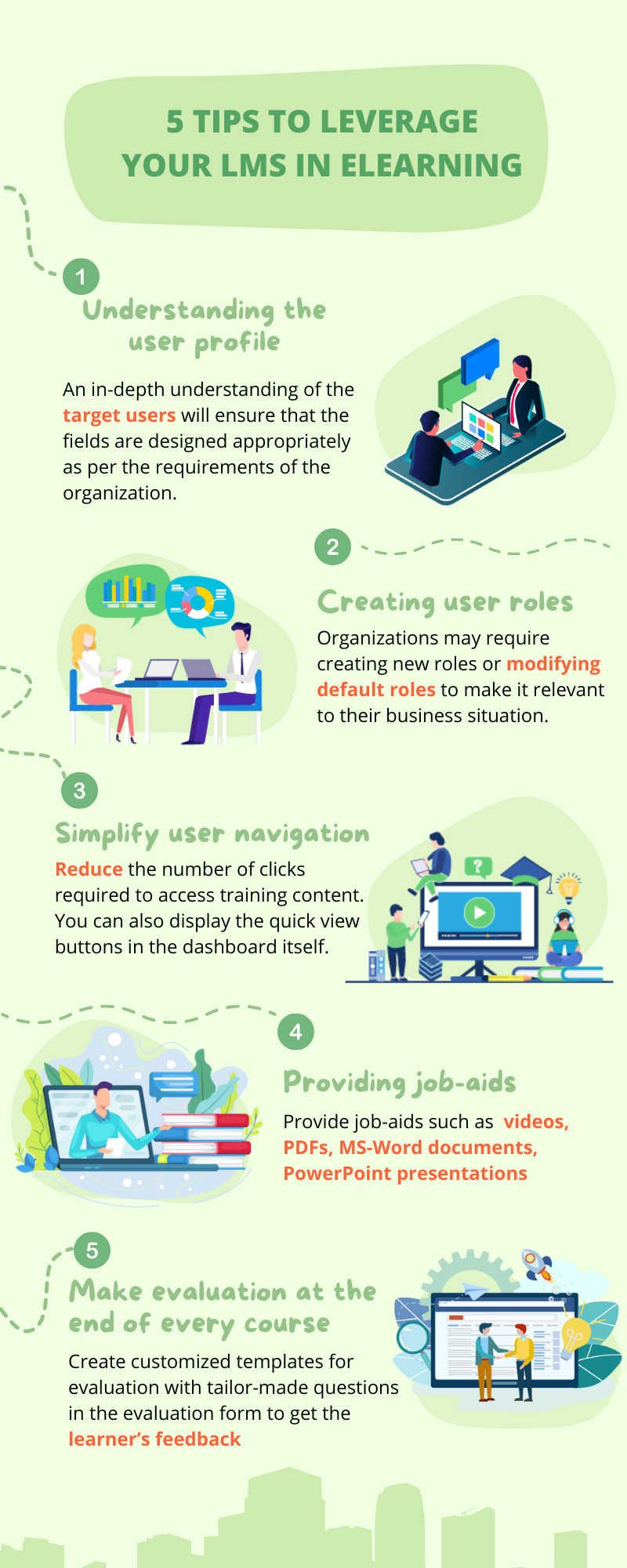 Selecting the Right LMS Vendor – 4 Steps to Do It
Issue a well-defined RFP
Try to know your potential vendors
Request for a live product demo
Go for a vendor with added LMS support and updates
Too often companies fall prey to picking vendors who:
Offer no (onboarding) support for the internal team during and after the launch
Do not make LMS customization a part of the overall package
Do not offer consultative or implementation support
But the reality is that today's vendors offer a wide range of LMS-related services (the ones mentioned above) which, in the past, weren't part of the vendor offerings. As a result, it becomes all the more important that companies avoid the 'old' way of picking LMS vendors, and be extra careful regarding what they are looking for in a vendor and how they go about selecting the right LMS partner for their organization.
In this blog-guide, we will look at 4 things you need to do before/when picking a vendor for your LMS operations and support.
Let's jump right in.
Remember These 4 Things When Selecting the Right LMS Vendor
1. Issue an RFP: Define your Use Cases and Unique Requirements in Detail
The key to the selection process is comparing the qualified vendors on an apples-to-apples basis. That's why communicating your specific requirements in a structured Request for Proposal (RFP) is important.
An RFP:
Is a document that essentially outlines what exactly you are looking for in a learning management system i.e., your LMS requirements and needs.
Is a checklist for all your potential vendors to follow if they wish to be considered for your outsourcing vendor shortlisting process.
Streamlines the decision-making process (as all needed information is already there), and helps in quickly identifying the vendors (or the LMSs) that best match your requirements, budget and training program.
In order to draft an RFP, gather your stakeholders and discuss:
What you want/expect from your LMS vendor
What features are needed in order to streamline the training operations
What features would be a plus for future training goals
This step is quite important because far too often reaching a consensus internally becomes challenging. Request each of the departments to describe their use cases for the LMS, or how they would like to use it and build an internal business roadmap.
Document the existing workflows that will help you decide what administrative efficiencies you expect from the new LMS.
Ask acquaintances and colleagues from other companies to share their experience selecting LMS platforms.
Categorize the requirements into: 'mandatory', 'nice-to-have' and 'not mandatory'. This will allow you to better evaluate the would-be vendors, and it is also essential that the vendor you pick/shortlist fulfills most of the needs in the 'mandatory' category.
2. Get to Know your Potential Vendors
Before you even contact the potential LMS vendor/s, do some preliminary research about them.
Why is this important? Mainly for two reasons:
To get a rough idea about the kind of LMS vendors that are operating in the market
To be able to narrow down your list of vendors based on your training requirements
Research your potential vendors on online magazines and websites
There are websites and magazines dedicated to covering the latest trends in learning and development (L&D) such as eLearning Industry, Training Industry, and Learning Solutions Magazine.
These websites can act as your springboard as they regularly feature LMS recommendations and reviews, thereby giving you a glimpse of the 'best of the best.' Apart from rating the vendors on various metrics, these online directories, also provide details about:
Company's history
Unique selling points
Pricing options
Clientele
Value-added services
Therefore, it is imperative that you make a stop at one of these eLearning directories before foraying into the shortlisting process.
Evaluate the company history, their past experience with LMS admin/support and their current portfolio
Apart from the online directories, vet your LMS vendors by visiting their website/s. Get to know:
How long they have been operating in the learning industry?
How many global customers have they helped with their LMS services?
How many LMS installations have they carried out so far?
How quickly have they grown in the range of LMS services they offer? Is there a noticeable difference between what they offered five years ago and what they are offering now?
What is the composition of their LMS leadership team like?
What communication protocols and project management practices do they have in place?
Beyond your assessment of the vendor's expertise in terms of their LMS services, you must ask other relevant questions too in order to get a deeper understanding, such as:
Is it a company deeply invested in improving corporate learning culture/s?
How adept are they in the field of learning and design?
What cultural value do they attribute to learning at workplace?
What's their social media presence like? What is the focus of their social media posts?
How active are they when it comes to participating in industry debates on (corporate) learning and development? Have they organized any instances of learning events over the years?
While you are at it, close-read the case studies and client testimonials the vendors post on their respective websites. Very often, these instances of the vendor's past LMS projects and client reviews highlight the vendor's strengths, the challenges they have had to deal with and how they approached the challenges in the most efficient manner.
3. Request a Live System Demonstration/Proof-of-Concept
Here's a question for you: How does one go about buying a car? Do you buy one the moment you set your eyes on it? No, that would not be a sensible thing to do at all.
All of us, if not most, test-drive the vehicle to know how it 'feels' and if it's 'right' for us before placing the order. Then why should it be any different when it comes to buying LMS services from a third-party vendor?
Before making your final purchasing decision, contact each of the potential vendors for a free demo/trial of the product in order to understand the capabilities first-hand. Having said that, there a few things one must keep in mind when signing up for these free LMS demo trials.
Make sure to allocate adequate time and resources to test the platform.
Evaluate the system against the objectives and criteria you have in place already for using the LMS.
Consider developing a sample eLearning (or a blended learning) project and run it on the LMS to see if it meets your expectations and aligns with your objectives. Here, for instance, you can check:

If the user interface is too clunky/complicated for learners who aren't tech savvy
If it supports a multilingual GUI for your global workforce
If it's Section 508 compliant i.e., if the LMS is built with accessibility in mind
If it's mobile compatible and if it adheres to common standards like SCORM, xAPI, and AICC
All of this would mean that you may have to go back to the original vendors list and identify better LMS options.
Have your IT team/personnel perform technical evaluations of the LMS such as security, storage issues/options, server allocation, IT policies, etc.
As part of the free LMS demo/trial, most LMS companies also offer one-on-one consultation meetings to address some of the questions/concerns you may have; do they advantage of this and have a list of questions you would like to be addressed. Doing so also allows the vendor to showcase their product according to your specific needs. Consult the key stakeholders (such as the LMS admin, training managers) and request them to sit in the meeting.
4. Prefer a Vendor Whose Services Go Beyond LMS Features
Can the vendor's LMS scale with the growth of your company?
Does the vendor plan to make improvements to the LMS over time?
Does the LMS offer support during and after the initial LMS implementation? Is this offered at an additional charge?
These are questions you need to ask when picking a vendor. That's because apart from the traditional LMS offerings, today's LMS vendors have their feet parked in other avenues of learning and design and they offer some value-added features that are in one way or another related to the functioning of the LMS.
Here are some of the 'bonus' services you can expect a good LMS vendor to offer as part of the overall LMS 'package':
A personal learning consultant, who is assigned to your company
Consultative services such as recommending

How to get started with the LMS
How to host classroom material on the LMS
How to implement blended learning, mobile learning via the LMS
Implementation support both during and after the implementation
Training the LMS administrators, trainers and IT personnel to handle the system in a hassle-free manner
Marketing strategy/-ies to assist while launching the LMS to the learners
Parting Thoughts
Remember that some vendors may not always be up to date on the latest learning systems market, modern functionality and technology ecosystems capabilities—you need to avoid these vendors, otherwise they will eat you alive (just kidding!). Get to know the would-be vendors by vetting their capabilities from external sources. And get in touch with the shortlisted ones with your training requirements and request a demo to see which of them is best for your company. It truly pays to do your research and buy proactively!
You know how else you can be a smart buyer? By knowing exactly what to look for in the right LMS. Here's an eBook to help you with that. Click below.
Editor's note: This post was originally published in November 2020 and has been updated for comprehensiveness.