Flash to HTML5 Conversion: Can Lectora Do It?
Can you leverage the authoring tool Lectora for Flash to HTML5 conversions? This blog answers your questions.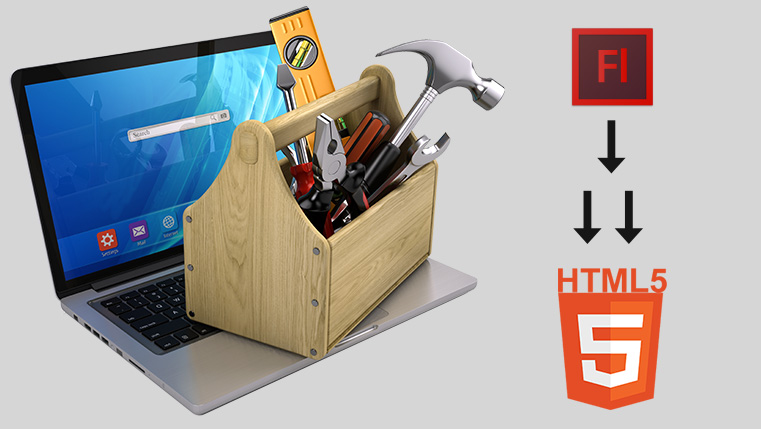 Each learning project that involves Flash to HTML5 conversion is different, and the selection of authoring tool depends on the output expected from the conversion. It could depend on the authoring tool's support for mobile learning, interactivities, animations, videos, simulations, and so on. Let's examine if Trivantis' Lectora can handle Flash to HTML5 conversion effectively.
How Lectora Facilitates Flash to HTML5 Conversion
Offers device-independent learning with its responsive course design (RCD) feature
Supports interactivities as it can integrate custom code
Helps recreate Flash-based interactivities
Reconfigures lengthy courses to microlearning
Supports 9 gradeable and 3 ungradeable assessment types
Publishes audio and video to MP3 and MP4 formats
Questions on Flash to HTML5 Conversion Using Lectora
1. Can it Deliver Device-Independent Learning?
New Gen employees prefer learning on mobile devices that could range from iPads to smartphones. When you make the decision to invest in Flash to HTML5 conversion, it's highly likely that you would want the eLearning course to be accessible on all devices (be it a desktop, laptop, tablet or smartphone).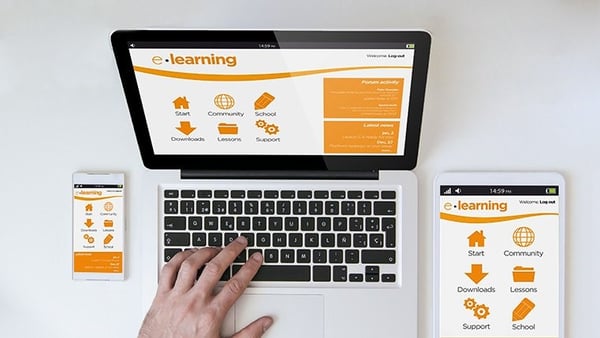 Lectora was one of the first authoring tools to publish in HTML5. Lectora's responsive course design (RCD) feature takes care of orienting and resizing elements in the eLearning course to match the screen dimensions of various mobile devices. Here are the course design views offered by Lectora:
Desktop
Tablet – Portrait and Landscape mode
Phone – Portrait and Landscape mode

2. Can it Produce Complex Interactivities as Good as Flash?
Flash uses Action Scripts to create a host of customized interactivities. Though sometimes underestimated by eLearning developers, Lectora's biggest strength is its capability to integrate custom code to design different interactivities or provide out-of-the-box features in the course. This is yet another reason to use Lectora for Flash to HTML5 conversion.
If you would like a custom progress bar included in the course, it can be done in Lectora using variables and JavaScript. Not just JavaScript, we can add code written in ASP, CSS, Cold Fusion, PHP, or Java using the HTML Extension Object feature which allows embedding of custom code. This is one area where Lectora scores over other authoring tools.

3. Can it Recreate Interactivities in Flash to HTML5 Conversion?
in Flash to HTML5 conversion, even with an authoring tool it's not always possible to convert Flash interactivities to HTML5 on a click. You need to identify whether existing interactivities in the Flash-based courses can be recreated using an authoring tool or whether it needs the addition of JavaScript code to make it compatible with HTML5-based eLearning.
When you consider Flash to HTML5 conversion, chances are you might want to retain the style of interactivity in your Flash course. Lectora can do it as it has built-in interactivities such as click on images, hotspots, tabs, and numbers, FAQs, slide shows, and videos.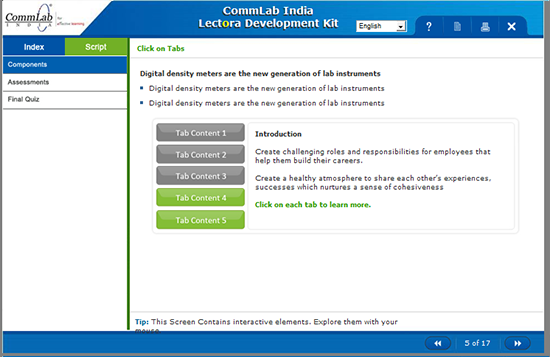 4. Can it Convert Text-Heavy Courses to Microlearning in Flash to HTML5 Conversion?
You could consider breaking a lengthy eLearning course into multiple micro modules when you opt for Flash to HTML5 conversion. But there are times when you would want related information to be displayed on the same slide instead of splitting the content and displaying it in the next slide.
In such cases, make use of Lectora's capabilities to provide a vertical scroll bar for text blocks. You can also add images within a text block. This lets learners' scroll through the content. Of course, Articulate Storyline too offers scroll panels that are space savers.
5. Does it Have a Variety of Assessments?
Lectora offers the option to include 9 gradable assessment types and 3 ungradable (cannot be scored) in your eLearning course. The tool also offers the option to restrict the number of attempts using variables or randomize assessment questions. Lectora also makes it possible to gamify assessments. Here's a screenshot of a word game that was developed using Lectora.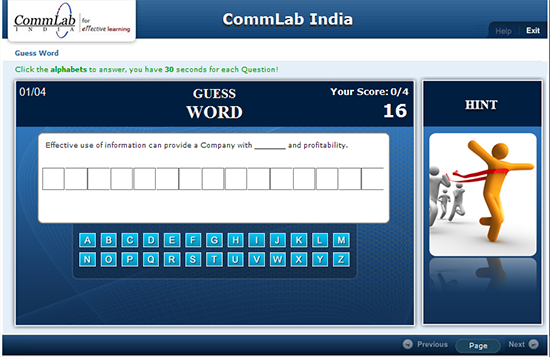 6. Does it Save Time in Recreating Animations?
Recreating Flash animations in Flash to HTML5 conversions does involve time and effort, which obviously has an effect on the budget. No doubt authoring tools make this process easier. But if you have a complex animation in Flash that cannot be recreated using an authoring tool, a good option would be to convert this to a video. Trivantis' Lectora has the capability to publish audio and video files in MP3 and MP4 formats.
7. Does it Have Ready-to-Use Templates for Rapid Conversions?
Though it's true that Flash is being phased out, that's not a reason to delay launching training programs. When you are considering rapid Flash to HTML5 conversions, Lectora is a good choice of authoring tool to opt for. The tool offers templates that make course creation faster and easier.
For a Flash to HTML5 conversion project that involved converting over 1500 courses, we worked with the client to develop templates that could be used to design different screen types (e.g.: read and acknowledge slides, assessment slides, non-sequential learning slides). This helped us standardize slides for eLearning development and cut down on time spent in the review process.
What might work against using Lectora for Flash to HTML5 conversions is its steep learning curve and the fact that it's slightly pricey compared to other authoring tools. But with the level of custom coding that can be implemented using this tool, there is no doubt that Flash to HTML5 conversions with Lectora can result in great looking content.
Whether you plan to rebuild your existing course in Flash using Lectora or redesign the course by updating content and adding instructional design strategies, it would help to find out more on the 4 'R's that Matter in Flash to HTML5 conversions. So, are you ready to get started?