Lights, Camera, eLearning Authoring Tools! [4 Authoring Tools as Movies]
Watching movies can be fun! And so can be the eLearning authoring tools. Now imagine combining them. Well, double fun! That's what this blog is about. Here we will explore eLearning authoring tools as movies. Get your popcorn and soft drink now!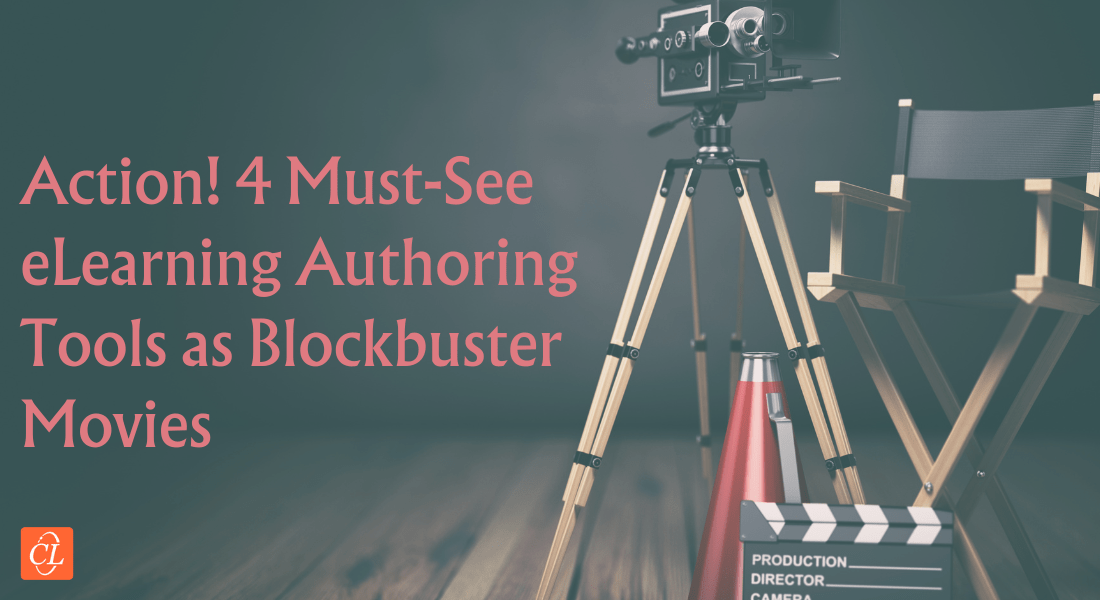 With Oscars being the recent event, have you ever imagined that if eLearning authoring tools were movies what would the title of their movie be? Well, buckle up, because I'm about to take you on a journey through the exciting world of eLearning authoring tools, and we'll be exploring their possible movie names in this blog. As an instructional designer, you know that developing engaging eLearning courses is crucial to ensuring successful training outcomes.
And with eLearning authoring tools like Articulate Storyline, Adobe Captivate, Lectora, and more, this journey of eLearning course development becomes an interesting and invigorating one! (Just like how you feel all inspired and pumped up to take on the world after watching your favorite thriller movie)
If eLearning Authoring Tools Were on Big Screen!
Here's what their movie names would be:
Articulate Storyline – The Master Storyteller
Adobe Captivate – The Visual Spectacle
Lectora – The Innovative Indie Film
iSpring Suite – Action-Packed Thriller Chronicles
That's right! With eLearning authoring tools, you can create courses that feel like Hollywood blockbusters. And that being stated, you can also take up the salient features of each eLearning authoring tool and convert them into a movie of its own kind!
So, get ready for some eLearning authoring tools movie magic!
4 eLearning Authoring Tools as Movies
From the master storytelling capabilities to enabling the action-packed thrill in training courses, there's an eLearning authoring tool for every need and every style. With that said, we have ample opportunities to produce a variety of movies for every type of audience. So, grab some popcorn, sit back, and get ready to explore the world of eLearning authoring tools in movie style!
Articulate Storyline – "The Master Storyteller"
This eLearning authoring tool is the king of the industry, with powerful features that allow you to create interactive and engaging eLearning courses. So if it were ever to be produced as a movie, the title would be "The Master Storyteller". Because weaving together different elements to create a compelling narrative that keeps learners engaged from start to finish.
As the master storyteller of the eLearning industry, it offers a range of characters and scenarios to choose from, allowing instructional designers to create immersive and relatable eLearning experiences. With its intuitive interface and drag-and-drop functionality, the process of course creation becomes effortless and enjoyable, allowing instructional designers to focus on crafting the perfect story for their learners.
Adobe Captivate – "The Visual Spectacle"
Adobe Captivate is like a visually stunning movie that immerses viewers in a world of vibrant colors and engaging visuals. With its powerful graphics and multimedia capabilities, this eLearning authoring tool can create amazing eLearning courses that leave a lasting impression. Well, there's more to add to the Adobe Captivate movie plot as it doesn't stop at just graphics and multimedia.
Its responsive design capability allows for eLearning courses to be created that are optimized for all devices, ensuring learners have a seamless experience no matter where they access the course. Additionally, the in-built quizzing and assessment features of Adobe Captivate make it easy to evaluate learner progress and ensure that the learning objectives of the training program are met.
Lectora – "The Innovative Indie Film"
Lectora is the indie film of eLearning authoring tools, with a small but dedicated following of users who appreciate its innovative approach to eLearning course creation. It may not have the same resources as the big players, but it makes up for it with its creativity and ingenuity.
It offers unique and unconventional features that give instructional designers the freedom to explore new ways of delivering content.
From customizable templates to interactive elements, Lectora empowers designers to create truly personalized and engaging learning experiences for their audience. And with its robust tracking and reporting capabilities, Lectora ensures that instructional designers can easily track learner progress and measure the effectiveness of their courses.
iSpring Suite – "The Action-Packed Thriller Chronicles"
iSpring Suite is like a high-octane thriller that keeps learners on the edge of their seats. With its focus on interactive elements and engaging animations, this eLearning authoring tool enables you to develop courses that are full of action and excitement.
With a range of powerful features, it enables instructional designers to create courses that are not only visually stunning but also highly interactive. You can create gamified quizzes and simulations, thereby making the learning experience more fun and engaging. Additionally, iSpring Suite's responsive design and mobile compatibility ensure that learners can access courses on any device, making it a versatile and flexible tool for instructional designers.
Wrapping It Up!
eLearning authoring tools are like movies, each with their own unique style and approach to course creation. From the visually stunning to the master storyteller, there's an eLearning authoring tool movie out there for everyone. It's just that you need to pick the one that you can watch over and over again!
With a range of choices available for eLearning authoring tools, you can create eLearning courses that engage learners, spark their curiosity, and help them achieve their learning objectives. So, choose your "movie" wisely, and let the eLearning magic unfold! Need recommendations? Well, here's an informative guide on how to select the right eLearning authoring tool. Check it out now!