How Authoring Tools Help in Boosting Up Your eLearning Development Process? [Video]
Authoring Tools can be a real gamechanger for your eLearning courses. This blog will provide you with a quick explanation of authoring tools, considerations, their importance, and the different types of authoring tools used by L&D professionals!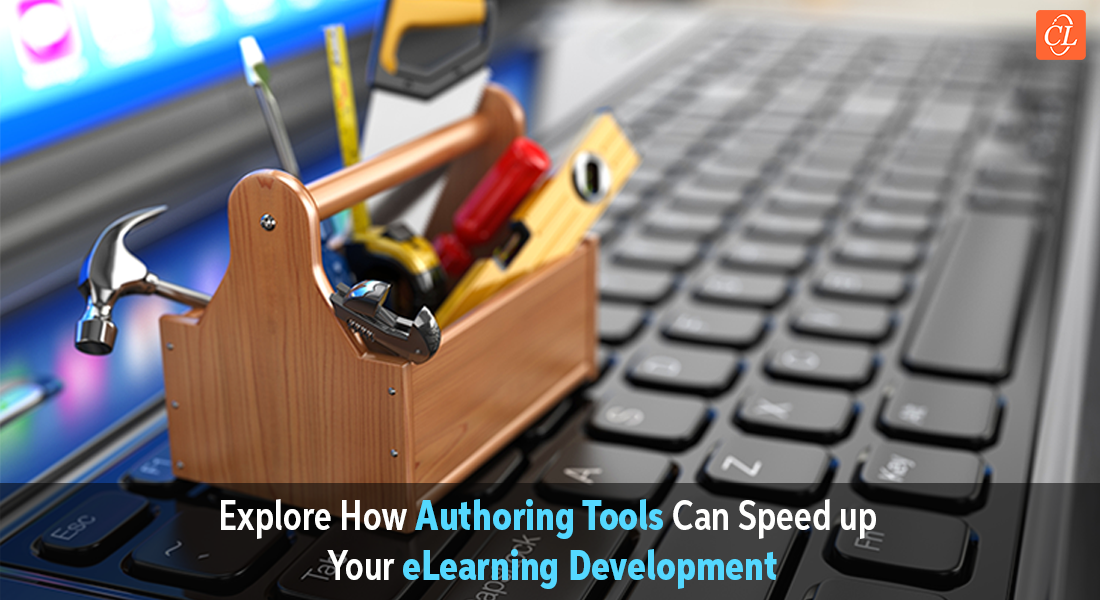 To be quite honest, the field of corporate training has advanced significantly thanks to the newest and most advanced authoring tools, which have fundamentally changed the way eLearning courses are developed. The developing of eLearning courses can be accelerated with the aid of authoring tools. Authoring tools assist create interactive eLearning courses like:
Gamification
Simulations
Explainer videos
Dynamic PDFs
Organizations began searching for consistency in the work as a result of the fast-paced environment we live in, which includes dealing with growing technology, strict deadlines, and shifting workspaces. Due to time restrictions, training managers have begun to express interest in finding out more about authoring tools and the features they have to offer when creating interactive eLearning courses.
To learn more about the various authoring tools and their main features, keep reading this blog.
What Are Authoring Tools?
The Learning and Development team (L&D) and training managers using authoring tools to create interactive eLearning courses. They facilitate engaging and customized interactions, delivery of personalized eLearning experiences that is adapted by the individual and various learners. Authoring tools ease the process of developing and eLearning course and boosts the revenue generation potential.
Authoring tools do not demand a huge budget or extensive technical knowledge! They help in designing responsive eLearning courses that are mobile compatible. It is essential to choose the appropriate authoring tool for the development as well as the specific needs of the learners.
Top 4 Popular Authoring Tools
1. Articulate Storyline
Articulate 360 is the most widely used employee training development tool today. You can easily create online learning courses for any device using this top-rated authoring tool. It provides a comprehensive collection of tools for mobile and desktop training solutions.
It also allows you to instantly translate an e-learning course into any language.
The Articulate 360 toolset's learning curve is simple to grasp.
2. Trivantis Lectora
Trivantis Lectora Inspire is one of the more costly authoring tools available. It is a cloud-based writing tool that combines the capabilities of desktop-based authoring tools with collaborative features to enable the development and ongoing review of eLearning content.
A variety of new capabilities, including seamless play publish option and auto play media on mobile devices, are included in the most recent edition of Trivantis' authoring tool.
Lectora Inspire 17, which is based on the desktop operating system makes it easier to construct eLearning for mobile devices.
3. Adobe Captivate
Adobe Captivate is an authoring tool for developing eLearning material in Flash and HTML5 formats, including software simulations, software demos, randomized quizzes, and branched scenarios.
It also elevates responsive design by incorporating Fluid Boxes and text scaling.
A fluid box is a layout approach that enables eLearning designers to place things in containers. These containers may extend and contract to allow optimal viewing on multiple devices.
4. iSpring
iSpring Suite is a PowerPoint-based authoring toolset that enables users to build interactive learning materials such as quizzes, screencasts, video lectures, and other interactive learning materials.
It offers a well-designed folder-based interface that allows you to manage your stuff logically and easily.
iSpring Learn LMS is available on iOS and Android, your learners may access your courses from any mobile device at any time and from any location.
Authoring tools have gained in popularity as an effective alternative for speeding up the eLearning development process. That's not everything. They provide a plethora of advantages that will undoubtedly transform your corporate training. This video explains everything.
Summing up!
The authoring tool you choose is determined by what you want in a course and how you want your learners to use it. You don't want to spend money on an authoring tool just to find that it lacks key features for your courses.
Now, you might be concerned about how to choose the best authoring tools!
Get your free eBook today and know about the capabilities of several quick authoring tools and how to choose the appropriate authoring tool for you.