Why You Should Use Authoring Tools to Speed Up eLearning Development
Are you looking for ways to develop corporate training courses faster? Here are a few authoring tools and its features that'll help you expedite the development of eLearning courses.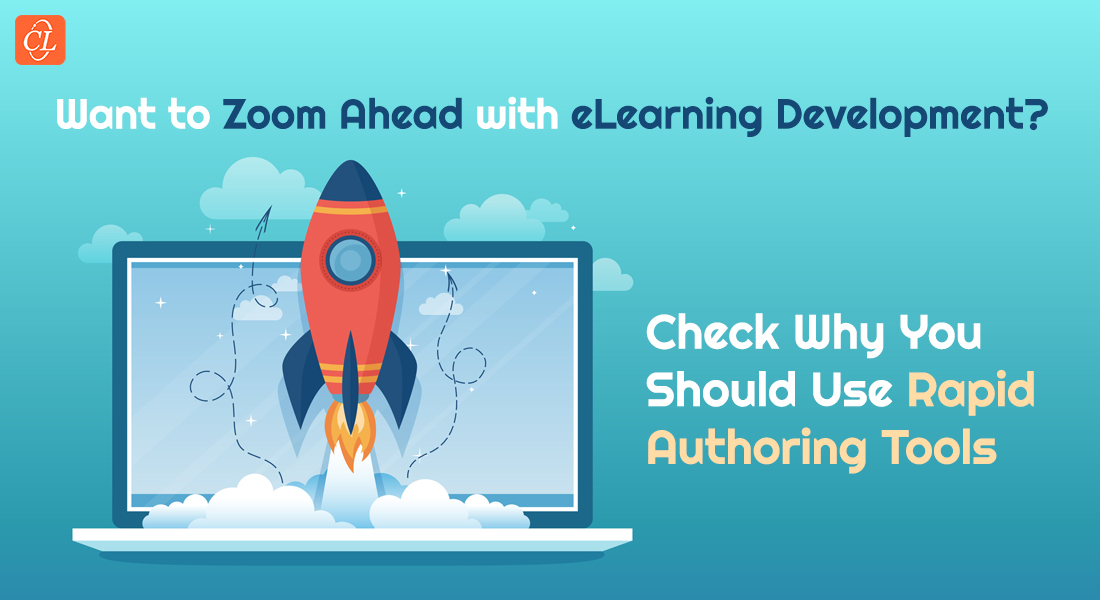 Corporate training has grown in the last two decades with emerging authoring tools entering the L&D market. These game-changing digital solutions have radically transformed the training development landscape. They have accelerated the eLearning design and development process while keeping costs down and improving learning outcomes.
Modern authoring tools help businesses unlock a whole new world of training design, content, and assessment possibilities. These tools used to develop traditional slide-based courses but now have grown to produce quick explainer videos, interactive PDFs, gamified quizzes, and immersive simulations for enhanced learner interaction.
Do You Want to Quicken the Development of Your eLearning Courses?
Here are a few tools that might help:
Articulate 360
iSpring
Lectora 19
Adobe Captivate
Read on to find out about the ultra-practical features provided by these tools.
However, in today's fast-paced corporate environment, organizations constantly look to ensure continuity while dealing with emerging technologies, tight deadlines, and fluid work environments.
Time is a limited resource. As a result, trainers are interested in how authoring tools can further eLearning development. In this post, we'll explain how authoring tools can powerfully upskill and reskill your employees faster than prescriptive L&D tools and methods.
How Authoring Tools Can Advance eLearning Development
eLearning authoring tools have unfolded exponentially in the last decade. This dramatic growth has been possible because of the influx of new technologies and the addition of new features designed to enrich training content.
Popular authoring tools like Articulate 360, iSpring, Lectora 19, and Adobe Captivate include several valuable features that enable L&D teams to close their learners' skills gaps faster and facilitate the development of rapid eLearning.
Here's how:
1. Built-In Media Libraries
Unlike traditional instructor-led sessions that employ PowerPoint presentations, eLearning relies heavily on audio-visual elements, such as videos, infographics, images, and even animations, to facilitate and open up knowledge transfer.
However, creating these digital assets from the ground up or buying them online from sites like Pexels, Unsplash, Shutterstock, or iStockphoto, can be extremely time-consuming and expensive.
Modern authoring tools like Elucidat, dominKnow, iSpring come with built-in libraries stocked with various royalty-free digital media assets, including layouts, templates, images, video clips, and avatars. With these assets you can significantly cut down the time spent developing courses and save money.
2. Advanced Authoring Tools Enable Multi-Device Accessibility
Responsive design has become a trending buzzword in the web and software development industry. Millions of people frequently switch between devices, like laptops, PCs, smartphones, and tablets. Learning and development teams need to ensure their learners experience multi-device training consistently.
Modern authoring tools publish courses in HTML5 format, which is mobile-friendly, and the training content can adapt to the learners' device screen size and orientation. Of course, a few tools, offer features like responsive course design in Lectora Inspire 16 and Adobe Captivate. Objects placed in Adobe Captivate's fluid boxes are aligned automatically so that learners experience engaging training on multiple devices and browsers.
To accommodate the remarkable surge in professionals utilizing their smartphones and mobile devices, developers must now design mobile responsive eLearning courses. With the new fluid box 2.0 of Adobe Captivate 2019, you can now construct completely responsive eLearning courses faster. With a few clicks, you can convert your traditional desktop-only courses into completely responsive eLearning material that's compatible on multiple devices.
These innovative tools can eliminate the need to develop separate courses for diverse devices. Developing individually compatible courses is not only inefficient but it's also a costly affair.
3. Built-In Templates for Rapid Assessment
Assessments are an indispensable part of eLearning. There's no point in developing a stunning course encompassing all your learning objectives if you don't have a way to evaluate your learners' performance at regular intervals or your learning outcomes at course completion. Thus, formative, and summative eLearning assessments are essential features that authoring tools need to have.
Most Authoring Tools such as Absorb Create, Learnie, Lectora Inspire, and iSpring include built-in templates to help L&D teams speed up the design process and create thought-provoking assessments. You can choose from quizzes, fill-in-the-blanks, scenario-based activities, games, flashcards, and many other powerful options to help you develop assessments speedily.
4. Smooth Development and Deployment of eLearning Courses
One of the biggest advantages of going for authoring tools is that you can access most of them from anywhere, at any time, and on any device. This way, L&D teams don't have to rely on their brick-and-mortar workstations or adhere to a fixed schedule for a seamless eLearning design and development process. When L&D managers face tight deadlines, they can use the immediate access provided by authoring tools to work hard and smart and complete their training schedules in time.
eLearning course mobilization can be challenging, especially for long, technical, and complex training courses. Authoring tools help minimize or eliminate the coding process, allowing teams to quickly disseminate their courses.
Plus, they don't have to worry about responsiveness, and can spend more time on quality assurance and testing.
5. Legacy Course Conversion
L&D teams don't need to create eLearning courses from square one but instead they can update their existing courses to meet their learners' growing needs. With authoring tools, L&D managers can repurpose their existing content and update them. Authoring tools can come in handy for organizations that conduct regular training programs on policy, technology, and compliance changes. You can create mobile-compatible courses by converting them from flash to HTML5, and your learners get to experience immersive courses from anywhere and at any time.
6. eLearning Translations
Remote hiring and onboarding have become a popular practice in the post-pandemic digital world; however, organizations now face a new cultural challenge. Language barriers cause training to become more challenging than normal. It causes L&D managers to waste time and it reduces their organizations' operational efficiency. At the very least, language barriers can steepen the learning curve and excessively prolong new employees' initiation into the work-life culture.
To speed up the process, many L&D teams develop eLearning courses from scratch by hiring translators or with the aid of multi-lingual employees. However, modern authoring tools, such as Lectora Inspire and Adobe Captivate, include a built-in translation feature that enables developers to translate eLearning courses into multiple languages with the least time and labor. These tools do more than just translate. They enable eLearning localization and adapt training content according to remote employees' specific culture and location.
7. Microlearning
Employees have described traditional eLearning courses as long, detailed, and time-consuming. Therefore, we can guess that developing these courses would be a tedious, labor-intensive process. However, due to today's fast-paced work environment, hectic employee routines, and fluid work schedules, microlearning is rapidly becoming the go-to corporate training strategy.
Microlearning involves breaking down information into bite-sized, more manageable learning nuggets using short videos, podcasts, PDFs, and captivating digital formats. L&D teams leverage the power of authoring tools, such as EduMe, Vyond, Biteable, and iSpring Learn to creatively build these mini modules.
As a result, L&D teams no longer need to spend extra time and energy developing long eLearning courses. They can use these clever authoring tools to create explainer videos, infographics, and interactive PDFs and develop quick and purposeful courses on products, policy updates, and just-in-time learning. This way, they can save time and upskill or reskill employees faster and more cost-effectively.
The Bottom Line
The eLearning industry is continuously expanding with the emergence of new technologies and practices. Authoring tools are designed to help organizations improve their learning outcomes and speed up the eLearning design and development process.
Now that you understand how authoring tools expedite the training development process, you must equip your team with vital software packages to design eLearning based on your needs and your employees' skill levels. You can begin by offering free iSpring templates to your L&D teams. They'll be encouraged to explore the latest technologies and develop scintillating eLearning solutions. Click on the link below to know more!