10 FAQs, Key Benefits, and Tips to Use Lectora
Lectora is a versatile eLearning authoring tool that allows you to develop responsive courses. Explore the benefits, tips, and answers to FAQs on using Lectora.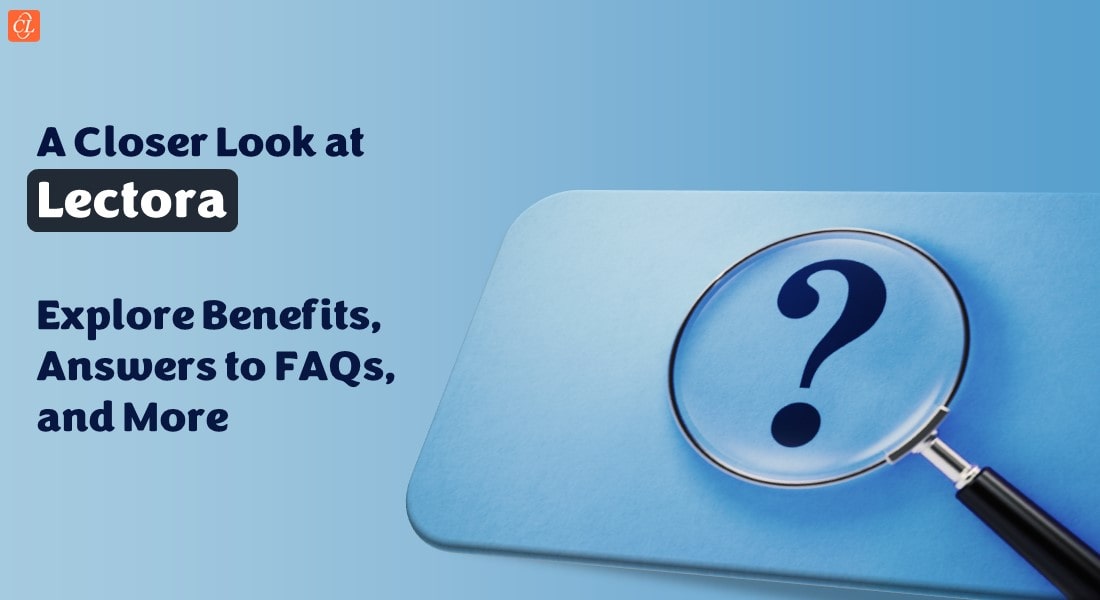 Do you want to know more about the amazing features of the eLearning authoring tool Lectora? Nothing makes corporate L&D professionals happier than trendy authoring tools with features that enable them to efficiently design and develop rapid eLearning courses. I'm sure you're eager to get your organization's training programs back on track after the last few years of unprecedented challenges. What better way to do that than with rapid eLearning courses developed using a recently updated authoring tool?
Wondering Why Use Lectora to Develop Engaging eLearning Courses?
Lectora Can Help:
Create impressive videos and illustrations
Design unique track and response options
Add custom templates, fonts, and scenes to eLearning courses
Read on to find the answers to common FAQs, and tips to use Lectora.
Organizations use Lectora to develop responsive rapid eLearning courses. This powerful authoring tool allows you to design quizzes with ease using its in built templates. Lectora is accessible on desktops and online on the cloud. Lectora not only develops courses, but it also allows you to review them. You can add comments and give feedback on courses you have developed using Lectora ReviewLink.
Benefits of Lectora
Lectora is a versatile authoring tool. You can use this tool to create impressive videos and illustrations for your rapid eLearning courses.
Lectora gives you the ability to design unique track and respond options using actions, conditions, variables, and triggers for your courses.
With Lectora, you can write scripts for your courses as well as add custom libraries, fonts, and scenes.
You do not have to rely on your personal computer every time you want to create rapid eLearning courses. You can login online wherever you are and develop courses online.
Tips on Using Lectora
To find out more about Lectora's license, select the Option menu, and click on "about Lectora" in the toolbar, you will find a key along with information about the version of Lectora that you are using.
You can view the properties of an object or graphic by clicking the object twice. This will redirect you to the Properties option.
You need to click an object or graphic twice and then select the check symbol that appears on the top to enable that object.
You need to click an object or graphic twice and select "Author control graphic" from the Properties option to activate the author control option.
Common FAQs on Lectora Answered
1. What are the tools used to record from your screen?
Lectora authoring tool is equipped with an editing capability to enable you to record your screen using its screen recorder.
2. How to install Lectora on multiple computers?
Lectora can be installed individually on systems that has the appropriate license. In order to install Lectora on multiple systems at a time, you need to contact your account representative.
3. Does Lectora offer any discount for academic or for military organizations?
Lectora supports both military and academic departments by providing competitive discounts within the market.
4. How can I find my license key on Lectora?
To find out your license key for Lectora, you need to select "about Lectora" from the Option menu in the toolbar where you can find the license key as well as the version of Lectora you have installed.
5. Can only experts handle Lectora?
No, a person without any knowledge of rapid authoring tools can also develop courses of quality. Lectora provides resources on how to get started with this excellent authoring tool.
6. Does Lectora support various other languages?
Yes, Lectora supports several languages including German, French, and Brazilian.
7. What type of formats are supported by Lectora?
Lectora supports various LMS formats such as AICC, SCORM, and xAPI.
8. Does Lectora support authoring courses on other devices?
Yes, Lectora does support designing and showcasing courses on mobiles and other devices using HTML5.
9. Does Lectora use an HTML editor?
No. Lectora cannot edit HTML. However, you can add customized JavaScript and HTML codes.
10. Does Lectora support any media formats?
Yes, Lectora supports various media formats such as text in digital form, audios, videos, rich texts, and documents.
Summing It Up
The sky is the limit when it comes to what you can do with Lectora. Selecting the appropriate authoring tool for your rapid eLearning courses is a major decision that should not be taken lightly. This blog is for you to get a glimpse of Lectora's numerous benefits when it comes to rapid eLearning course design and development.
Lectora's features are geared toward facilitating eLearning course development and providing learners with a more exciting and engaging learning experience. To gain more insights on designing responsive eLearning courses, download this free eBook now!