10 Common Myths Regarding Authoring Tools Debunked
Authoring tools made the process of developing eLearning courses easier, faster, and cheaper. However, many myths and misconceptions make authoring tools appear daunting. This blog will bust the myths one by one!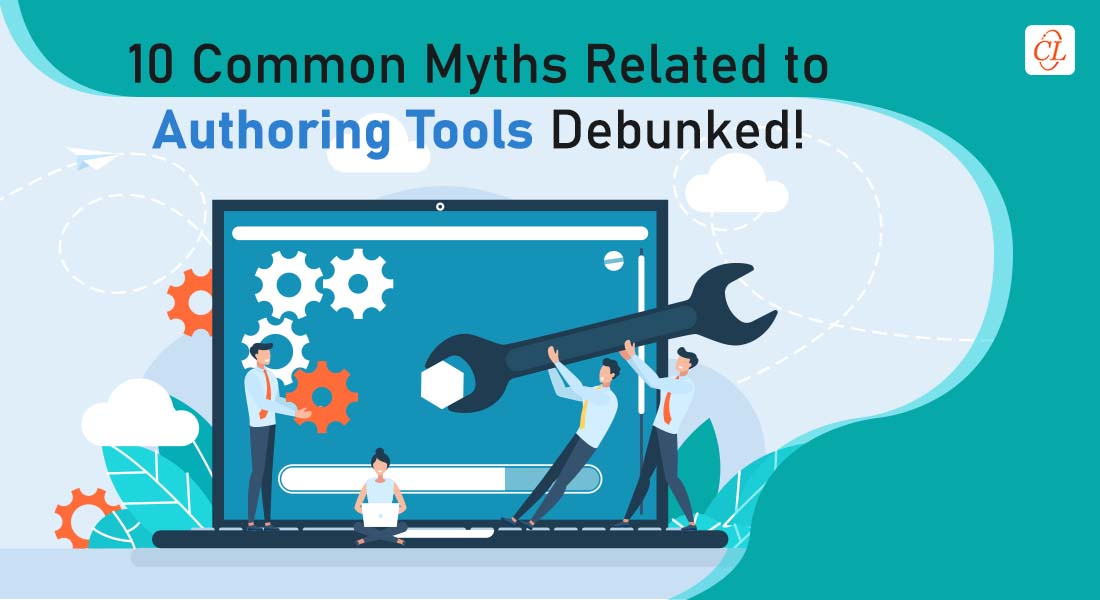 Sam wants to design an eLearning course for his company, but he does not have the coding skills nor the budget to hire coding experts. How can he come up with an interactive eLearning course in a short time without hiring new people? The answer is eLearning authoring tools.
As learning transitions from in-person training into the digital world, the rise of authoring tools changed eLearning course development for corporate training. Companies do not need to hire coding experts to build an online program. Instead, authoring tools provide subject-matter experts (SME) the ease to create highly engaging eLearning courses. Many myths and misconceptions surround authoring tools about their abilities like any new technology. It misleads new users from stepping into the future of eLearning with confidence. Read this blog to steer clear of 10 common myths surrounding authoring tools.
What are Some of Your Beliefs That Keep You From Using Authoring Tools?
Myths and Misconceptions Surrounding Authoring Tools are:
1. Too expensive
2. Take a lot of time
3. Cloud-based tools are difficult and time-consuming
4. Cannot make learning as effective as in-person training
5. Dumping content in PowerPoint is instructional strategy
Read this blog to know the remaining five!
What Are Authoring Tools and Types of Authoring Tools Available in The Market?
An authoring tool is software for creating online learning course content with text, media, and interactive features. There are 3 types of authoring tools available in the market for different levels of expertise and types of content.
PowerPoint add-ins are installed as plug-ins that appear as a separate tap on the PowerPoint ribbon. This authoring tool aids in building eLearning courses on PowerPoint, usually in a slide format. These tools do not require a high level of expertise; the user only needs to know how to use PowerPoint. However, these tools may not fit your needs if you hope to build a highly interactive course.
Standalone tools or desktop-installed tools work independently with software installed on the hard drive of your computer. These tools have many features that allow you to build interactive courses for engaging your audience; however, it requires a steep learning curve.
Cloud-based authoring tools are easy-to-use than using desktop-installed tools. They offer feature-rich authoring services via a subscription over the internet, eradicating the storage clogging on your PC, and can be accessed from any computer as long as there is a steady internet connection. However, work comes to a halt if your computer disconnects from the internet.
Common Myths and Misconceptions Surrounding Authoring Tools
Now that you know what are authoring tools and the types of authoring tools available in the market, let us discuss some common myths and misconceptions that scare every new user from creating their eLearning course:
1. Too Expensive
Whenever it comes to owning authoring tools, people often complain about expenses. However, authoring tools being costly is truly a myth as it makes the complete process of developing an eLearning module cost-effective and increases ROI. Authoring tools are a once-investment-multiple-benefits product. The end product offers wide geographical reach without overhead investments or different trainers to meet employees' learning needs. Think about the cost it saves of developing an appropriate training space with hardcover training materials and accessories. It also saves the company budget by making the development process simpler without the hiring need for coding and development experts.
2. Take a Lot of Time
People often think it is quicker to purchase off-the-shelf courses for training programs than to create one. While this may be true, readymade courses may not help you achieve company-specific outcomes, and building eLearning courses should not be time-consuming. Authoring tools gained popularity because they are time and cost-efficient in developing eLearning courses. Cloud-based authoring tools allow remote co-working in building a course, accommodating multiple authors to create content simultaneously. Its in-built file storage mobilizes content and media for quick access for all its users. Using easy-to-use templates and themes can further quicken the process of developing eLearning courses.
3. Cloud-Based Tools Are Difficult and Time-Consuming
Cloud-based tools are full of features, involving a bit of a learning curve. However, cloud-based tools do not require as much learning effort as desktop-installed tools, nor does it require as much time. With Software as a Service or SaaS authoring, you can choose from different features to meet various requirements of creating content. It allows collaborative working opportunities with instant content development, reviewing, and publishing all at the same time. It omits the necessity to upload the content on learning management system (LMS) and delivers the content to everyone with ease over the cloud. Additionally, you can quickly make any changes or revisions to your content just by logging in.
4. Authoring Tools Cannot Make eLearning As Effective as In-Person Training
We often hear that eLearning is not as effective as in-person training, and authoring tools cannot change that. However, this is not true. Since eLearning lacks a physical instructor to gauge the engagement of employees, eLearning modules need to adopt methods that maintain interaction for successful training. Using application-based training methods, such as gamification, simulations, situation-based training, and more, helps trainees learn and retain knowledge just like classroom-based learning or even more. Using an authoring tool makes incorporating these different instructional design strategies easier with easy-to-use templates and a chest of previously stored content.
5. Dumping Content in PowerPoint Is Instructional Designing and Doesn't Require Authoring Tools
People think putting all the content in a PowerPoint presentation is instructional design. In that case, why would companies need instructional designers to build eLearning courses? Constructing an eLearning course and deciding on an instructional design strategy is a complex process. It includes strategic content curation and management based on a deep understanding of learning goals and objectives. You can only choose a correct instructional design strategy after knowing the trainees' goals and their learning needs to achieve them.While Power Point add-ins can be useful for simpler eLearning courses, you need more advance authoring tools to create immersive experiences to implement these instructional designs.
6. Only More Clicks Are Required to Create Engagement and Not Authoring Tools
Creating engaging courses is crucial while learning with screens. It is easier to lose the trainees' attention and interest mid-course, leading to low engagement and lower performance in the long run. Many people think that engagement means increasing the number of clicks in the course. However, how can clicks maintain your employees' interest? Learners' interest depends on how well the content can interact with its user. Therefore, eLearning courses need interactive components such as captivating visuals, animations, media, audio, etc. It requires a strong instructional design strategy that can help trainees achieve the goals and objectives of the eLearning module. With authoring tools, you can easily leverage above mentioned interactive features while designing an eLearning course to boost trainees' interest and engagement during learning.
7. Authoring Tools Can Replace Instructional Designers
Technology is nothing without an efficient driver and operator. Instructional designers play a crucial role in designing the course to support the learning needs of your employees to achieve the training objectives. They design the course to be effective, and authoring tools work as per their directions to translate their design into reality.
8. Authoring Tools Are Good Only If They Create Entertaining Content
Making learning fun is necessary to engage your employees during the training programs. There are many components of eLearning, such as animation, videos, interactive design content, etc., which allow the creation of fun variety in the course. However, practice caution while making learning fun. Avoid overloading these features and delivering a course with diminutive knowledge value. If you wish to achieve the expected outcomes, challenge your trainees with relevant content presented with innovative yet goal-oriented learning methods. With authoring tools, you can easily present challenging and relevant content with a touch of fun and innovation; however, you still need to maintain a balance between the two.
9. Good Authoring Tools do Not Produce Courses with a Low Completion Ratio
This conclusion can be correct when a course is not designed to meet the needs of the learners or is ineffective. However, the course designed by your eLearning authoring tool may be good, but some learners do not finish it because they achieved their learning goals in the early parts of the course. Additionally, good authoring tools are not all you need to design an effective online training program. It is a product of the combined efforts of your team supported by the technology of authoring tools. Low-completion ratio could also indicate low-quality content or the use of inappropriate strategies.
10. Good Authoring Tools Reflect in The Results of Trainees' Tests
Learning is an ongoing process, and the effectiveness of an eLearning course should be determined by the employee's application of the knowledge in the field. Some assessments test knowledge retention power over application. Therefore, good retention may help learners pass the test, yet they may perform poorly on the job. Choose authoring tools that allow branching scenarios to estimate the choice-making and decision-making capabilities of learners in real-life situations. This feature will boost their performance by imbibing confidence in situations similar to eLearning simulations.
Parting Thoughts
The advent of authoring tools has immensely changed the eLearning industry, allowing everyone the possibility to create their eLearning courses. The myths and misconceptions about authoring tools often make them daunting to use. However, authoring tools can make your transition to eLearning easier with a tad of awareness, learning, and support. Now that we have busted some common myths surrounding eLearning authoring tools, are you ready to select the right authoring tool for yourself?
Get a comprehensive guide to authoring tools, which will help you select the best tool for your course development.