Top 3 Instructional Design Strategies to Redefine Corporate Training for Hybrid Workforce
The global workplace has been moving to a remote work model for some time now, requiring an overhaul in corporate training. Here are the 3 strategies to redefine employee training and meet the needs of your hybrid workforce.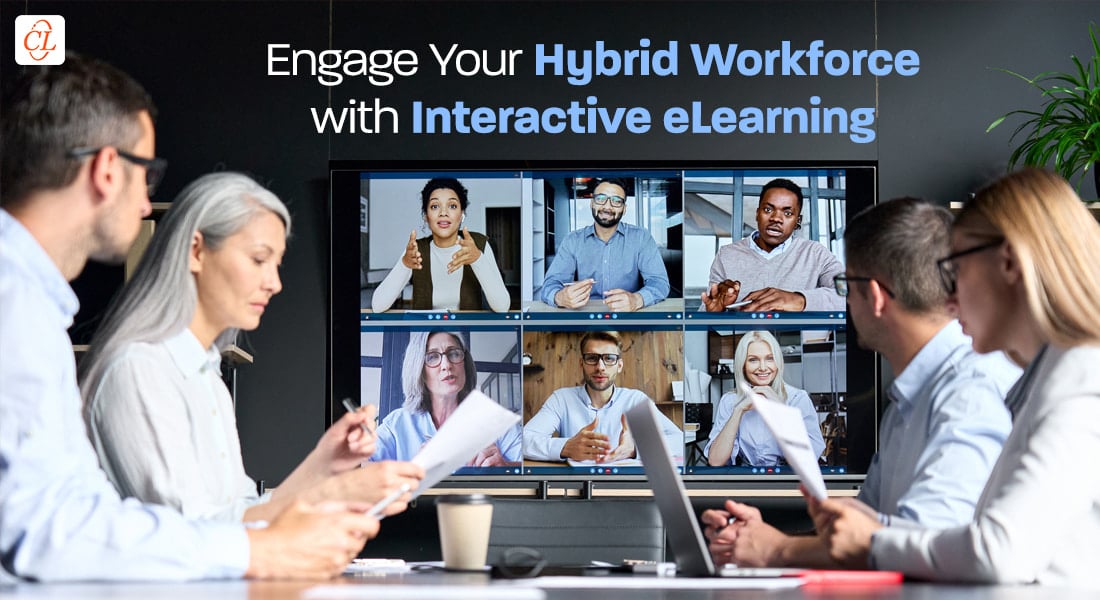 Do you prefer working from home or in the office? You've probably read the news on the future of corporate training and employment in the post-pandemic era. You've discussed it with your friends and coworkers. Perhaps your manager has asked you where you'd prefer to work from in the future, or you've polled your team. And, in most cases, the clear winner is the most adaptable option: the hybrid workplace.
Instructional Design Strategies for Effective eLearning Courses
Top 3 strategies that you shouldn't ignore when designing eLearning courses for your hybrid workforce:
Virtual Instructor-Led Training
Gamification
Microlearning
Organizations are reopening their doors, and many are embracing the hybrid workplace model. They are allowing for the best of both work-from-home and in-office models. A hybrid workplace is beneficial to both the employee and their company. However, it can create additional issues for HR. Employees need the time to adjust to the hybrid workplace model. With the correct tactics, you can implement successful training and cater for high-quality learning experiences.
What is a Hybrid Workforce?
A hybrid workforce brings together the finest of both the online and offline worlds. Under this paradigm, businesses use a combination of remote and in-office best practices. A few organizations manage staff in both places. Your firm makes learning even more flexible by allowing employees to choose where they want to work from. The hybrid workplace model meets the needs of employees whom it empowers to achieve and exceed their company's goals.
Is There a Need to Incorporate a New Training Model for Your Hybrid Workforce?
Indeed! The hybrid workforce cannot function in an entirely in-office environment. You must prepare for your hybrid workforce and develop eLearning courses to assist employees working from home to come alongside those in the office.
When you enable your hybrid workforce with eLearning you consequently ensure that training is consistent and that learners preserve their information. You also assist your hybrid workforce in adapting to virtual learning media. Both remote and in-office employees benefit from excellent design and content:
Training that's consistent
Interaction that's meaningful
Learning at their own pace
To add value to a hybrid workforce, you must implement new rules and technologies to ensure your staff adapts quickly.
Strategies for a Hybrid Workforce
With these strategies to train a hybrid workforce, you discern what you need to and mustn't do when developing courses. But do you know what makes eLearning so popular?
Here are 3 effective strategies to make sure your eLearning courses are interactive and efficient.
Top 3 Strategies for Interactive eLearning Courses
VILT (Virtual Instructor-Led Training)
Virtual Instructor-Led Training is a fantastic method to engage employees regardless of where they are. Companies can now replicate the age-old traditional classroom experience online, thanks to VILT.
VILT enables each employee to be present on a single platform in front of one instructor. This way, everyone is on the same page at the same time. You can, however, record VILT sessions and view them afterwards to ensure the self-regulation of courses.
Gamification
Game-based courses boost employee engagement while also allowing you to track learners' progress. This allows learners to build competitive leaderboards to compare their accomplishments and they also provide them much-needed enjoyment. This type of gamified learning experience is ideal for attracting today's millennial-dominated workforce.
Microlearning
Microlearning is an appealing instructional design strategy that helps your learners work on courses at work and at home. Microlearning technologies include audio bytes, video clips, brief scrolling pages, and social media posts, and they are perfect for increasing learners' concentration.
What's amazing about microlearning is that it helps your learners absorb information swiftly and easily. You can also use microlearning tools as fascinating icebreakers and as on-the-go job aids when you incorporate discussion forums in your courses.
It's a Wrap
You need to focus on your instructional design strategy, and they need to be both entertaining and effective. It's fantastic to focus on helping your learners understand the big picture, feel appreciated, and play an important role in the company's growth and achievements. Join LearnFlux, a 3-day workshop, where L&D experts chat about their success stories, understand the use of learning technology, explore new-age tactics, revisit the basics, and become familiar with the new. There's a lot in store. Reserve your spot now!