5 Proven eLearning Strategies for Advanced eLearning Course
There's more to eLearning than meets the eye. It's not only about technology; it's about adding value to your company. Read on to discover the parameters you should consider while designing your eLearning courses.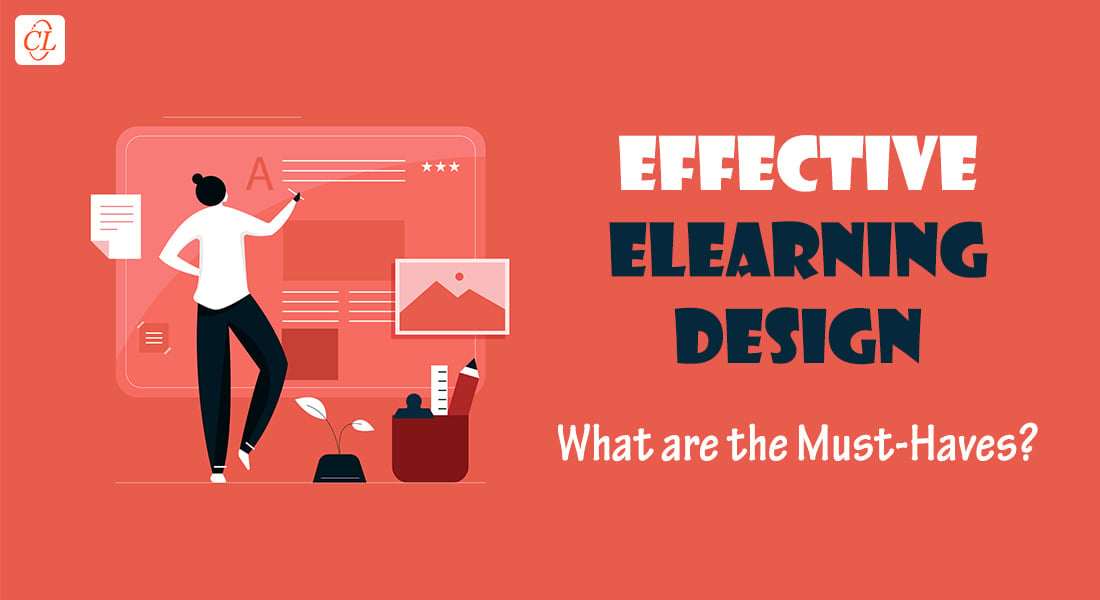 Whether your intended audience is corporate executives, new employees, or trainees, there are several hurdles that might impede learners from genuinely digesting training material and engaging eLearning components. People who want to learn online disengage soon after enrolling in the courses of their choice because of poor course design and the absence of engaging and detailed content. For corporate learning and development programs, the worst-case scenario can be that employees don't gain proper skills and knowledge. This can also ruin a company's goodwill.
Are You Designing an eLearning Course?
Before designing an eLearning course, make sure you:
Understand your target audience
Develop your course objectives
Plan the assessment
Select suitable marketing techniques
This doesn't imply that creating an online course is impossible. However, you need to utilize certain effective learning strategies and clear learning goals to enable successful learning experiences.
Let's go through some proven online learning strategies to get the most out of advanced eLearning.
Plan Your eLearning Course Strategy
An eLearning strategy is a roadmap of how learning progresses. You need to set specific goals and create the activities necessary to accomplish them. Developing a plan is the first stage where you specify the resources, technologies, and procedures that your learning team applies to meet your business goals.
Understand the Audience
The eLearning process includes various steps and understanding your audience is one of them. Analyzing your audience is undoubtedly the best practice to understand your target learner. You need to assess your learners and study their prior knowledge, technological and learning skills, age, race and ethnicity, education, and language before developing an eLearning course. Open communication with your audience helps you determine who your learners are and what they require.
Develop your Course Objectives
Learning objectives are at the very heart of eLearning. They assist in deciding what learning content and activities to include, as well as they determine whether your course is successful.
A thorough eLearning objective statement outlines three key components, that are, performance, condition, and criteria. Use them as a guide when formulating your course objectives. Unlike goals, objectives include precise guidelines on what the learner can achieve at the end of a session. Bloom's Taxonomy is a useful tool to help you set your learning objectives.
Here's an example of a learning objective: "Learners will create and produce a 2-minute analysis clip (performance) with an 80 out of 100 rubric rating (criteria) at the end of the sales training program (condition)."
Plan The Assessment
While you incorporate eLearning as an integral part of your L&D program, your eLearning assessments should be aligned with the course objectives and design. You need to use formative and summative evaluations that are in line with your learning goals and outcomes. To make your assessments more interesting, you must include various interactivities, such as online polls, quizzes, and methods that fuse art and learning. Well thought out assessments are consistent, easy to grasp, collaborative, straightforward, and accessible online.
Select Suitable Marketing Techniques
Marketing your eLearning programs raises awareness in your organization and motivates your colleagues to engage in learning. If you don't intentionally promote your eLearning courses, then you can lose the time, expense, and effort you've invested in developing material for the course.
In order to engage employees, make sure they grasp the benefits of the eLearning experience. You can use a quick video trailer, a clever hashtag, or posters to encourage learners to sign up for a new course.
To keep your staff up to date, you must use social media groups as an ongoing marketing technique. Employees can collaborate on social platforms to share links of online resources and discuss upcoming learning activities. They can also benefit from corporate eLearning blog posts that provide them with useful information, tools, and guidance.
Another way to generate interest in eLearning is to publish a monthly newsletter. You can feature an online training or eLearning innovation every time you create a new issue.
What Are the Key Factors Responsible for a Successful eLearning Strategy?
There's no formula that works for every organization, yet there are features of a successful eLearning strategy that are found in most eLearning courses. Modern learning and development programs require training that is repeatable, scalable, and adheres to eLearning standards. However, programs that are customized to the learners' needs are even more effective.
Many eLearning professionals struggle to balance the two needs, that is, scalable and customized courses. As goals change, creating an effective eLearning approach is like hitting a moving target. Organizations must constantly adapt their training strategy to meet emerging objectives, new and updated budgets, and the dynamic workplace.
Let's look at a few features that can help you develop an excellent eLearning strategy.
A Purpose-Built Content Library
An eLearning program requires curated libraries of knowledge and technology that provides personalized content designed to stimulate the target learner. Each component must be relevant, engaging, and contribute to the aims of workplace learning. An eLearning strategy should provide employees with a custom library of relevant content that's updated regularly and adds to their professional and personal life.
Responding to Workforce Trends
It can be demanding meeting learners' needs in the digital age we live in. Upskilling and reskilling employees is a strategy with enormous rewards. Corporate eLearning is the answer to emerging workforce trends.
According to a study in 2019 by Deloitte Human Capital Trends, reskilling an internal worker can cost as little as one-sixth of the cost of hiring and training a new employee.
Adaptability in the workplace is a necessity for learners to help them keep up with the ever-changing nature of the workplace and it helps you achieve organizational objectives. It enables workers to take on different positions in their organizations.
Reskilling and upskilling can be challenging. There must be a great deal of adaptability on the part of trainers and learners and meticulous preparation by the management to overcome obstacles on the job. Fortunately, today, technology helps us work and grow together in an increasingly digitalized environment.
eLearning facilitates reskilling and upskilling of employees without disrupting everyday operations. That's all thanks to its highly flexible and accessible nature. eLearning is more successful because it helps learners absorb material at their own pace. Through corporate eLearning, employees can keep up with upcoming trends and, as a result, grow in noticeable ways both personally and professionally.
Peer-to-Peer Learning
Your eLearning plan should include a system that prioritizes collaboration and includes tools and technology that help you design engaging interactivities.
Virtual technology can record peer-to-peer interaction and turn them into useful learner data. Learning can be accessible and inclusive thanks to engaging features like video calls, chat, and real-time feedback. When you place your employees in a learning environment that encourages transparency, collaborative learning, and constructive feedback, you can create custom learning experiences and advance your learners' skills and knowledge.
Integrated Learning Plans
Continual learning helps you deal with market changes that constantly require you to change your strategies and plans. It also helps you give your employees the compliance training they need to sustain their performance at work.
Integrated learning plans help employees and, by extension, businesses in tangible ways. Employees take responsibility for their own learning, which means they invest directly in completing programs and courses and boost training ROI.
Using Analytics to Inform Strategy
Extensive spreadsheets aren't always the best way to track the progress of your learners! Senior management and L&D professionals make better-informed and felicitous decisions when you provide meaningful progress indicators in a way that's comprehensive and easy to understand.
When you use learning data to design eLearning courses it gives you clear, quantifiable evidence on what learners want and the methods they respond best to. From a financial perspective, it also shows what's working and the training materials that you need to remove.
The result is a more efficient, ROI-boosting training program that helps employees increase their learning and reduce costs.
Final Thoughts
It's in the best interests of your stakeholders and your company for you to include eLearning as a part the organization's L&D initiative. When growing a successful organization, it's of the utmost importance to give the employees a modern learning experience with the best possible strategy. eLearning is the most efficient avenue that leads to a truly adaptable and skilled workforce. eLearning is a worthwhile endeavor with tried and tested methods and demonstrable results. However, positive results rely heavily on the strategies outlined in this post that you can use to develop your training courses.
Are you ready to design a successful eLearning program for your business? Check out this webinar before you start designing your training activities.