How to Reimagine Corporate Training Strategies for Your Hybrid Workforce
The global workplace is gradually transitioning to a hybrid model and this it calls for a corporate training makeover. Here's how you can reinvent your corporate training sessions to cater to your hybrid workforce.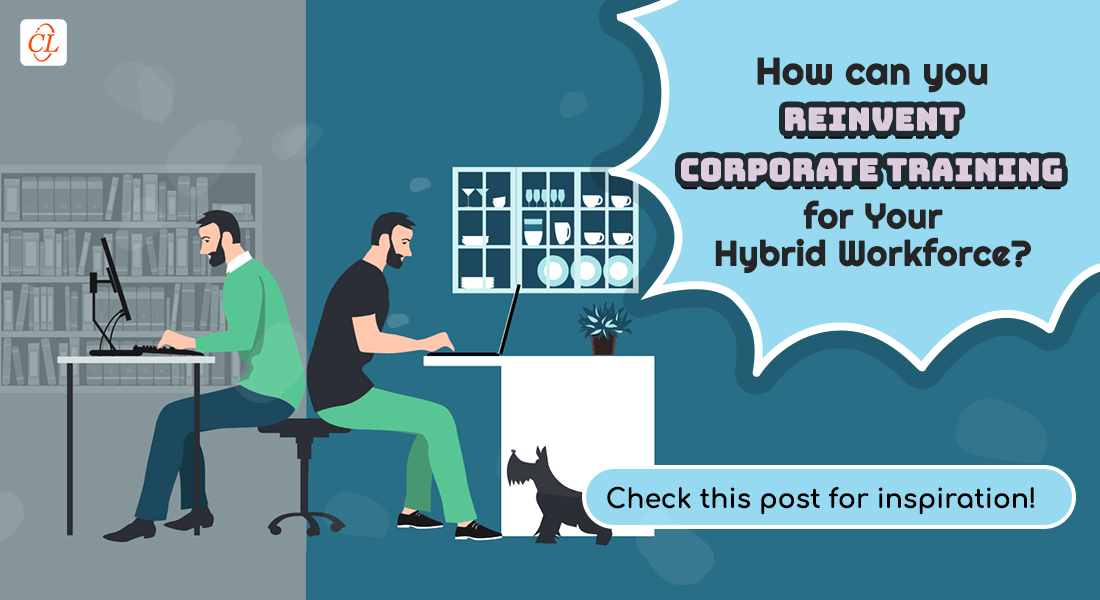 Let's face facts. According to Prudential's Pulse of the American Worker Survey, 87% of American workers prefer working remotely at least once a week and 68% of them think that the hybrid work model is ideal. The pandemic has forced organizations, big or small, to rethink and revamp their work culture. The global workplace is gradually transitioning to a hybrid model. Going forward, organizations will have a blend of in-office and remote employees. The rules of the game have changed, and businesses are making the necessary changes. Naturally, the corporate training landscape needs a makeover too.
It's time for learning and development leaders to rethink their game plan and carefully curate training strategies that are best suited to the hybrid workforce. Read on to discover training strategies that can work wonders for your hybrid workforce.
Reinventing Corporate Training for the Hybrid Workforce?
Follow these tips:
Offer Personalization
Encourage 'Learning While Having Fun'
Promote Experiential Learning
Focus on Learner Retention
Ensure mobile accessibility
Why There's a Need to Revisit Your Corporate Training Strategies?
We cannot deny the fact that, with the onset of the pandemic, the need to impart training has substantially increased, especially in a hybrid work structure. Considering the technical and operational advancements of today, employees need to update their skills for a competitive edge. They must also be trained in new policies and guidelines that have been brought in because of the pandemic. Another crucial task for the training manager is to collaborate with HR to plan training interventions for new employees to best facilitate their onboarding. What with the 'Great Resignation Movement' being in full swing, talent acquisition managers are having a tough time managing a seamless recruitment and onboarding process.
There's absolutely no doubt that the future of the global workplace is a hybrid one. This involves your employees accessing all future training programs from the office as well as remotely. It comes with a host of challenges, a call to reimagine workplace learning, and a renewed analysis of training needs.
What Should You Consider When Rethinking Your Corporate Training Strategies?
Navigating the complex world of corporate training is no cakewalk. L&D leaders worldwide are having a tough time determining training strategies to cater to the hybrid workforce. Here are 4 key factors you could consider when charting the training roadmap for your hybrid workforce:
Focus on what learners seek- flexibility, engagement, motivation, and collaboration
Consider the strengths and weaknesses of the various training strategies out there such as VILT (Virtual Instructor-led Training), microlearning, mobile learning, and blended learning to craft the appropriate strategy for your hybrid workforce
In today's dynamic business scenario, enterprise-wide changes are inevitable. Organizations need to implement operational, technical, and cultural changes with competitive speed. In this process, top level executives get left out. Consider designing training programs for your leaders in regular phases as they need to both adapt to the changing work environment as well as guide their teams to do the same.
The future of the global corporate landscape is unpredictable in the post-pandemic world and organizations may continue with the hybrid model and be open to changes every now and then. Talk to your team leads and project managers to identify potential gaps that have arisen in the hybrid work structure and address them in your training programs. After all, you need to get a handle on what's working and what isn't for your hybrid workforce as well as accommodate the necessary changes.
Reimagine Corporate Training by Weaving Modern Training Strategies
What works for me might not work for you. It's as simple as that, and it's the same in corporate training. Modern training strategies have gradually taken over conventional classroom training as what worked in the original setup is not showing results in the new virtual environment.
In the changing L&D landscape, you need to think of what works best in classrooms and develop suitable online equivalents. For instance, collaborative learning is best done at office, whereas self-directed learning works well at home. As a result, classroom learning material might not be effective virtually.
Organizations are embracing modern learning strategies like eLearning, microlearning, and blended learning to cater to the changing needs of learners, thereby transitioning the work culture.
Here are some tips to reinvent your corporate training sessions using modern training strategies to best suit your hybrid workforce:
Offer Personalization
Ask your learners what they want to learn. The shift to the hybrid workplace model has led to changes in every area of an organization's functioning. You need to identify potential gaps in each area of your organization and address them in training sessions to offer meaningful learning to your employees. The best approach is to identify training needs and figure out the appropriate training format to maximize learning.
It is also essential to customize learning experience. Ensure that your training content is interactive and engaging to offer personalization and compensate for the physical absence of a trainer. You can use the guided learning strategy, where a character or avatar directs your learners through the eLearning course. You can also use gaming elements like pop-ups (claps and stars), scores and badges to celebrate your learners' achievements of learning objectives. All of these rudiments mimic the appreciation of a classroom training session, and your learners gain motivation.
Encourage 'Learning While Having Fun'
Classroom sessions can be made interactive by involving learners in role-play activities. The facilitator can also ask random questions or plan for micro-quizzes to quickly check learning during the session and enhance active participation.
In a virtual setup, it's easy to get distracted if the training is not engaging enough. Learners soon get sidetracked and involve themselves in things like cleaning inboxes or online chatting and surfing the net. To rule out possible distractions, involve your learners by getting them to interact with the content. You can include interesting interactivities like polls and quizzes to maintain focus throughout the course. Storytelling and game-based interactivities create interest and grab your learners' attention. This in turn promotes retention and boosts your employees' performance.
Promote Experiential Learning
During online training, if learners are left to read off the screen or listen to audio narrations, they tend to become passive. It is crucial to get learners to actively participate in the learning process. And what better way than making them learn by doing. Simulation exercises allow learners to experience real-life work scenarios and they improve the learners' decision-making capabilities that in turn ensures efficiency at work. Scenario-based learning promotes the learners' critical thinking abilities thereby ensuring better learning outcomes. In the case of classroom training sessions, you can plan for role-play and game-based activities to offer your learners experiential learning. However, while conducting VILT sessions, you need to plan for breakout rooms, chat rooms and other discussion forums to promote collaborative learning.
Focus on Learner Retention
Lengthy training sessions put the learners to sleep, and I am sure you don't want this to happen. Include microlearning in your corporate training strategy to offer your learners 'bite-sized learning nuggets.' Microlearning makes learning easy and improves retention. It also reinforces learning and can be used as performance support job-aids. Videos, animations, infographics, digital flashcards are a few microlearning assets that can be used in your courses to get the desired results. Microlearning modules can also be included in your refresher courses post training.
Game-based eLearning courses are another fantastic strategy to boost learner retention. You need to convert real-time workplace challenges into interesting games to involve your learners, promote their critical thinking skills and enhance their decision-making capabilities. During VILT sessions, you can arrange breakout rooms and other discussion forums for better learning outcomes and better retention.
Ensure Mobile Accessibility
Today's global workforce is dominated by the millennial generation, who search for information that must be at their fingertips. Make sure your training material is easily accessible and has multi-device and multi-browser compatibility. This also ensures a hassle-free access to courses for your remote employees. You can use Microlearning assets that are accessible on mobiles to train learners on various topics. You can also offer your learners extra material using snippets from past webinars or SME recordings and other such material to prepare with before your classroom training sessions.
The Way Ahead
The first step towards devising a robust training strategy for your hybrid workforce is to analyze the training needs of your organization and to figure out the best strategy to address them individually. The secret to devising an appropriate training strategy for your hybrid workforce is to find the right blend. Use the above-discussed training strategies to design a blended learning solution that ensures high performance and productivity and best achieves a higher ROI.
If you are looking forward to maximizing your training efficiency and boosting employee performance in the hybrid workplace with blended learning solutions, refer to our handy guide. Download the free eBook now!