5 Amazing Feats of Authoring Tools that Make eLearning Development Incredibly Easy
What can you achieve with eLearning authoring tools? Discover 5 tasks in eLearning development that become a breeze with eLearning authoring tools!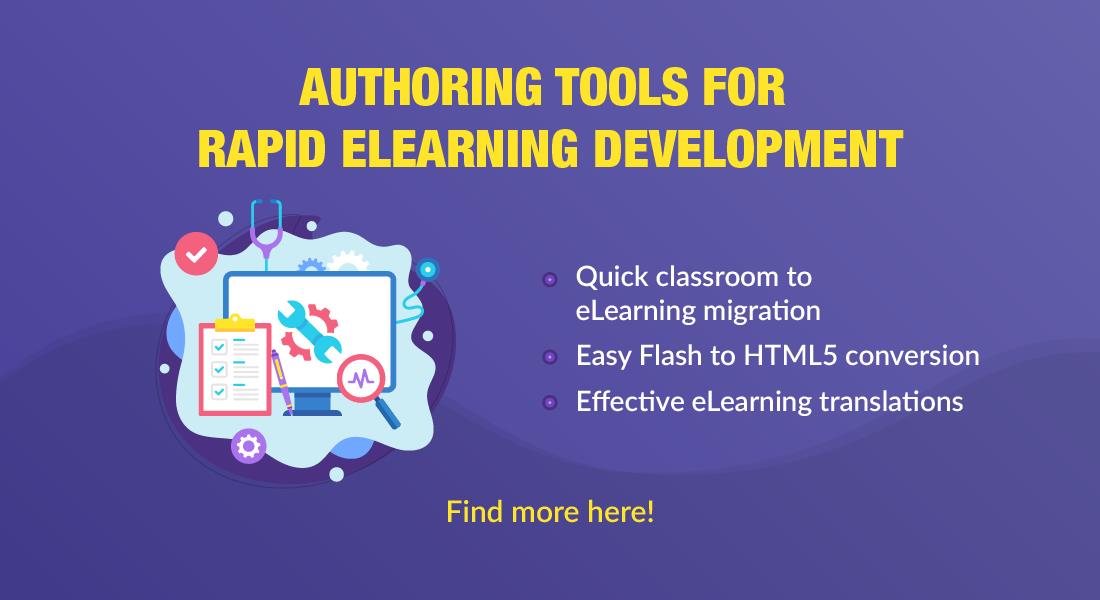 Hello folks! Today, I am going to talk about a topic of great interest to eLearning instructional designers, developers, and training managers alike – Authoring Tools!
ELearning Authoring Tools and Their Role in eLearning Development
Rapid migration from classroom to online training
Easy and quick Flash to HTML5 conversion
Multilingual eLearning translation to train your global workforce
Responsive eLearning to enable mobile learning
Quick and seamless online course reviews
Authoring tools, as you know, are software used to create digital training content, and convert them into eLearning courses. They can help in designing templates, creating assessments, generating videos, adding interactivities in eLearning courses. Perhaps it would be better to call them a set of tools in one suite that can perform most of the tasks that eLearning instructional designers and developers need.
Using eLearning courses for corporate training is a common enough practice today, especially in the present time of social distancing and work from home; but it wasn't so for a long time. Even though the first eLearning course was developed way back in the 1970s, it wasn't popular in corporate L&D until the 2000s. And even then, eLearning was limited to specialized trainings and big organizations. That was because creating even the simplest interactivities using text and images was very time-consuming and required extensive coding. And not every company could afford to have an army of programmers to create these eLearning courses.
However, authoring tools proved to be a game changer. They were designed to allow instructional designers with ordinary computer skills to quickly create professional looking eLearning courses. This also proved to be cost-effective since there was no need to spend big bucks on software programmers anymore.
Articulate Storyline 360 and Rise 360, Adobe Captivate, iSpring Suite Max, Lectora Inspire and Online, dominKnow One, Elucidat etc., are among the popular authoring tools in the market today. These tools with their built-in templates, interactivities, and other assorted features have made designing and developing eLearning courses infinitely easier than before.
So, let's find out what more these tools are capable of in eLearning design and development, shall we?
The Scope of Authoring Tools for eLearning Design & Development
1. Rapid Migration from Classroom to Online Training
The first step towards online training is converting all your classroom materials to eLearning. Most organizations have a lot of existing classroom ILT materials with a lot of useful content (PPT decks, guides, manuals, etc.). Instead of chucking them out and developing the content from scratch to suit the eLearning model, we can try to repurpose the existing content for eLearning courses. And authoring tools come in very handy when you need to make these courses visually engaging and interactive.
But before authoring tools can work their magic, you first need to get your content ready. This involves analyzing all existing content, filling in the content gaps, framing performance-based learning objectives, and devising a strategy for instructional design. Once you do all that, you can start with the actual designing and developing process. And here's how authoring tools can help you in rapid eLearning design and development.
You can use stock multimedia assets – images, audio clips, videos clips, etc. – from the authoring tool's internal library to create GUIs, assessments, etc., and make the eLearning courses visually appealing, all without spending an extra dime on licensing from external sites.
You can make use of the built-in templates from authoring tools. These pre-designed, interactive, and re-usable templates save a lot a time that you would otherwise spend on designing layouts for the GUI, common screens (learning objective slide, agenda slides, and so on), and assessments. Also, many authoring tools allow you to customize these templates to suit the topic better.
You can use the built-in low-level interactivities (animations, hot-spots, image transitions, pop-ups) as well as high-level interactivities (simulations, gamification, virtual reality, etc.) without any programming or coding.
Authoring Tools like iSpring work as PowerPoint plug-ins which not only have a flatter learning curve, making the tool extremely easy to use, but also make the eLearning course development very easy. They allow you to directly upload PPT slides and Word docs to convert them into the digital format – even saving the original transitions added in the PPT deck unless you chose to remove them.
2. Easy and Fast Flash to HTML5 Conversion
Adobe Flash was one of the most popular authoring software for creating eLearning courses for more than a decade. But because of multiple security issues and outdated technology, it lost favor and is going to be phased out by the end of 2020. That means most of your legacy Flash courses which were created exclusively with Flash or have Flash scripts embedded in them will lose their browser functionality. And that's why we keep flashing the red light, reminding you to plan for Flash to HTML5 conversion.
Now, that there are only around 3 months left till the deadline, you need all the help you can get to convert your legacy courses from Flash to HTML5. And authoring tools are going to be your best friend in this conversion journey.
No matter the condition of your legacy courses, you can convert them from Flash to HTML5 format using authoring tools. If the source files are missing, you can Record the course in mp4 using the screen-cast recording feature in the authoring tool, add assessments at proper places, and publish these eLearning courses in HTML5 format.
If source files are available, you can salvage the content and media elements from the legacy courses. You can replicate the Flash interactivities using the built-in rapid authoring tool interactivities. You can also Rebuild the media elements that can't be replicated using the stock library and re-create interactivities with mobile-friendly alternatives.
If your legacy courses were developed at a time when mobile learning was not popular in corporate L&D, authoring tools like Storyline 360, Rise 360, Lectora, iSpring, Captivate, etc. can be used Republish those mobile-unfriendly courses to mobile responsive courses. The authoring tool Lectora is especially known for its RCD (Responsive Course Design).
If your legacy courses have outdated content and design that need to be revamped, you can use authoring tools to Redesign the courses with new-age instructional strategies. You can quickly develop courses with gamification and complex branching scenarios using these rapid authoring tools without any coding or programming. You can even create VR-based simulation courses using authoring tools like Adobe Captivate and Trivantis CenarioVR.
Most modern eLearning authoring tools develop eLearning courses in HTML5 format which is a modern, open, self-updating language that future-proofs your training. They also generate courses in AICC, SCORM, xAPI, and cmi5 format (universally acceptable eLearning standards) and can run smoothly in any modern LMS.
3. Multilingual eLearning Translation to Train your Global Workforce
In this globalized world, it is quite common for organizations to have part of their workforce located in different countries. While your employees may know and understand English, it might not be their mother tongue or the language they are most comfortable with. This can be an issue even if your entire workforce is located in the same area but speak different languages. To make training equally engaging and effective for all your employees, you need to translate your eLearning courses into different languages. And authoring tools are a great help in doing that.
Authoring tools are designed to develop courses in several languages, irrespective of their font style, typecast, or syntax. They even have special templates for courses that need to be developed in languages like Arabic (with right to left script) or Chinese and Japanese that is written from top to down.
They come with translation tools that can import and export eLearning course content in RTF (Rich Text Format) and XLIFF (Localization Interchange File Format). These files make it easy to transfer the course content between the authoring tool and the CAT (Computer-aided Translation) memory tools that are used for eLearning translations.
Authoring tools like Lectora are especially preferred if multiple language translations are required. Lectora provides a switchable interface in the course that allows the learner to switch between languages at any point in the course.
4. Responsive eLearning to Enable Mobile Learning
As I mentioned earlier, technology has come a long way in the last two decades. Mobile phones were once a luxury, but it is now quite difficult to imagine life without them. Similarly, mobile learning opportunities in corporate training were few and far between, mostly restricted to on-field workforces. But now, mobile learning is taken for granted when organizations plan their online training. And if this COVID-19 pandemic has taught us anything, it's that mobile learning is crucial if organizations want their remote workforce to access training and learn from wherever they are, whenever they want.
Modern authoring tools are key for developing responsive courses that can work across mobile devices, be it smartphones, tablets, or laptops. Depending on the authoring tool, you can develop:
Partially responsive design where the course GUI can expand or shrink to a certain extent based on screen size and orientation. Storyline 360 is a classic example of such an authoring tool.
Adaptive design where courses can be tweaked during development to fit specific screen sizes and orientations so the GUI will adapt itself to the device screen. Adobe Captivate with its fluid box 2.0 feature can offer the adaptive design.
Fully responsive design where the GUI will adapt according to screen size and orientation of any device without needing any additional tweaks. Lectora is known for its RCD (Responsive Course Design) which allows fully-responsive course development. Rise 360 also allows the development of such courses.
5. Quick and Seamless Online Course Reviews
Proper quality checks are a must while designing and developing eLearning courses. That is why reviews are recommended during every phase of course development. But course reviews can become a hassle when you have multiple reviewers (stakeholders, SMEs, etc.). You have to save their time as much as possible, navigate through conflicting opinions, and implement relevant feedback. Many authoring tools come with online course review apps that can make this process a lot smoother and seamless. Lectora's ReviewLink and Articulate Review 360 are classic examples of online review tools.
Here's how online review tools can make your life easy and improve the quality of your eLearning.
Instead of sending storyboards of PPT decks and heavy prototype and course files back and forth, you can simply send a review link to all stakeholders and SMEs where they can access all files simultaneously.
A lot of time can be saved when reviewers give their feedback in the form of comments then and there, without having to create a separate document for it.
All comments and feedback can be streamlined making it easier to keep track of the changes to be implemented and comments to be resolved.
Since everyone can see each other's feedback, there won't be too many conflicting comments.
Wrapping it Up!
Did you find this information useful? I hope you did because we have a lot more to talk about when it comes to authoring tools and how to choose a tool that is just right for your training requirements. Knowledge of authoring tools is a must when you are venturing into online training, especially rapid eLearning design and development.
For more information on how rapid eLearning can up your training game, download our eBook.