5 Powerful Advantages Authoring Tools Offer for Impactful Corporate Training [Infographic]
Seeking ways to create learner-focused eLearning? Authoring tools are your ally. Dive into our blog for insights into how they elevate corporate training.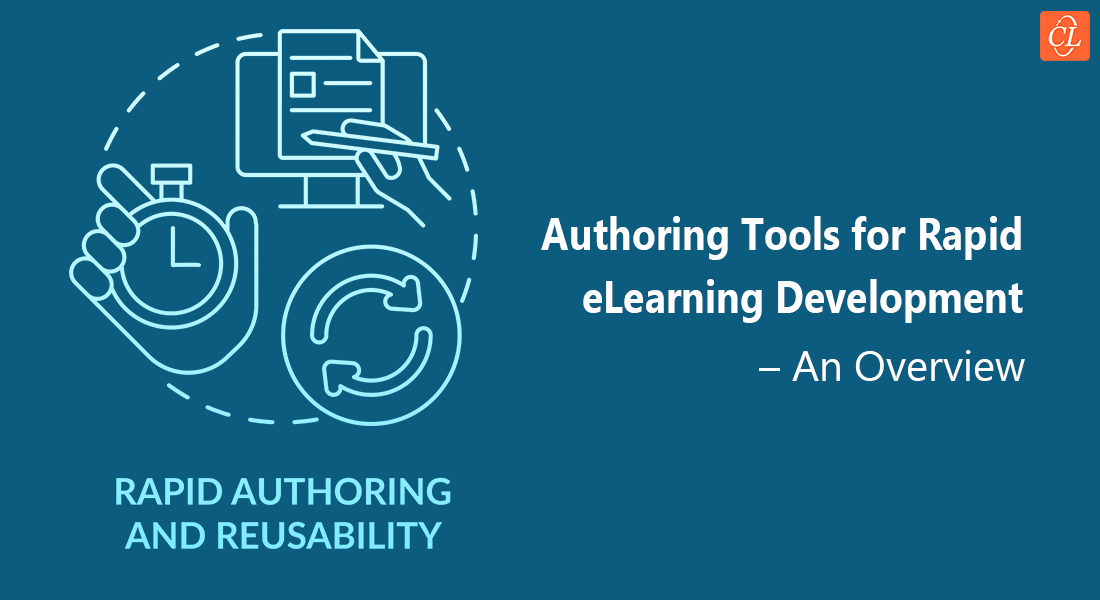 Rolling out eLearning courses in no time is now easy. Thanks to the rapid authoring tools!
Rapid authoring tools, assist you and your design team in developing and delivering courses that your learners will enjoy. Furthermore, the primary goal of authoring tools is to allow a layperson to develop eLearning courses quickly and cost-effectively without coding knowledge. As you may be aware, an authoring tool is a software that includes pre-programmed features that aids in the creation of interactive multimedia content. Authoring tools make it simple to redesign or rebuild your eLearning courses. Each tool has a unique set of features that cater to the specific needs of various types of eLearning courses. Rapid authoring tools are jam-packed with useful features and templates for quickly creating effective and interactive courses. Moreover, rapid authoring tools can be used to create mobile-friendly courses.
There are numerous rapid authoring tools available today such as Adobe Captivate, Articulate 360, Lectora Inspire, iSpring, dominKnow and many. But choosing the right rapid authoring tool can make or break your organization's training initiatives.
What Benefits do Authoring Tools Offer in Rapid eLearning Design and Development?
1. Rapid Transition from Classroom to eLearning
Converting classroom training materials to eLearning is the initial step towards online training. Authoring tools can transform PowerPoint decks, manuals, facilitator guides and other materials into visually appealing and interactive eLearning courses. Popular authoring tools that help in the rapid conversion of ILT material to the online format are iSpring Suite and Adobe Presenter 11.
2. Simple and Quick Legacy to HTML5 Conversion
Lately, legacy courses which were created at great expense and effort, have ceased to play in browsers. Recreating those courses would require a significant amount of time and effort, not to mention the financial investment. And here rapid authoring tools can be used to convert all your still relevant legacy courses to HTML5. With the rebuild strategy courses created in obsolete or older versions of an authoring tool can be converted to mobile-friendly versions using another authoring tools like Articulate Storyline for more interactivities, Adobe Captivate for seamless responsive output and iSpring for conversion of PowerPoint storyboards.
3. eLearning Translations in Multiple Languages
Although many employees understand English, they understand and feel more comfortable learning content in their native language. Authoring Tools aid in translating eLearning courses into multiple languages, ensuring consistent training across the organization while making training more engaging and effective. Moreover, workforce around the globe is at ease and prefer to learn in their native languages. Articulate Storyline, Adobe Captivate and Lectora Inspire are examples of Authoring Tools which enable eLearning translations and allow you to create multilingual courses with minimum efforts.
4. Responsive eLearning to Facilitate Mobile Learning
Mobile learning opportunities in corporate training have grown as technology has advanced. Moreover, today's workforce is very comfortable with their smartphones and would like to learn 'on the go,' anywhere and at any time. For instance, remote employees cannot turn up for a classroom training session and here mobile learning comes in handy. The most logical solution for today's generation is to learn using mobile phones so modern authoring tools address the needs and create responsive courses that work on all mobile devices. All thanks to authoring tools like Lectora Inspire, Adobe Captivate 9, Gomo Learning Suite, and Articulate Presenter 360 which eliminate the need to develop a separate version of the course for each device that needs to run it.
5. Simple and Fast Online Course Reviews
Course reviews are an important part of the process and they can be stressful when there are multiple reviewers. Many authoring tools include online course review apps, which can make the process much easier and more effortless. Articulate Storyline 2 makes eLearning course development very easy and quick with its easy-to-use features, templates and triggers whereas Adobe Captivate 9 enables developers to create interactive courses quickly and easily.
With so many authoring tools available today, I understand how tough it can be to choose the ideal one. Here's an infographic presenting 3 popular Rapid Authoring Tools.



Summing it up!
Rapid authoring tools have proven to be lifesavers for course designers and training managers, ensuring the viability and long – term prosperity of eLearning courses. But choosing the right authoring tool for your specific needs is a critical step that should be taken after careful consideration.
Are you new to the world of eLearning? But aspire to become an eLearning champion? Not sure where to start though? Join our webinar to learn how to implement eLearning like a pro! Discover secrets to master an eLearning career. Hurry! Register now to join.