What's Hot with Articulate 360? – Part 5: Presenter
This blog introduces the reader to Articulate Studio 360 and examines the abilities of Studio 360, its most important component.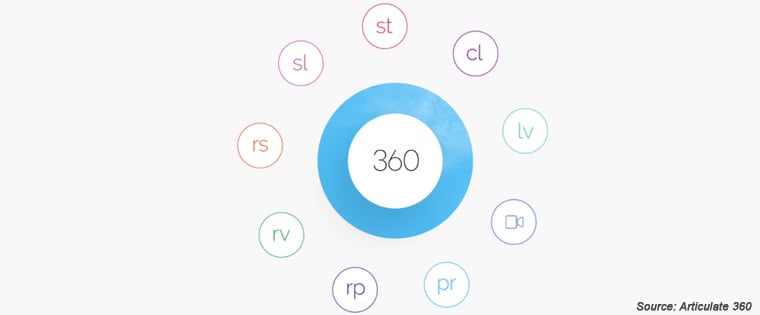 Welcome to the fifth post in a series of fourteen. In my earlier blogs, we looked at the easy authoring features of Storyline 360 and its ability to create good animations and facilitate effective learning interactions. We saw that the Articulate 360 component enables the development of high quality software simulations and e-learning assessments. We also examined Storyline 360's features that facilitate responsive and accessible online learning.
Today, we will look at another important component of Articulate 360, Studio 360, and examine the features of its most vital element, Presenter 360.
What is Studio 360?
Studio 360 is a software application that can be used to transform classroom PowerPoint Presentations into engaging responsive web-based courses. This Articulate 360 element is made up of three tools viz. Presenter 360, Quizmaker 360, and Engage 360. Let us now look at the capabilities of Presenter 360.
Features of Presenter 360
Facility to convert PPT files into web-based courses easily
Presenter 360 allows you to convert PPT files into good technology-enabled learning materials, thanks to the following features:
A simple, user-friendly interface that can be mastered in no time.
Seamless integration with other tools of Articulate 360. For instance, you can import assessments and videos created in Quizmaker 360 and Replay 360 respectively, and include them in Presenter 360 courses.
Instant access to more than 100,000 e-learning development assets such as images, photographs, and online course templates, contained in the Articulate Content Library.
Effective integration with Articulate Review, enabling you to get in-context feedback from stakeholders and subject matter experts.
A consolidated narration window that can be used to record narration, synchronize animations, and include annotations, without interrupting the e-learning development workflow.
Multilingual interface available in English, Chinese, French, German, and Spanish.
Branched scenario development is made easy. You can test your learners using a branched scenario and then display content based on their responses.
Slide-level control is made easy. Presenter 360 comes with an easy-to-use window that allows you to include navigation elements, branching, playlists, and Player tabs.
Capability to develop animated and media-rich e-learning courses
The Articulate tool comes with a wide array of features that enable you to:
Incorporate a variety of entrance, exit, emphasis, and motion path animations. Presenter 360 supports most animations of PowerPoint.
Use slide transitions in your e-learning course, with minimum effort.
Annotate important content with arrows, check marks, crosses, rectangles, and spotlights.
Make the best use of audio in your online course – you can record, import, and edit audio, in a hassle-free manner. You can also ensure consistency in audio volume, across slides and interactivities.
Harness the power of learning videos. You can record and import videos and determine when they should be played. Presenter 360 comes with a video editor that allows you to crop, trim videos, adjust volume, and add a watermark.
Add SWF files, Captivate movies, and Camtasia screencasts to your course.
Embed web applications, gamified elements, and reference materials.
Ability to develop responsive, accessible e-learning courses
Presenter 360 has the following features that allow you to create device-agnostic online courses that can be accessed by all learners, including those with physical disabilities:
A responsive Player that renders content based on the size of the screen, on which it is rendered.
Facility to preview how the course will look and behave on various devices.
Playback orientation restrictions can be imposed for mobile devices. For instance, you can restrict learners to access an online course only in the landscape mode.
HTML5 gestures such as swiping, dragging, and pinch-to-zoom are well-supported, and this goes a long way in facilitating effective learning on mobile devices.
Option to publish your web-based courses to Flash, HTML5, and Articulate Mobile Player (AMP), a native mobile app available in both iOS and Android versions.
Translation support of high quality is provided. You can export the course as an MS-Word document or an XML file, which can be handed over to the translator. Once the document is translated, you need to import the document and publish it – and the course in the target language is ready.
Presenter 360 supports all languages including those written "right-to-left" such as Arabic and Hebrew, and using double-byte character sets such as Chinese, Japanese, and Korean.
Courses that adhere to provisions of Section 508 can be created.
Compliance to Web Content Accessibility Guidelines (WCAG) 2.0 can be ensured.
JAWS 16 or later with Internet Explorer 10 or later, Google Chrome (latest version), Firefox (latest version), is supported by courses published to the HTML5 format, while JAWS 16 or later with Internet Explorer 11 or later is supported for Flash-based output.
Player font size can be increased by up to 200% to help learners who have ocular problems.
Learners can be allowed to skip Player navigation.
The language of Flash and HTML5-based courses can be identified by screen readers.
We thus see that Presenter 360 can be used to develop effective, media-rich online courses that can be accessed across devices, by all learners. Next time, we will look at Quizmaker 360, another tool of Studio 360. So, stay tuned for my sixth post on Articulate 360.