Can You Ensure Virtual Instructor-led Training is a Replica of Your Classroom? [Video]
Virtual instructor-led training imparts human interaction to online training. However, how can we overcome challenges – such as lack of visual cues, unfamiliar technology – to ensure the essence of the classroom is retained in VILT? Join the webinar for insights to replicate the real classroom virtually!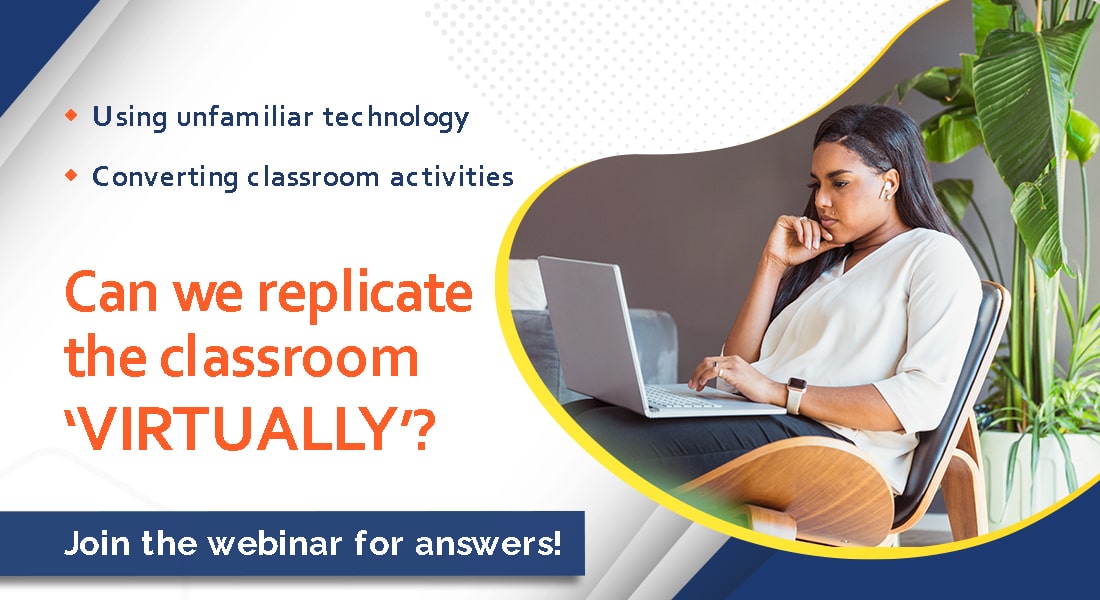 Virtual instructor-led training or VILT is becoming increasingly popular due to the ongoing pandemic. VILT offers the flexibility of online training supplemented with the indispensable human interaction of traditional training. However, can virtual classrooms capture the essence of the physical classrooms? How can the inherent challenges be overcome? If such questions and more are stopping you from adopting VILT for your corporate training, join this live webinar on July 27, 11:00 AM EDT for practical insights on ILT to VILT Conversion – Replicating the Real Classroom, Virtually!
Twin Pillars of VILT
The success of VILT depends on 2 aspects – converting classroom:
Content to suit the virtual space
Activities to online collaborations
Applying Gagne's 9 Events of Instruction in VILT
Robert Gagne, an educational psychologist, created a nine-step process called 'Events of Instruction' – that helps trainers and instructional designers structure and design learner-centric, application-oriented training programs.
Let's take a look at how these 9 events of instruction can be used in VILT with the aid of technology – to ensure learner engagement and retain human interaction.
1. Gain attention
Let learners introduce themselves to build rapport.
Have fun activities like sharing favorite or childhood pics to break the ice.
Address learners by name and involve silent participants.

Use chat to share the ground rules and set expectations.
2. Inform learners of the objectives of the session
Ask learners to share work-related challenges and explain how they will be addressed through the training.
Use scenarios, thought-provoking questions, or highlight recent events to bring serious issues to the forefront.
Set the context by sharing facts, quotes, or war stories.
3. Stimulate recall of prior learning
Use polls and micro quizzes to find learners' current level of knowledge of the topic.
Pose open-ended questions that'll get them thinking about what they know and how it connects with what's to come.
Showcase articles, pictures, or facts related to the topic.
4. Present the content (stimulus)
Use a variety of tools such as instructionally sound slide decks to present content.
Whiteboards can be used to provide visual explanations and help learners participate.
Play short videos to demonstrate processes or explain abstract concepts.
5. Provide guidance
Use breakout rooms for learners to discuss and brainstorm, and come back to the main room with questions for the instructor.
Let participants use whiteboards or share their screens so that the instructor can guide and correct them.
6. Encourage performance
Use breakout rooms to let learners analyze case studies.
Ask learners to annotate and/or share examples and non-examples.
Pose 'what-if' scenarios and ask learners what they would do.
7. Provide feedback
Instructors can:
Visit breakout rooms to encourage, correct, and guide.
Let groups share learning in the main room – highlight and summarize appropriate ones.

Discuss common questions or misconceptions for everyone's benefit.
8. Assess performance
Have micro quizzes or polls; ensure questions are aligned with the learning objectives.
Use tools (eg: Breeze Presenter and Poll Everywhere) that help deliver full-fledged assessments in the session.
Encourage assignments with peer reviews.
9. Enhance retention and transfer back on the job
Offer job-aids and links to resources learners can refer after the session.
Post recordings of the session on the LMS.
Share links to social media channels/forums where learners can participate in discussions around the subject.
Challenges in VILT
Everything said and done, in virtual instructor-led training sessions, instructors don't have visual cues to modulate the session or check participants' pulse accurately. However, we do have workarounds and this webinar will give you much needed insights about:
Why VILT is much more than a webinar or a videoconference
Typical challenges involved in the conversion
Decisions to be taken about the format, content, activities
Types of instructional material needed
Ways to achieve engagement – polls, breakout rooms, and more
The process of conversion and best practices
Join Shalini Merugu, Director – Learning Solutions at CommLab India, who will answer all your questions based on practical experience working on a wide range of VILT projects.