Maximizing the Impact of Virtual Classrooms: Tips & Tricks for Success [Video]
Virtual classrooms have proven their worth by overcoming all training disruptions during COVID-19. If you are planning to adopt virtual classrooms, learn how to ace its delivery, in an hour!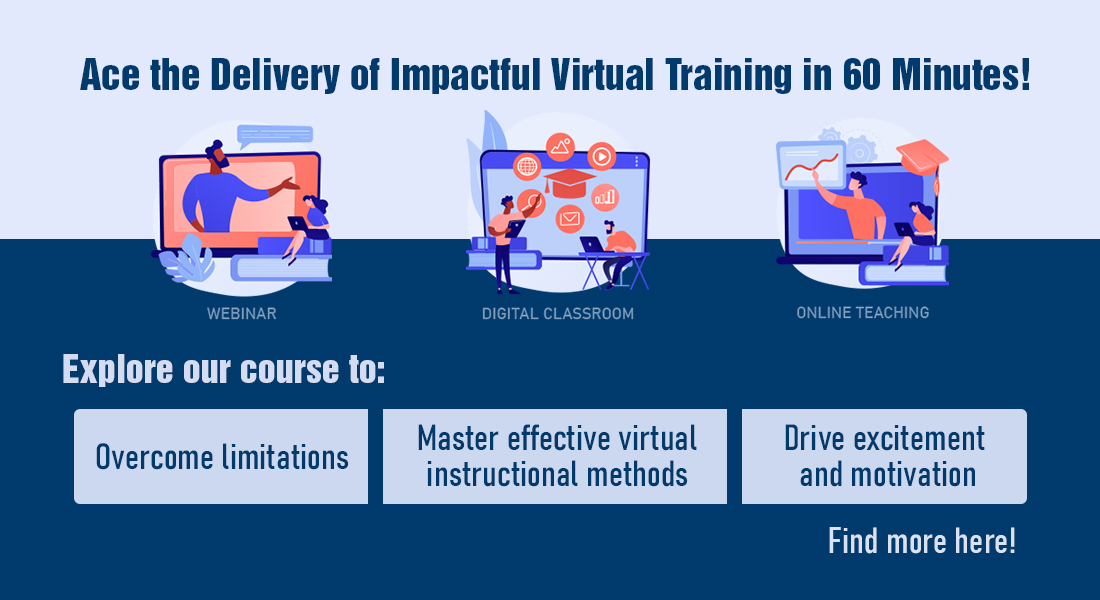 For long have we emphasized the importance of virtual training and the last few months have reinforced our belief. The COVID-19 crisis brought many training disruptions and challenges but most importantly, it made it clear that we can no longer rely only on in-person Instructor-led Training (ILT) to train our workforces. Many organizations have readily accepted this shift toward virtual training, and virtual classrooms in particular. Virtual classroom is a proof of how you can combine the essence of in-person instructor-led training with virtual platforms to create an engaging and effective plan to train your corporate workforce. And yet, there are challenges you need to overcome to make virtual classrooms a success. Any sudden change in your training strategy needs careful planning, especially if it is your first venture into virtual training. The truth is – we have long relied on classroom instructor-led training programs and its powers of face-to-face real time interaction between instructors and learners. While it used to be hard to replicate the sense of in-person interactions before, it is a cakewalk now! With new-age learning technology and instructional practices, you can successfully duplicate any classroom interactivity in virtual instructor-led training and make for an engaging learning experience. Are you looking to start training through virtual classrooms? Want to train your ILT trainers on becoming effective VILT trainers? Want to know the secrets to engagement, tools that can be used, and more? Learn how to maximize the impact of virtual classrooms in corporate training by registering for this course by Dr Howard Lewis, a Certified Performance Technologist and Chief Learning Architect of CommLab India.