Why is Virtual Training Outpacing Traditional Training?
The L&D industry now has wider possibilities thanks to virtual training. Among the many benefits it offers are more accessibility and flexibility. Explore the advantages and how it is outpacing traditional training in this article.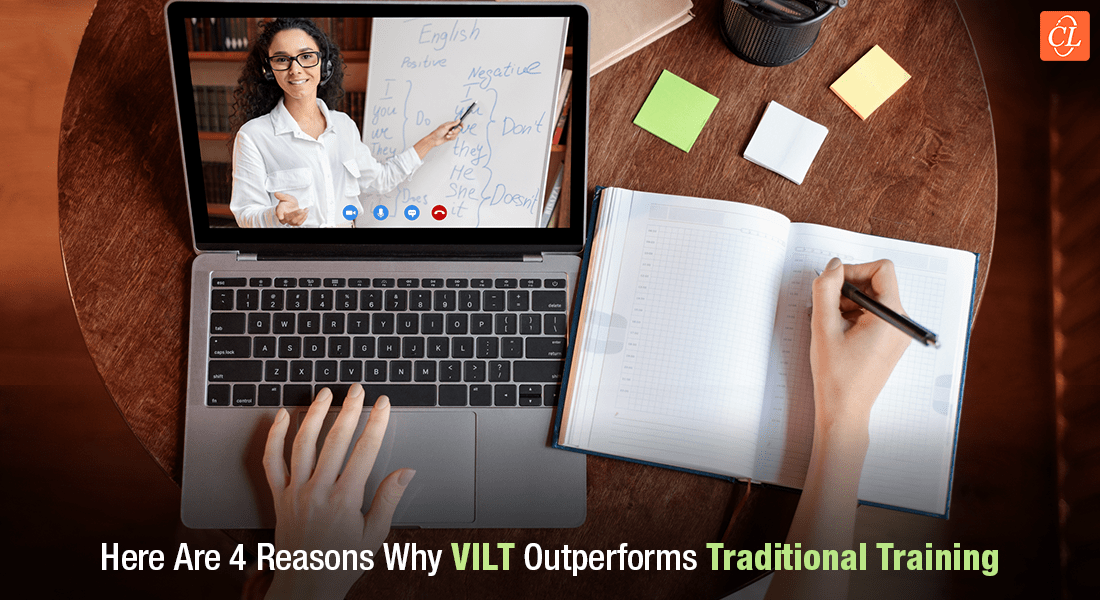 Long before the worldwide COVID-19 outbreak, we were gradually transforming into a digital society. Online gaming, social networking, recreation, and online shopping are some of the things that have transferred more and more to the online platform. On the contrary, other activities like learning and working have mostly persisted offline. Nevertheless, the necessity for social distance which emerged with COVID-19 rendered the transfer to the internet more pressing and demanding for both learning and working. A fundamental change in how we see and handle online training resulted from the urgent and obvious demand for virtual instructor-led training (VILT).
Wondering how Virtual Training is outpacing Traditional Training?
Here are the Top 4 Reasons Why:
Allows for Flexibility and is Learner-Centric
Enables Trainees to Learn at Any Time and From Any Location
Increases Learning Capacity Dramatically
Makes Skill Development Accessible and Affordable
Traditional training takes us to a time when the corporate training industry was dominated by conventional classroom training. Before the advent of virtual learning, it was the most widely used and reliable training method. But today more than ever, the drawbacks of conventional training are obvious. This blog discusses the drawbacks of conventional training and the reasons why VILT is advancing faster than conventional training.
The Drawbacks of Traditional Training
Tough and Exhausting Hours
When training occurs during or following typical working hours, it can be particularly taxing for both trainees and instructors. Additionally, it occurs with the requirement to learn information when workers are confined to one location for extended periods. This can become tedious and undermine attention and drive, which are essential for effective learning.
Time Management Issues
Training has less agility and operates at set hours. The corporate environment is always changing, and when meetings and timelines are drastically altered, time management could become difficult as traditional training is not available beyond the classroom. Whether an instructor or a trainee, this is hardly the best outcome for someone balancing many obligations.
Demanding Resources
Traditional instruction techniques need many resources. Your budget could well be substantially impacted by everything from supply and printing prices to workforce schedules and trainer fees for classroom training.
Barriers to Retention
The drawback of traditional training is that it emphasizes conventional procedures and outcomes. Employees could have trouble recalling complex and important lectures during instructor-led training, which could lead to learners' disengagement. Opportunities for professional growth at work have an impact on the extent to which individuals decide to remain in their current positions, asserts SHRM. Employee retention has been recognized to be endangered by conventional training methods and limitations.
Let's learn why virtual training is a better alternative to assure ongoing training now that we have a better understanding of the possible drawbacks and limitations of traditional eLearning. But first, it's critical to comprehend what VILT implies.
What is VILT?
A highly interactive training method offered by an instructor using a digital medium is called VILT (Virtual Instructor-Led Training). While guaranteeing diversity, accessibility and adaptation, it promotes learning. Additionally, it empowers learners to benefit most from conventional classroom instruction while being secure and at ease in their own homes.
This brings up the issue of why virtual training is preferable to conventional methods of instruction.
Benefits of Virtual Training
It would be helpful to start by defining virtual training before we set out on our quest to learn more about it.
Using clearly defined learning objectives and a high level of instructor-led engagement, virtual training enables learners to engage on internet platforms. Through breakout rooms, screen sharing, whiteboards and chat boxes, these platforms' collection of technology enable interaction and collaboration between trainers and trainees.
A VILT session typically lasts 60 to 180 minutes. In-person instruction is combined with online learning, such as webinars and eLearning, in integrated plans or blended learning programs. Virtual training has a variety of advantages. For instance, costs are decreased while captivating training is provided. It may be customized to meet the unique requirements of employees and has a compelling and straightforward argument to be made.
The benefits of virtual training are multi-faceted. It reduces costs while delivering training engagingly. You can tailor virtual platforms to fit the specific needs of employees. The case in favour of virtual learning is strong and blatantly evident.
1. Allows for Flexibility and is Learner-Centric
Today's workers look for workplace solutions that fit their lives. To meet their desire for adaptability and to improve morale, employees can attend training whenever it is convenient for them. Additionally, according to a study by CRI approximately 60% of workers prefer to pursue self-directed learning.
Learning online is adaptable. Training is available whenever it suits recruits. Additionally, personnel undergoing training can modify their learning speed, unlike traditional corporate training sessions. This gives learners, even more, control over their schedules and allows them to adjust their roles and the environment of their workplace as they see fit.
2. Enables Trainees to Learn at Any Time and From Any Location
There are a wealth of materials available for virtual learning. Independent of their job or location, it gives trainers and trainees access to information they wouldn't have in a traditional classroom setting.
The ability of the remote and globalized workforce to receive virtual training around-the-clock, every single day of the week is one of its main benefits. Over 60% of workforce choose online learning modules for on-the-go learning, according to research from Finances Online.
Does your training provide a sizable number of resources that workers may access later? They have the chance to interact with materials during virtual instruction at the precise time they need it. A few effective accelerators for just-in-time learning include brief video clips, infographics, and mobile learning. With the help of eLearning materials, your learners won't be restricted to the classroom and can train and work while on the move!
Authoring tools let you develop interesting and pertinent content for online learners. The correct tools are simple to use and help create adaptable courses which could be accessed from anywhere at any time. Additionally, they include resources that you may use to improve your training and achieve your objectives. You may simplify your courses and training and minimize your effort by using authoring tools.
3. Increases Learning Capacity Dramatically
In a setting as vast and varied as the world wide web, there are an infinite number of capabilities and areas to train in. Online learning solutions are being offered by an increasing number of companies for employees with varying degrees of professional experience.
Your virtual training sessions could be scaled to engage as many personnel as you'd like after they've been created. Additionally, you may translate them into as many other languages as you require by using the power of eLearning translation. For the contemporary global workforce, this is a useful advantage.
Employee engagement and memory of important information could be considerably increased with the use of multimedia and gamification in eLearning. It is particularly pertinent to specialized subjects, such as compliance procedures and software training.
4. Makes Skill Development Accessible and Affordable
For the modern, global workforce, eLearning is, in a word, more economical. The logistical costs of trainers, employees, training facilities, transport, meals, and supplies can be reduced in part thanks to virtual training. To finish their course, trainees merely need a computer or smartphone and some free time.
You may save your overall expenses by 80% by cutting your printing costs, claims Training Magazine. Businesses have made significant financial savings by using virtual training. The financial advantages of eLearning are tangible compared to more conventional training methods; the cost of investment is inexpensive, and the results are significantly better.
Parting Thoughts
To conclude, these are VILT's key benefits. You now have access to exclusive information on this innovative corporate training method that immerses your workforce in learning. In exchange, your workforce may use the new information and abilities they have acquired via VILT to increase their production and growth, which will eventually help your bottom line.
Here is a VILT beginner's guide to getting you started.