Converting Classroom Training to eLearning? Watch Out for These Five Pitfalls
With the eLearning industry on a steady rise, converting classroom material to eLearning is becoming a norm in corporate training. But there are certain pitfalls you need to look out for. Read on to know more.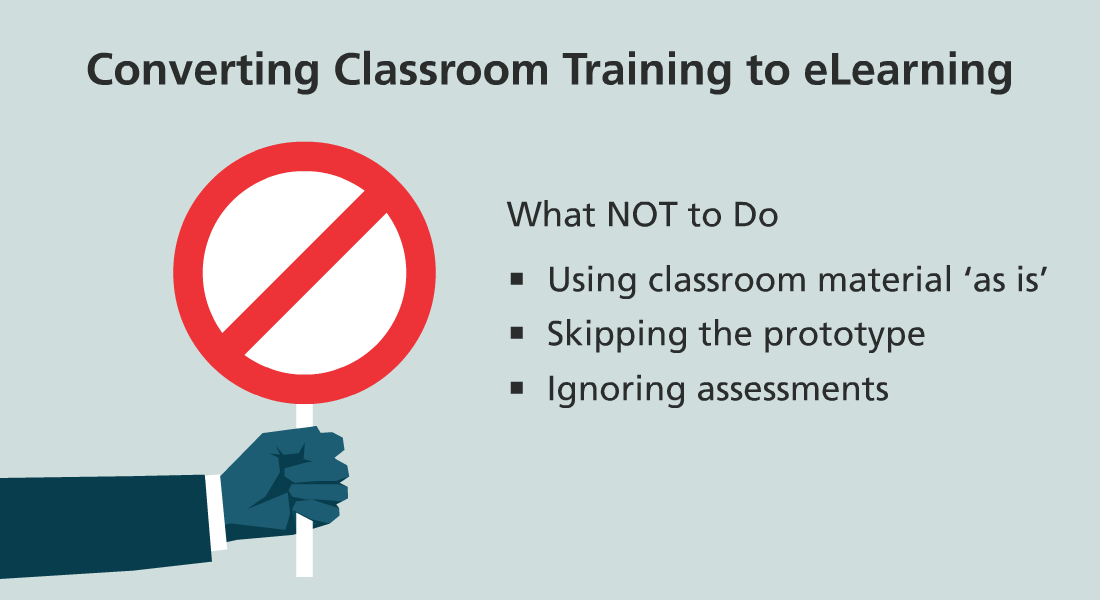 With the global eLearning market on a steady rise at 8% CAGR and aiming to hit $315 billion by 2025, there is no better time than now to convert your classroom training to eLearning. Here are five critical pitfalls to look out for when converting instructor-led training (ILT) to eLearning.
Classroom Training to eLearning Conversion
What NOT to Do
Do not reuse your ILT content 'as is' – Crop irrelevant information
Do not skip the prototype – Pay close attention to how the prototype looks like
Do not ignore learner needs – Include different learning formats
Do not take assessments lightly – Make them interesting
Do not try to do it yourself – Outsource it to an eLearning vendor when you don't have the expertise
What You Should NEVER Do When Converting Classroom Training to eLearning
1. Using your Classroom Training Content 'As It Is'
Alright, so you have gathered all your classroom training materials for conversion, but have you checked if the content is up to date? Is the quality and relevance of the material on par with your training needs? Do your PowerPoint presentations make sense when looked at independently sans the instructor? Wait, you are not planning on simply reusing the old classroom training materials, are you?
There are reasons why reusing old classroom training material as is, is a bad idea.
In a typical classroom training program, the materials, mostly in a PowerPoint format, are used to support the instruction that is provided to the learners by the instructor himself/herself.
In eLearning, in the absence of an instructor, the content is the main learning material for the learner. Content used in an ILT may not be self-explanatory as it relies on the instructor to make it more informative and engaging to learners.
Being supplementary or supportive classroom resources, Classroom training materials do not always contain the entire content, and often have information that might be 'nice-to-know' and not aligned to the learning objectives.
A content analysis is therefore the first step before going for the conversion. Do a thorough assessment of the content to see if it is complete and relevant, and if it matches the learning objectives of your online course.
Your content may be outdated or have information that is not completely relevant, but that does not render it unusable. Your Subject Matter Experts will help make the content up to date. What's more, they can also remove unnecessary pieces of information that are irrelevant to the training, thus weeding out the 'nice-to-know' from the 'need-to-know' stuff.
2. Skipping the Prototype Stage
The prototype is a mini version of a functional eLearning course that gives an idea of the look and feel of the final course. It gives you an idea of the way the content is presented, the different attention grabbers and interactivities used, and maybe a glimpse of the assessments also.
The prototype is a crucial part of eLearning development, and skipping it will mean that you will miss out on:
Checking the overall user interface (UI), including the onscreen elements, interactivities and games, etc. for learner friendliness.
Examining the functionality of the course.
Signing off on the visual strategy – the graphic elements, colors, etc.
There is no alternative to this step. The prototype stage needs you as much as you need it.
3. Not Addressing Learner Preferences
One of the reasons ILT is so effective is because it encourages learners to participate in different in-classroom activities like quizzes, discussions and debates, worksheets, or analyzing case studies. But what happens when learners move to eLearning?
Converting classroom training to eLearning does not necessarily mean that some learner requirements be overlooked. Different learners have different learning needs and styles – some are visual learners; others are auditory, while still others may be kinesthetic learners. Although the absence of the instructor is a drawback, one key benefit of eLearning is its ability to address all learner preferences.
Here's how classroom training to eLearning conversion can help you address all learner needs:
You can design online courses in different formats – from videos and audio books, to eBooks and games.
You can add interactivities such as 'drag and drop' and quizzes and mini games like 'spin the wheel', and 'trivia time', just to name a few.
Most eLearning content is hosted on a Learning Management System (LMS) which provides discussion forums. Utilize this feature to facilitate collaborative learning.
You can also offer social learning opportunities through your LMS to host real-time discussion and query sessions.
4. Taking Assessments Lightly
Assessments are at the deciding end of successful completion of learning. Building assessments in eLearning needs careful consideration.
eLearning assessments need to be engaging and test the performance-based learning objectives stated at the beginning of the course. Here are a few pointers on how to make the most out of assessments in eLearning:
It is most important to ensure that assessments are aligned with the performance-based learning objectives.
Include both formative and summative assessments – formative assessments after the completion of each topic, providing immediate feedback, and summative assessments or a Final Quiz on completing the entire course.
Use different question types – true/false, fill the gaps, match the following, drag and drop, crosswords and puzzles in the formative assessments to make them interesting.
Not paying enough attention to assessments can lead to faulty evaluation of whether or not the learning objectives have been met.
5. Attempting DIY Conversion (and not Outsourcing)
A big NO when it comes to classroom training to eLearning conversion is doing it yourself, when you don't have the in-house expertise. Once again, let me reiterate that ILT to eLearning conversion is not just putting up old PowerPoint slides on the LMS. It requires a full redesigning based on robust instructional design. Most organizations may not have the required expertise to develop a course for training their employees. Therefore, attempting to build a full-on eLearning course by yourself is most likely a recipe for disaster.
It is a good idea, while converting classroom training to eLearning, to involve experts in different fields. And I am not just talking about Subject Matter Experts. Outsourcing eLearning development is the best strategy to go to when you do not have an internal learning design team, specifically because outsourcing gives you access to:
Instructional designers – specializing in designing effective and engaging eLearning experiences for your learners.
eLearning developers – with expertise in authoring tools who make online training fully functional and compliant to eLearning standards.
Quality analysts – who ensure design consistency, uniformity and engagement of assessments and interactivities, as well as overall user experience.
Project managers – who coordinate with different teams and work in tandem with both internal and external teams.
Apart from that, your SMEs will be the ones who will review each milestone of the course and sign off on the final product.
It's a Wrap
So, these are the five basic pitfalls which might crop up while converting ILT to eLearning. Taking care of these will help you design a more learner-friendly eLearning course that fits your requirements. Plus, if the growing numbers of the eLearning market are anything to go by, going for conversion of classroom training to eLearning is one of the best decisions to futureproof your training.
New to eLearning? Let's get you started with this handy little eBook on rapid eLearning design.