How to Migrate from ILT to VILT – 5 Tips You Can't Afford to Miss!
VILT programs are here to stay and can increase your company's training if designed right. This blog shares 5 proven tips for a quick migration from ILT to VILT. Read on to know!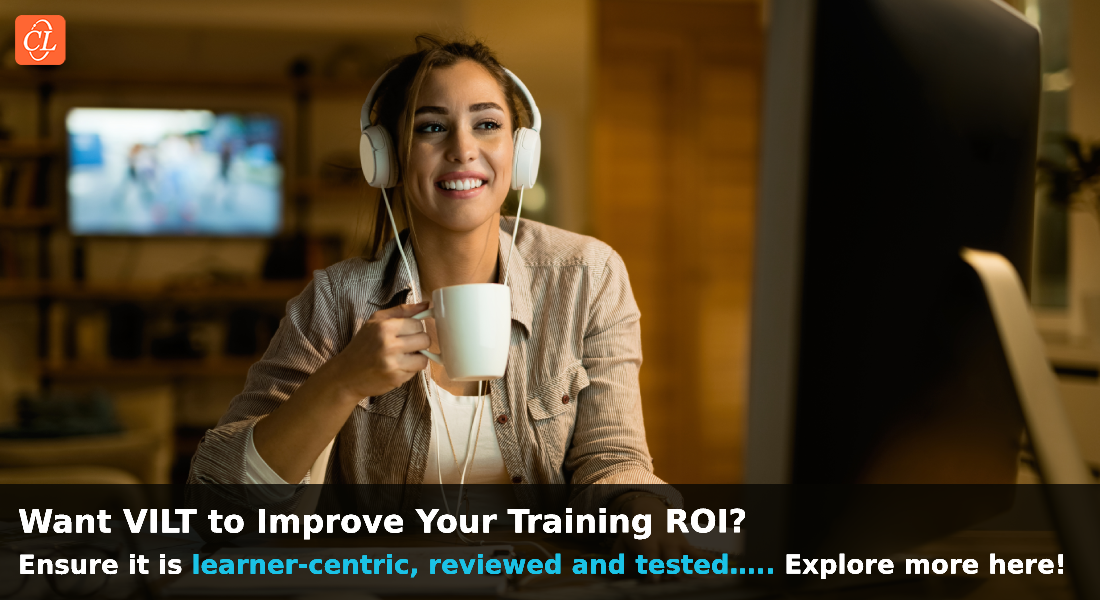 Two years ago, the COVID-19 outbreak forced everyone indoors, impacting every industry in different ways – including training and development. In this scenario, eLearning has become increasingly popular. However, the lack of instructors and engagement has led to the steady rise of virtual instructor-led training (VILT).
The world may be slowly getting back now, but eLearning and VILT are here to stay. eLearning programs have proven to offer greater returns on investment with shorter training time, quicker access to a plethora of resources, and effective learning methods. VILT, on the other hand, creates an ILT environment – online – with flexibility and scalability.
Looking to Migrate from ILT to VILT?
Here are some tips:
Make it learner-centric
Focus on learner engagement
Organize and prioritize content
Review and test
Scroll for more!
If your organization is considering transitioning from ILT to VILT, it's a wise choice. However, migrating and developing a VILT course can feel overwhelming when you are used to delivering ILT programs, especially if there is a time constraint. And this blog will help you!
What is VILT and how is it Different from eLearning?
VILT or virtual instructor-led training is the closest replica of instructor-led training (ILT) or in-person classroom training. VILT is online training conducted by an instructor. It is simulated using a platform that allows learners to join the classroom and interact and engage in a face-to-face learning experience.
| | |
| --- | --- |
| Synchronous Online Training – VILT | Asynchronous Online Training – eLearning |
| Training modules require learners and instructors to be present and participate at the same time. | Learners can learn at their own pace using available material. |
| Includes elements of the live classroom such as group activities, worksheets, role-plays, what-if scenarios, and more. | Includes elements delivered via an electronic medium such as quizzes, videos, games, and simulations. |
| VILT provides two-way interactive learning with the peers and facilitator. | eLearning offers opportunities to interact with the course. |
Benefits of VILT
VILT has proven its utility and effectiveness during the pandemic; however, its benefits extend beyond lockdown situations. Some of the most important benefits are listed here.
Increased Reach and Flexibility
Virtual classrooms are not limited by walls and numbers of seats. They allow instructors to accommodate a large class size – from the comfort of their homes. Instructors and learners can connect from any location with any device at a designated time.
Reduced Cost
VILT saves money associated with logistics and travel allowances for instructors and employees. Additionally, it prevents overhead expenses of operating in-person training programs, such as printed materials and supplies, and maintenance of the physical classroom.
Effective Learning with Real-Time Interaction
VILT allows learners a better understanding of training material with face-to-face interaction with instructors. Instructors can pay more attention to the learning needs of participants and help them understand better with different methods. VILT also helps learners quickly resolve doubts by raising them in class.
Opportunities for Relationship Building
During VILT, learners get a chance to know other people in the session and connect. Group and collaborative activities further allow socializing and relationship building between employees. It provides learners opportunities to share each other's knowledge.
Social Learning with Discussions
eLearning creates memorable learning experiences for learners with instructional design strategies. VILT allows them to learn in a social setting, by participating in interactions with one another and the instructor.
Quick Migration to VILT
As promised, here are some tips to quickly switch from an ILT training module to VILT:
Make it Learner-Centric and Focus on Learner Engagement
When migrating to VILT, you need to understand that your virtual classroom will not function as a physical classroom. VILT poses some obvious challenges such as lack of visual cues, difficulties building trust and rapport, more distractions, and reduced concentration. All of this will be reflected by lower engagement levels. Plan VILT sessions with an aim to capture learner attention with constant interaction using worksheets, polls, chats, and breakout rooms.
Organize and Prioritize Content
Content planning and modification should be the top priority in the process of migration from ILT to VILT. Content is extremely important in VILT. The training material used in a physical classroom may not necessarily work for a virtual classroom. Prioritize content based on its importance and find a balance between text and activities. Divide the content into three parts – before the session, during the session, and activity content.
Determine Required Features for the Interactive and Social Environment
Various platforms are available to conduct VILT sessions such as Microsoft Teams, Skype, Google Classroom, and Zoom. Determine the type of tools and features you plan to use for adopting an interactive classroom environment. Choose a platform that satisfies your requirements and learn how to use it. Create a guide/webinar to familiarize learners with the platform and promote social features to encourage interaction.
Increase Team Capacity and Capability
If you don't have time to develop VILT programs yourself, consider outsourcing the project to competent vendors. Expert learning strategists, instructional designers, and authoring tools experts can convert stacks of your learning material into engaging VILT sessions – ensuring effectiveness isn't lost in the conversion.
Review and Test
Last but not the least, review the VILT program from beginning to end. Test it with colleagues and get feedback to ensure desired results from the course. Testing it with a small batch of learners can give important insights into what is working and what isn't. You can edit the program and make necessary changes to ensure its efficacy.
It's a Wrap
Virtual instructor-led training is a beneficial tool to upgrade your corporate training program and offers your employees the flexibility of learning in a classroom – without the logistics. Reduce your training cost and increase scalability without compromising the one-on-one training experience.
With a proper development plan focused on learners' needs and engagement, VILT can prove to be as effective as instructor-led training. And VILT development doesn't have to be time-consuming. You can leverage third-party services to create one based on your needs!