A Few Tips and Tricks to Use Microsoft Word
Microsoft Word is a product of the Microsoft Corporation. This blog explores the many tips and tricks you can use to improve your courses' speed of production and quality of design. Let's take a closer look.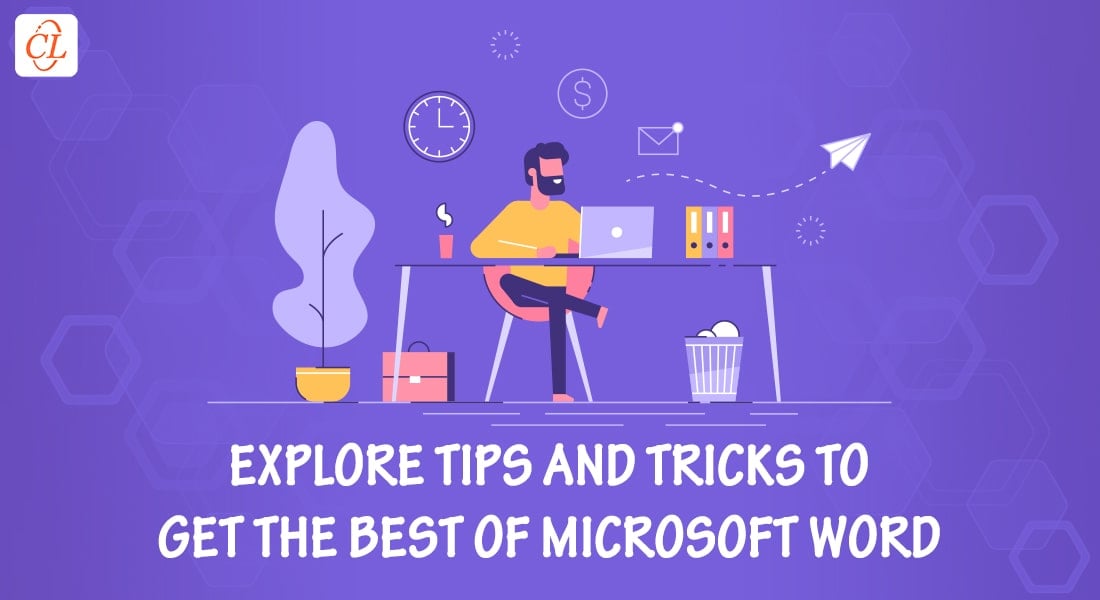 We understand that being a training manager comes with a lot of responsibilities. You must be quick in sharing content while also maintaining its quality. However, are you aware of the tips and tricks you need when using Microsoft Word? It's true that we must pay for Microsoft's services and products, but they are well worth it. Read on to learn about the handy tips and tricks to use when working on Microsoft Word.
How Can Microsoft Word Improve Your Course Design?
Tips and Tricks to Use Microsoft Word
Shortcuts
Paste Special
Format Printer
Translate
Show/Hide
Help
Color
Font
A few Tips and Tricks to Use Microsoft Word
Shortcuts
Shortcuts are very useful for any software application. It reduces a lot of time when accessing programs on our computers. One of the useful features of Microsoft Word is "dictate". You can dictate what you want the software to record using your voice, and it will automatically type whatever you are dictating onto your document. This feature can reduce your typing time. You need to follow the following steps to activate this feature:
"HOME > Voice > Dictate"
Paste Special
You can find this feature by clicking on the home tab and selecting paste in the clipboard section. The paste special shortcut is very useful when you have lots of objects on your screen and the alignment of each object needs to be adjusted. You can select all the objects of your choice and copy and paste them using the paste special option. You also have a few more options you can choose to add using this feature such as bitmap, picture (enhance metafile, GIF, SVG, JPEG, PNG) and Microsoft office graphic object.
Format Painter
You can find format printer option in the clipboard after selecting the home tab. This option is also very beneficial as you can copy and paste any text or object with any color, font size and property onto your document. This feature can save you a lot of time.
Translate
Microsoft offers another special feature in Word. You can use the translate feature while working with different languages. You don't have to worry about whether you know and understand those languages. You can select any paragraph and that will be translated into the desired language. You also have the option to translate the whole document. This feature can be found, under the language section, after clicking on the review tab.
Show/Hide
If you are a professional writer, you can use a very useful and rare feature called show/hide which can be found in the home tab in the paragraph section. The show/hide symbol looks like this: "¶". By using this feature, you can see any unwanted extra space, tabs spaces and it is useful for advanced layout tasks. You can use this feature when you want to be very precise and neat while formatting your document.
Help
This feature is present in almost all Microsoft products. It is useful when you want to learn about new features. If you are unable to understand how a feature works in Word, you can just click on F1 on your keyboard or select Help. The help feature can be accessed by clicking on the tiny question mark symbol on the top right corner of the screen. You can use this feature to search for and find the description of any feature.
Color
Microsoft Word has the ability to create your own colors according to your company's logo and brand. The color option can be found in the document formatting section of the design tab. You can use this feature to customize the color scheme of your document's layout and design.
Font
You can use the font feature to format the font for your entire document according to your company logo and brand. If you want to change the font or color scheme in the middle of working on your document, then you will find this feature very useful.
It's a Wrap!
Microsoft Word is a fantastic program. It's easy to learn and has a lot of useful and exciting new features. Microsoft Word helps in organizing our work and lives with efficiency. There are a plethora of blogs and tutorials available these days on Microsoft Word. The features that we covered in this blog are just a few pointers. I find that these capabilities are very beneficial, and by using them, I can boost the speed of my work.
These features can help you to improve your work and the quality of your content. Discover the latest trends and tools that are going to dominate the corporate learning and development world this year. You can explore the latest eLearning trends by downloading this free eBook – eLearning trends 2022.
This blog is co-authored by Pratyusha Marreddy.