The Secret to Easy eLearning Translations – Elucidat!
Looking to translate your eLearning courses for your global workforce? Wondering about the right authoring tool for the translation? Read this blog for insights into an exceptional authoring tool that'll help you develop translations easily and rapidly.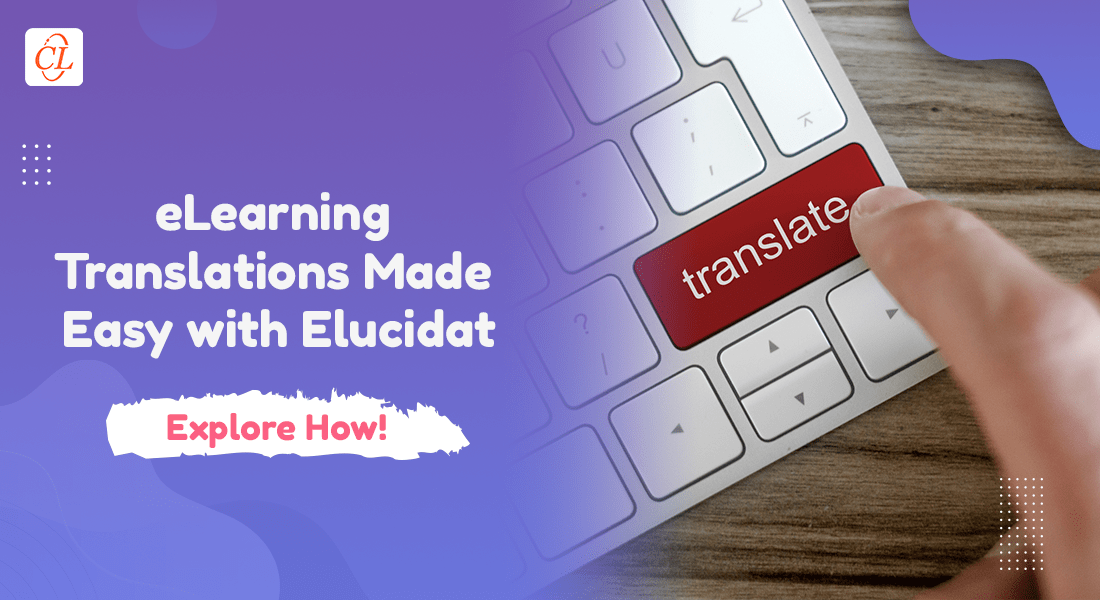 Let me guess… You have convinced your management of the need to translate your existing eLearning courses into your global employees' native languages. And now you are slowly coming to realize that translating eLearning courses is not as easy as you thought it would be. Yes, it is the right way of providing consistent training across the organization in this era of globalization (not to forget the pandemic!). But as I said, it's not that simple. But there's good news. And that is the authoring tool 'Elucidat'!
Looking for Faster eLearning Translations?
Go for Elucidat as it
Offers easy management of translations
Supports over 200 languages
Supports for XLIFF and CSV formats
Enables faster updates with Master Version
Before going into the translation friendly Elucidat, let's review some facts.
The Increasing Need for Translation
According to data from the Internet, only about 18% of the people in the world speak English. 40 – 65% of the others who often speak in English find it more comfortable to speak in their native language. And therein lies the opportunity to connect with your global learners and enhance their learning. Can you imagine what it will do to your ROI if effective training is provided to all your employees, no matter the language and no matter their location?
With this brief background, let us look at some of the features of Elucidat that help develop translations quickly and easily.
How does Elucidat Help in Faster Translations?
Offers easy management of translations
Supports over 200 languages
Supports for XLIFF and CSV formats
Enables faster updates with Master Version
Easy Management of Translations
Most of us know it's quite easy to develop a course in Elucidat. Elucidat supports responsive design making it even easier to develop translations with it.
Elucidat offers a feature called "Variations Manager". This can be used to create different language versions of the same course. The Master version is used to control and edit each variation. You can have as many or as few variations as you like. The variations can be released individually or as a multi-language package from the Master. This helps manage all translations in one place. As it is a cloud-based online tool, all translations are stored within the Elucidat account, and there is no need to create or maintain individual files per language for later use.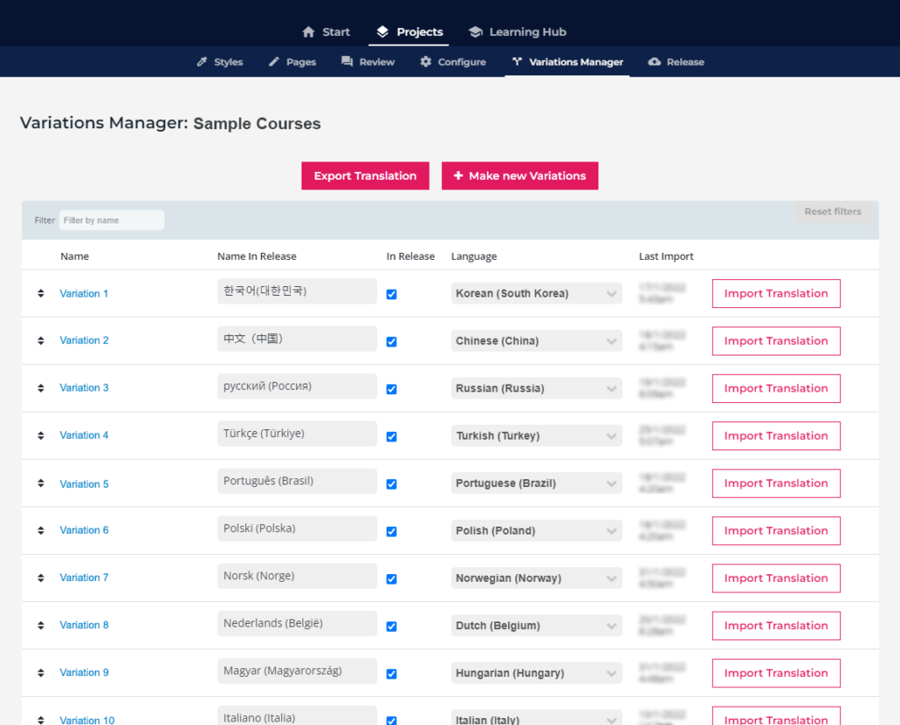 Support for Over 200 Languages
In addition to having a user-friendly design and brilliant features, Elucidat is a versatile linguist. It supports around 200 languages that include right-to-left (RTL) languages (Arabic, Hebrew, Urdu, etc.) along with the usual left-to-right (LTR) ones.
Support for XLIFF and CSV formats
Elucidat's 'Export Translation' feature allows you to create a translation document with one click. You can download the selected document once you export it from the master course. The downloaded document will be ready to be translated into the desired languages.
Elucidat offers 2 types of export formats:
Export XLIFF 1.2 translation file
Export CSV translation file
Once the translated documents are in place, they can be imported to create your desired variations/translations.
Other than the document import format, it also offers the manual enter format, such as copying and pasting the translated content.
Faster Updates with Master Version
The Master course is a version which can be used as a template to create other variations. Content updates may be done at any time later. The Master course helps the new changes to reflect in all the variations of the course. It also cuts down the extra work of implementing the updates in different versions as they are done simultaneously for all variations.
Any update that is made in the master course will also be updated in its variations – Branding, GUI, colour, design, font size, images, text, etc. But changes made in a particular variation are only seen in that version, and won't affect other variations.
Points to remember while handling translations in Elucidat
Any resources that are added to the master course will be inherited by all variations.
Elucidat's multilingual wrapper (in case of more than one variation) will be enabled automatically when the master course is released.
Wrapping Up!
Elucidat as an authoring tool offers a variety of features to make translations easy. Development takes very less time because all the variations can be easily managed in one place.
For more insights on eLearning translations, download this free eBook now.