5 Must-Read Blogs on Rapid eLearning for 2020
Want to give your rapid eLearning development a head start in 2020? Go through these top blogs on rapid eLearning to rollout effective learning!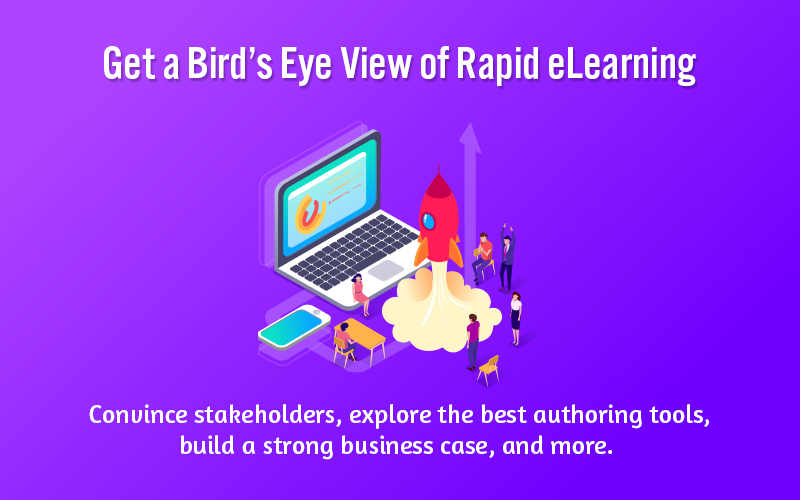 The holiday season is over, signaling the start of another new year with lots of possibilities and hopes! We all start the new year with resolutions to exercise, eat healthy, read, and more – all with good intentions – but what really happens? That zeal fades away…and before you know it, it's new year again! But seeing what your friends and peers have gained (or lost, by going to the gym I mean J) throughout the last year, I'm sure there's part of you that just wishes to get rid of that FOMO (Fear Of Missing Out).
Well, talking of reading, how up to date are you about eLearning? Not very? Well, you can catch up before the year becomes very hectic! We have drawn an easy path for you – give this blog a quick read! It's a compilation of the top 5 blogs on rapid eLearning that will help you get set to quickly rollout effective training programs! Hang on to your zeal of developing effective courses for your learners, and get an inside look at how to rollout eLearning quickly.
Top 5 Blogs on Rapid eLearning
1. How is Rapid eLearning Beneficial for Onboarding Training?
Narrowed down on your employee onboarding strategy yet? Don't be stuck with age-old training programs that no longer appeal to the new generation in 2020! Remember, you have to cater to the millennials! You need to have a proper training strategy in place to get your new hires adapted to your organization and its culture.
Using rapid eLearning for your onboarding training saves time and resources while meeting organizational requirements for new hire training and increasing training ROI.
Here's how rapid eLearning is helpful for new hire training:
Cuts down classroom training time
Gets new hires up the learning curve quickly
Gets new hires accustomed to the organization quickly
Go through this blog on the benefits of rapid eLearning that can be availed for your employee onboarding training and build a successful training program for your new hires.
2. How do you Choose the Right Development Tool?
What makes eLearning truly 'rapid' to quickly address your training needs? It is the convenience offered by the development tools that make the process quick, easy, and pain-free. But with such a variety of options available to quickly develop interactive eLearning programs, it becomes very difficult to narrow down to the most appropriate one for your training needs.
Read this blog to get a 11-point checklist that helps you choose the most apt rapid eLearning development tool. Right from meeting your course requirements to checking compatibility with mobile devices and checking for a tool that fits within your budget, it covers everything you need to take care of while deciding on a development tool for your eLearning courses.
3. How Much do you Know about Rapid eLearning Development? – Not Much, Probably!
Is rapid eLearning meant to be used only as a quick fix solution for your training needs? A big NO! There's much more to it than just plugging training gaps swiftly. That's the reason I said you probably are not as fully equipped with information as you should be on rapid eLearning development.
There are certain misconceptions around rapid eLearning that limit its scope, such as:
SMEs and IDs are not part of rapid eLearning development
It is just used for making quick updates in a training program
The quick completion leads to poor quality
Creativity has no place in rapid eLearning
Read this blog to change your idea of what rapid eLearning development is and bust all those myths and misconceptions around it.
4. How can you Convince your Stakeholders about Rapid eLearning?
Given the number of benefits it offers, I'm sure you are convinced that rapid eLearning is the solution for all your training hurdles. But it's not enough for you to get convinced, it is your decision-makers and stakeholders who need to be convinced.
What better way to reassure them than to create a solid, sure-fire business case that will help provide your stakeholders with an overview of all that rapid eLearning can offer?
If you're not very confident of creating a fail-safe business case to get your stakeholders onboard, here's a blog that gives you valuable tips on making a case for rapid eLearning. Go ahead, create a concrete business case and utilize its benefits to the fullest!
5. How can You Find the Best Partner?
Finding a good rapid eLearning partner is difficult, but not impossible. If the vendor is not experienced or professional enough, things can get messy, leading to a botched attempt at accomplishing rapid eLearning.
To save you from all the frustration and chaos, here's a blog that lists out 4 simple steps that help you find the right rapid eLearning partner. Give it a read and save yourself from taking the wrong step when planning to hire a rapid eLearning partner.
Endnote
Go through these blogs to get a better idea of rapid eLearning and leverage it for your training programs. Kickstart 2020 with a rapid eLearning initiative! If you have trouble working efficiently with your SMEs, have a tough time trying to engage your learners, or have any other queries on rapid eLearning, check out this eBook. It will answer all your questions and give you a comprehensive idea of how rapid eLearning works.