Get Ready for Rapid eLearning: A 5-Point Checklist
Are you planning to adopt rapid eLearning for employee training? Read this blog for a checklist on getting started with rapid eLearning.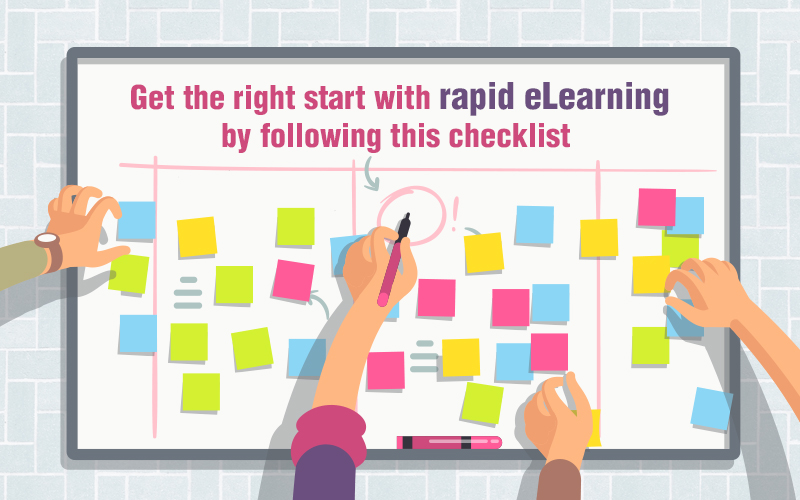 Being a training manager is like walking on a double-edged sword – you're never sure of the nature of the next training requirement. You have to survive amidst the cacophony of 'urgent training demands' and dwindling budget, and yet prove ROI for every dollar spent. Can you think of a solution to cut down development time and budget and focus solely on designing a successful eLearning program? Yes! It's Rapid eLearning.
Rapid eLearning is the go-to online training solution when you need to deliver on the promise of maximum impact in minimum time; without compromising the quality of eLearning courses on a large scale.
What Goes into Rapid eLearning?
5 Preparation Steps
Prepare by setting clear, realistic goals
Collaborate with IDs and SMEs
Set up the tools and resources needed
Assign roles and responsibilities

Choose between in-house development and outsourcing
Rapid eLearning is usually used for developing courses with a low shelf-life which need to be rolled out urgently, or updates which need to be disseminated quickly. And the content for rapid eLearning comes from either existing instructor-led training (ILT) or Flash and other legacy courses. If your courses need to be translated into multiple languages, using a rapid authoring tool can make the translation process smooth and easy.
But irrespective of your training requirement, rapid eLearning always sticks to its two basic rules – robust instructional design and expert authoring tool usage. So, if you are planning to go for an engaging, effective rapid eLearning program, consider the following checklist and ensure you get it right!
5 Preparation Steps for Rapid eLearning
1. Prepare for Rapid eLearning
Whenever you are getting started with any new strategy, be it training or otherwise, you need to have a clear idea of what you intend to achieve in the end. Proper planning is the key to avoid errors and glitches in the later stages of training development. So before you start executing your rapid eLearning plan, ask these questions to get an idea of where you want to go with this project.
What knowledge or skill do you want learners to achieve by the end of this training?
What instructional strategy do you have in mind?
What is the level of interactivity needed?
What is the timeframe you require to rollout courses?
Are you planning for a single eLearning course or a curriculum of modules?
How are you going to assess learners?
2. Collaborate with IDs and SMEs for Rapid eLearning
If you are under the impression that instructional designers don't play a wide role in rapid eLearning development, it's time to clear the myth. SMEs along with the IDs are responsible for getting the content ready for development. They plan for individual course modules as well as the entire curriculum. It is always better to plan for a curriculum than standalone courses because it saves much of SMEs' and IDs' time.
Subject Matter Experts
Rapid eLearning relies on existing ILT materials and legacy courses. These courses might have knowledge gaps and outdated content. SMEs supply relevant content to avoid such inconsistencies and prevent any break in the learning flow. They review the storyboard, the functional prototype, the final eLearning course and recommend necessary feedback.
Instructional Designers
Rapid eLearning cannot be successful without robust instructional design backing it up. The updated content provided by SMEs needs to be chunked into different course modules. Instructional designers are responsible for planning the course and/or curriculum structure based on the learning objectives. They decide the instructional strategy, build the storyboard, implement the feedback given by SMEs, and design the functional prototype and the final course. They also design assessments to test learners' skill and knowledge retention.
3. Set Up Tools and Resources Needed for the Project
Authoring tools singlehandedly are responsible for the popularity of rapid eLearning. Easy functionality, built-in interactive media, templates, and the reduced need for coding cut down the turnaround time and cost of eLearning development. But the real question is, with so many options with seemingly similar features, which authoring tool should you choose?
There are many authoring tools, each with its characteristic strengths and weaknesses. But the tool suited best for you depends on many factors:
You should choose the authoring tool best suited to fulfil your training requirements. How you want the course to look and feel is a deciding factor during the selection. If you need to convert PPT decks into eLearning modules with low level interactivity, iSpring Suite can do the job. If you need high-level interactivities with simulations or animations, Adobe Captivate and Storyline are better suited for such content.
The expertise and experience of your developers should also factor into the selection criteria. You should consider the time and budget allotted for the project so that you can choose the tool which falls within your limit and has a low learning curve.
In case you don't have the expertise in-house, you can also outsource rapid eLearning design and development. Check for a vendor with a strong background in instructional design, apart from authoring tool expertise.
4. Assign Roles and Responsibilities for Design, Development, and Quality Assurance
Rapid eLearning development is not a lengthy process, but it does involve many people for different functions. And to ensure this chain of functions runs without any hiccups, it's important to have clarity over who is responsible for each task. This entire process involves instructional designers, SMEs, and courseware developers. To manage them, you need to have an efficient project manager overseeing the works of everyone. An agile project management will help in preventing irregularities and solving problems before they arise.
You'll need a project manager to set up the channel for communication between the team and the stakeholders. It is important to assign all roles and responsibilities before the onset of the project.
This involves:
Selecting the IDs and developers who will work on the project
Ensuring SMEs are aware of and commit their availability
Establishing regular channels of communication among the design & development team, stakeholders, and SMEs
Developing a prototype to ensure everyone is on the same page, and avoid costly rework later
Setting up a review team (usually involving SMEs). It's always better to use an online review tool to get feedback from SMEs because it is saves time and streamlines feedback.
5. Choose between In-house Development and Outsourcing
In-house or outsource? This question presents itself at every turn in training development. But you are nowhere closer to the answer, are you? The truth is; the best choice between these two is always circumstantial. So here is how you can make the right choice.
In-house
Outsource
Why

For cost-effective eLearning solutions
To ensure data confidentiality

Lack of internal skill sets and resources
Speed up turnaround time

When

If you have an in-house team with expertise in design and development

New to eLearning
Launch dates are stringent
Don't have authoring tool licensing
Need creative solutions

How

Discuss with your in-house team and start preparing for rapid eLearning course development

Identify and partner with a trustworthy eLearning vendor
Summing it Up!
Rapid eLearning is a solution that will successfully fulfill your training requirements without burning a hole in your pocket. But to leverage the best of rapid eLearning, you'll need to prepare well and make the right choices at every turn of the process. I hope this checklist will alleviate your worries concerning different aspects of rapid eLearning and you can finally start executing your plan. If you have any more doubts about rapid eLearning, download our eBook.