A Look at The Top 5 Rapid eLearning SlideShares of 2021
Corporate training has seen many challenges in the last couple of years. And rapid eLearning has earned its rightful place at the top of training options. So, before you step into 2022, here are 5 'must-view' rapid eLearning SlideShares curated for you!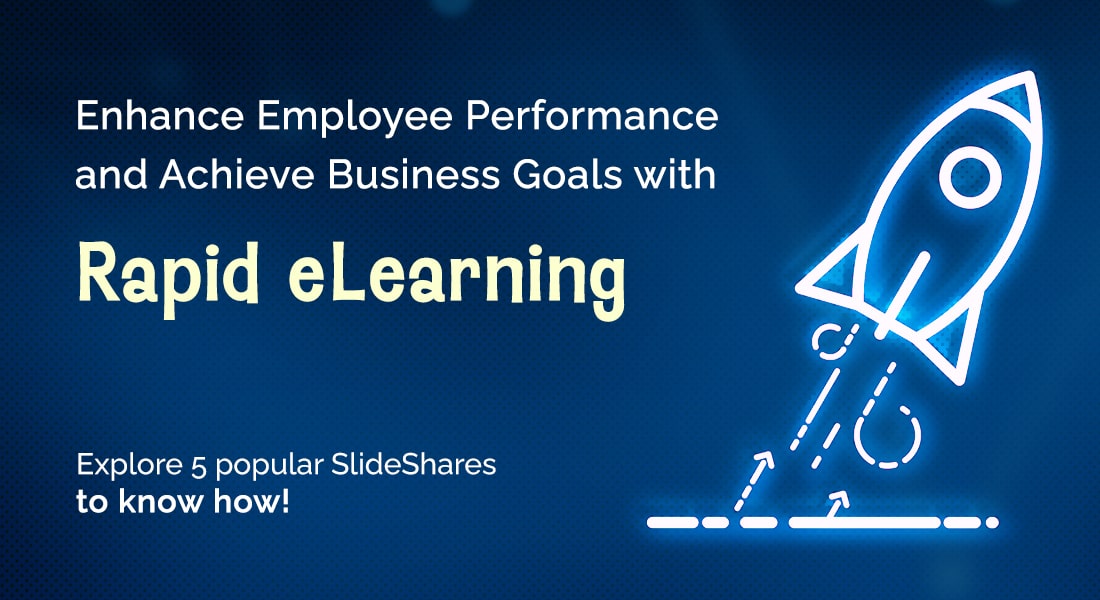 It's that time of the year again – to look back and take stock of what went right and what didn't. I'm sure you are looking for uninterrupted training that minimizes ROI and helps you rollout training at scale and quality – leveraging your existing content. This is what rapid eLearning can help with.
So before you take a holiday break, here are 5 popular SlideShares of 2021 that'll give you a bird's eye view of eLearning.
Popular SlideShares on Rapid eLearning You Don't Wanna Miss!
1. Do You Know the Real Rapid eLearning?
Real rapid eLearning isn't just publishing a well-designed PowerPoint presentation using authoring tools. It doesn't mean boring courses. Rapid eLearning is a faster version of custom learning – while custom eLearning can take several months for design and development, rapid eLearning does it all in a matter of weeks.
Top SlideShares of 2021 that Explore Rapid eLearning
Meet the Real Rapid eLearning
Meet the Real Blended Learning
Understand the Importance of Learning Objectives
Your To-Do List Before Outsourcing eLearning
Migrate from Classroom to eLearning, the Right Way
Does that mean rapid eLearning compromises on the quality of courses? Not at all! Rapid eLearning leverages the principles of instructional design and the power of authoring tools for quick rollout of online training to improve employee performance & increase training ROI.
Rapid eLearning can be used for:
Converting instructor-led training material to eLearning, microlearning and virtual instructor-led training (VILT)
eLearning Translations
Legacy course conversions
The 4 R strategy of rapid eLearning includes:
Record
Republish
Rebuild
Redesign
Read this SlideShare for more on these and the advantages of rapid eLearning.
2. Do You Know the Real Blended Learning?
Blended learning is the best way to get learners familiar with eLearning if you haven't implemented eLearning in your organization yet. It combines the human interaction of traditional classroom training and the flexibility of online training methods. Blended learning can accommodate several learning formats such as the classroom (both face to face and virtual), eLearning courses, videos, microlearning modules, and performance support.
Blended learning:
Increases the effectiveness of training
Optimizes time and cost of training
Enables self-paced learning
Promotes collaborative learning
Though blended learning offers amazing benefits to both the organization and learners, it still has a few myths around it. So, here's a SlideShare that dispels the myths and presents the facts about blended learning.
3. Understanding the Importance of Learning Objectives in eLearning
Learning objectives define what a learner will be able to do at the end of a course. They also help in deciding the content, strategy, and duration of an eLearning course. Without a defined goal, learning happens for the sake of learning with which learners do not concentrate on the topic being taught.
The main purpose of any training program is to bridge the gap between a learner's expected and current performance by providing the necessary knowledge, skills, and attitudinal inputs.
Learning objectives serve a two-fold purpose to learners:
Provide a clear understanding of 'What's in it for them'.
Assure them that the course will address the challenges they face in the day-to-day performance of their job tasks

Explore this SlideShare to know about SMART learning objectives, their components, how to frame effective objectives, and more.
4. Three Tasks to Add to your To-Do List Before Outsourcing eLearning
A little time and effort from your side before outsourcing your eLearning design and development project will actually save a lot of time and effort in the long run, both for you and your eLearning partner.
So, what are these three tasks that you must add to your to-do list before outsourcing eLearning?
Set learning objectives: Setting learning objectives will conserve a lot of time and form the basis for picking the right content, among others.
Check availability of content: You need to check the availability of classroom training content to assess how much of it is relevant, if anything is missing, and if all classroom activities and questions have been captured.
Get Subject Matter Experts onboard: SMEs are integral to the process of eLearning development, but their time is valuable, and training is not their primary responsibility. You can conserve SMEs time with some simple tips.
To know the tips and more about these 3 tasks that will make your eLearning outsourcing a breeze, check this SlideShare.
5. Are you Ready for eLearning?
If you are a training manager with little or no experience with eLearning (though a lot in classroom training!) and want to get started with eLearning, you may be having a lot of doubts and misgivings on your readiness for it – including whether it's possible to retain the essence of the classroom in eLearning.
Here's an excerpt from the SlideShare on what you need to do before migrating from the classroom to eLearning:
Align online training with your organization's business results
Decide on the structure of the training
Select the right strategy for designing the eLearning
To Sum it Up…
Armed with these insights, get ready to tackle your training challenges in 2022! Are you ready to become an eLearning champion? Join this webinar and explore how the 4 Rs of rapid eLearning can meet every corporate training need.