Do You Know the Real Blended Learning? [SlideShare]
Blended learning is a good way to help learners get familiar with eLearning. However, training managers face many questions about it. Check what's true about blended learning here.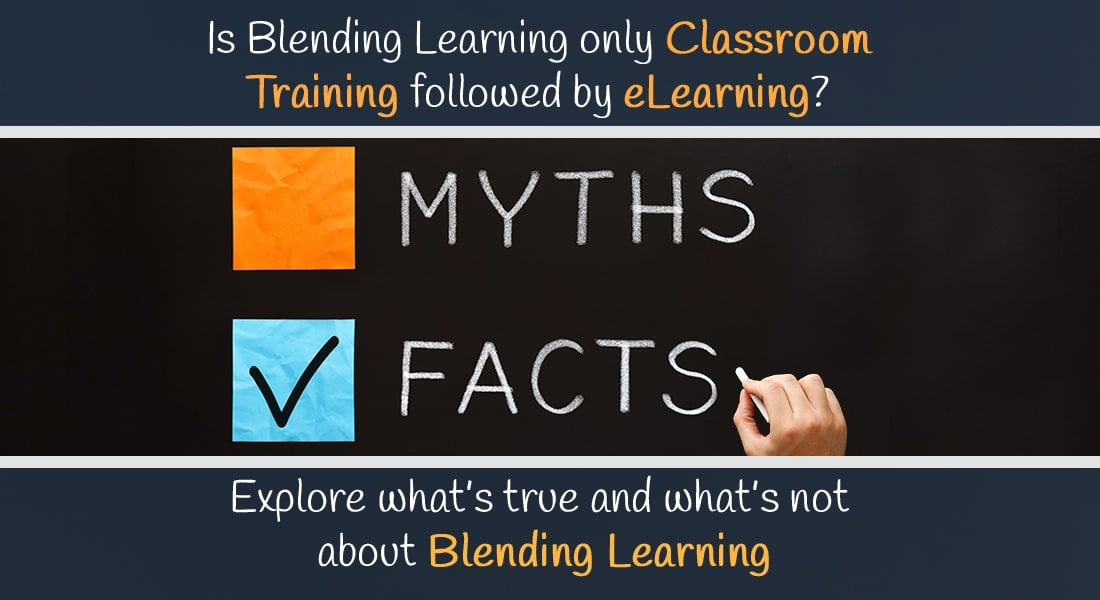 We all have our slightly weird but fav food combos right – ice cream with fries or chocolate and chips! Well, why not, when we get to enjoy two of our favorite things in one go! Blended learning brings something similar to corporate training. It helps learners enjoy the flexibility afforded by self-paced online learning, without missing the human interaction afforded by the classroom.
And blended learning can comprise several formats of online (synchronous + asynchronous) and offline training, including:
eLearning and microlearning courses
Videos
Classroom and/or virtual classrooms
Webinars
Chat rooms and discussion forums
Workshops
Performance support tools
Designing the right blend for each task employees need to perform on the job is an intricate process that involves deciding what can be covered online and offline. Read this blog to understand how this can done using the job-task inventory matrix that analyzes each task on the basis of four parameters.
However, most training managers looking to get started with blended learning fall prey to certain preconceived notions such as blended learning being only classroom followed by eLearning. They might face resistance from classroom facilitators who think blended learning is but an entry point for eLearning and will render them redundant.
As eLearning champions and proponents of technology-enabled learning, the onus lies on us to help them, the top management, learners, and all stakeholders see beyond the smokescreen to the real blended learning.
And this SlideShare does exactly that – it decodes the truth behind six common myths about blended learning.
Before leaving, here are some pro tips to help you get started with blended learning implementation:
Select a high visibility project and convert one part of it online – either as eLearning or as a virtual classroom
Have a pilot group to test the new format(s) – they will turn out to be your champions
Work in tandem with your IT team to ensure the new infrastructure is aligned with your data security and other internal polices
For more insights into blended learning and the job-task inventory matrix, explore this eBook now!