The 'WHY' Blended Learning for Corporate Training Answered
Blended learning offers many and far-reaching benefits for corporate training. It helps optimize time and cost and promotes collaboration. Read on to know more about the benefits and how different blended learning formats can facilitate specific training types.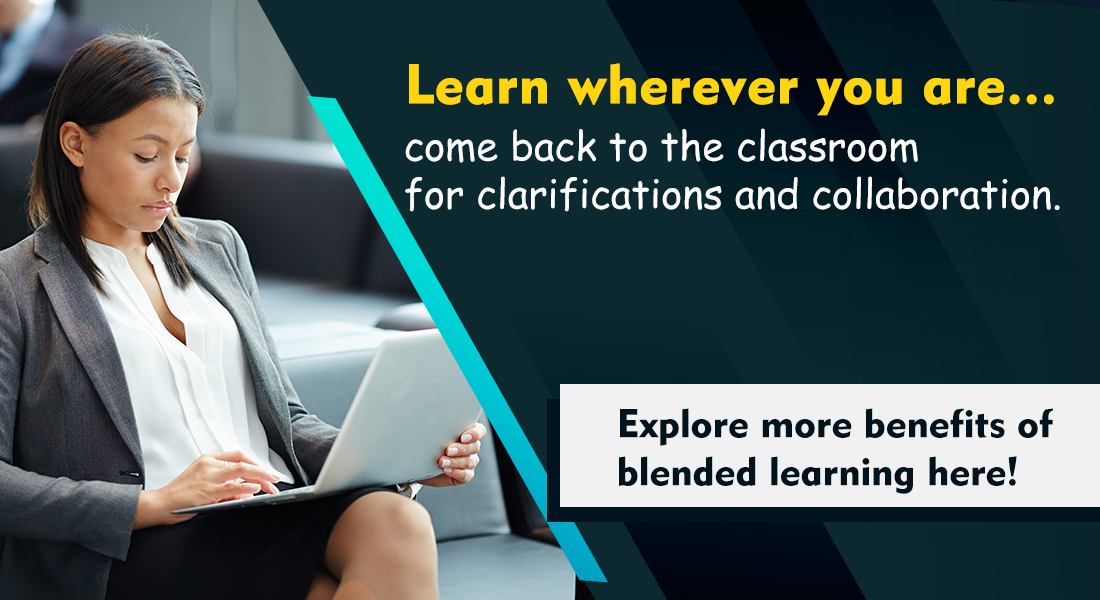 Blended learning combines the personalized attention offered by traditional face-to-face training methods with the flexibility of online training formats. It uses technology to complement classroom sessions, enhances employees' learning, and leads to better job performance through practice and application of concepts learned in the classroom.
What Can Blended Learning Comprise?
A blended learning solution is a combination of:
Instructor-Led Training – Classroom-based learning or virtual instructor-led training (VILT) with an instructor to guide, coach, and interact and engage with learners.
eLearning – Formal structured, online learning modules based on learning needs and performance outcomes, in the form of a standalone course or a curriculum of courses.
Documents/Digital Resources – PDFs, eBooks, How-to guides (manuals, Code of Conduct, HR rules, policies and procedures, employee benefits, organizational charts, etc.)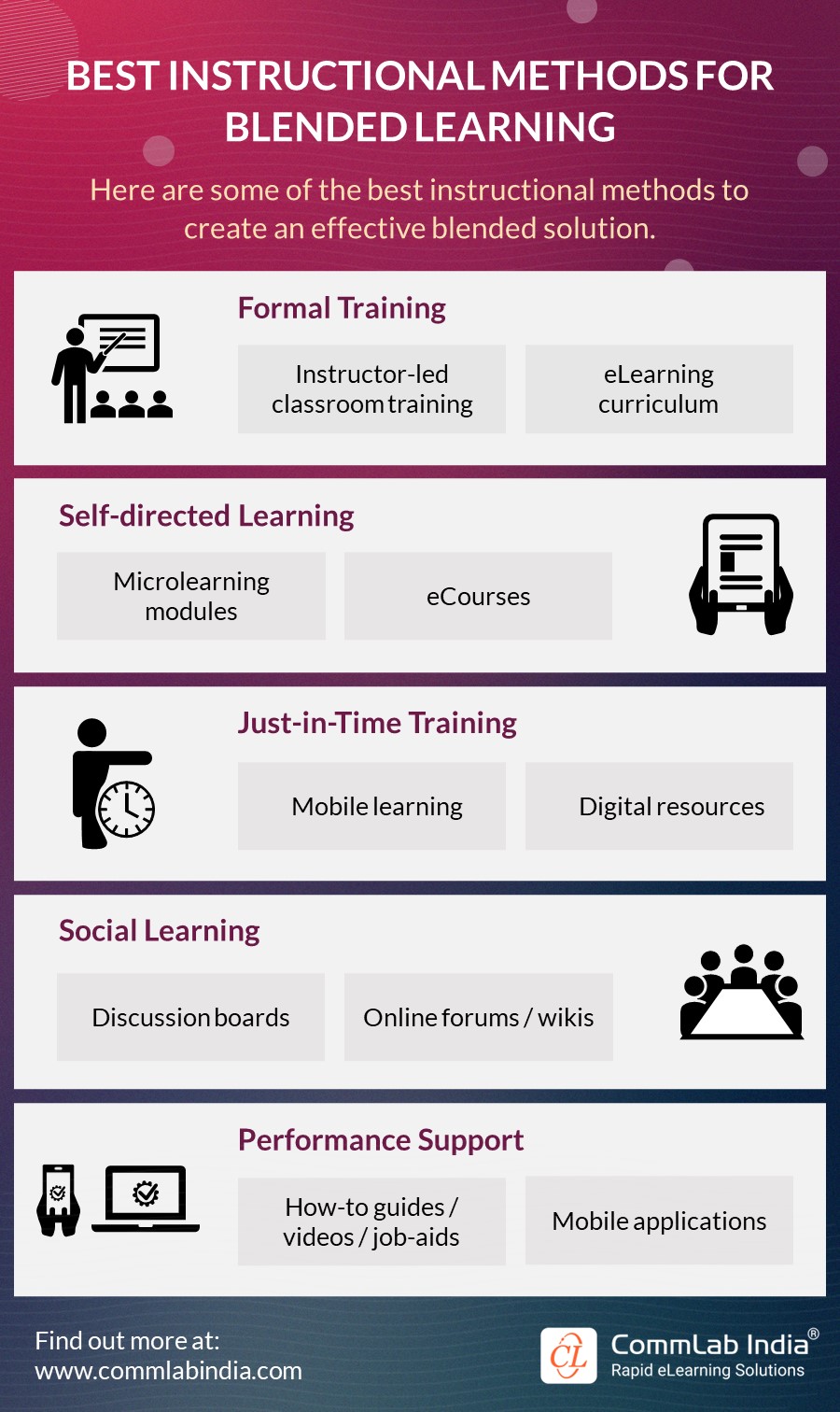 Benefits of Blended Learning for Corporate Training
Increases training effectiveness
Optimizes time and cost
Enables self-paced learning
Promotes collaborative learning
Facilitates career progression
The following elements can be integrated into microlearning, eLearning courses, or VILT sessions to make the blended solution more engaging.
Audio/Video Resources – Videos, podcasts
Critique Activities – Puzzles, game-based activities
Decision-making Activities – Case studies, simulations, scenarios
These elements can be used in different blends to enhance employee training. Blended learning offers abundant and far-reaching benefits. Let's explore some of them in detail.
Benefits of Blended Learning for Corporate Training
1. Increases Training Effectiveness
Blended learning increases the effectiveness of classroom training. Learners can complete certain sections of the training using web-based resources. This saves precious classroom time to clarify doubts and assess learners' understanding. When context for the training session is provided through online resources, learners are better positioned to grasp what is taught.
A perfect blended solution can be designed according to the 55:25:20 model of Learning and Development (55% Experiential Learning, 25% Social Learning, 20% Formal Learning) with the help of appropriate formats.
Various strategies can be used to make learning personalized and customized to your unique training needs. VILT can offer human interaction and intervention virtually. Microlearning can be used to reinforce the learning from time to time, long after the initial training, providing a quick and easy way to revisit the training material whenever needed on-the-job. Virtual Reality, user-generated content, and webinars can also be used in the blend to further increase training effectiveness.
2. Optimizes Time and Cost
According to the 2020 Training Industry Report, training expenditures on travel, training facilities, in-house training development, and equipment increased to $29.4 billion from $23.8 billion in 2019 – and online learning tools are one of the most anticipated purchases (by 40% of the responding organizations).
Online training helps cut down the costs and saves on the logistics and hassles related to organizing classroom training for employees. Using rapid eLearning for online corporate training reduces development time and cost significantly by leveraging the power of authoring tools.
When the training material is available both online and offline, it's revisited and reinforced often. Let's not forget that once eLearning courses are created, they can be easily updated and reused for a lot of employees. This reusability saves a lot of development time and cost.
Microlearning assets and job-aids can be provided to employees who can easily revisit them while performing tasks. This reduces the chance of errors tenfold, leading to better job performance.

3. Enables Self-Paced Learning
With blended learning, employees get to do the online portion of the program at their own pace. Learning will be reinforced through microlearning modules and doubts clarified in live meetings. Microlearning modules can be used to provide bite-sized information through short how-to videos, infographics for dos and don'ts, gamified assessments, and scenarios to help critical thinking. Learners can also be provided troubleshooting opportunities in the instructor-led (physical or virtual) portion of the learning.
Employees can access their online training on their mobile devices or laptops anytime, anywhere. This offers learners control of their own learning in a way that traditional training can't. Supplementary material can be provided through additional online links and resources.
4. Promotes Collaborative Learning
Blended learning has the potential to promote collaborative learning in the classroom and virtual training sessions. Collaboration can also be facilitated through online discussion forums where instructors and learners share ideas and experiences. These discussion forums give learners the freedom to visit them whenever convenient. Employees can also participate in and respond to threaded discussions. These blended learning formats tackle the Social Learning aspect of 50:25:20 model, ensuring a well-rounded learning experience.
5. Facilitates Career Progression
Providing employees with opportunities for career progression is a good strategy to retain them for long. As a training manager, you can assign a set of courses to them, completing one level of which will qualify them for the next level within the organization.
When the onus of completing the course is on the employee, self-paced learning comes into the picture. All you need to do is develop an online curriculum and career progression plan and let employees manage their own career paths. A very structured and transparent program can be created on the Learning Management System (LMS), that though not possible for the traditional classroom format is quite feasible with the blended one.
And not to forget the flexibility afforded by VILT when learners need to complete group assignments or activities to qualify.
Blended Learning for Different Training Types
We have discussed the benefits of blended solutions for your corporate training needs. Let's now look at it in the context of specific kinds of training – the different formats most appropriate for a particular kind of training and the advantage offered by each.
Sales Training
Blended learning can be used in sales training in the following ways:
In the classroom, learners can enact sales scenarios using role-playing games.
They can have peer discussions, both online and offline, to chart out a sales strategy or discuss the strengths and weaknesses of competitors.
They can be provided performance support or just-in-time information through their mobile phones to reinforce classroom learning.
Safety Training
Each organization has different and unique safety requirements. Blended learning for safety training offers the following advantages.
Facilitates collaborative learning so that employees can learn from the stories and expertise of experienced colleagues through video conferences, webinars, or classroom sessions.
Classroom role-playing games or scenario-based eLearning can help assess and reinforce learners' knowledge.
Software Training
Software training can be very effective with blended learning. Let's see how.
Watch-try-do simulations can be used where employees can watch, learn, and perform specific tasks in a controlled, risk-free environment.
Personalized modules can be used to train employees based on their role, tasks, and approval authority.
Job-aids and other resources can be provided for future reference.
To Summarize
So, those were the benefits of blended learning for corporate training. It is flexible and saves both time and cost for employees as well as the organization. It increases training effectiveness when used with appropriate formats. Considering the abundant advantages blended learning offers, I want to leave you with a great resource that demonstrates how to implement it. If you're a training manager, check this free eBook to help boost employee performance in your organization using blended learning.
Editor's note: This post was originally published in June 2021 and has been updated for comprehensiveness.