4 Reasons Why Blended Learning Can Change the Game [VIDEO]
Blended Learning Programs benefits corporate training. How to define the right blend? 4 reasons why blended learning programs optimize Corporate Training.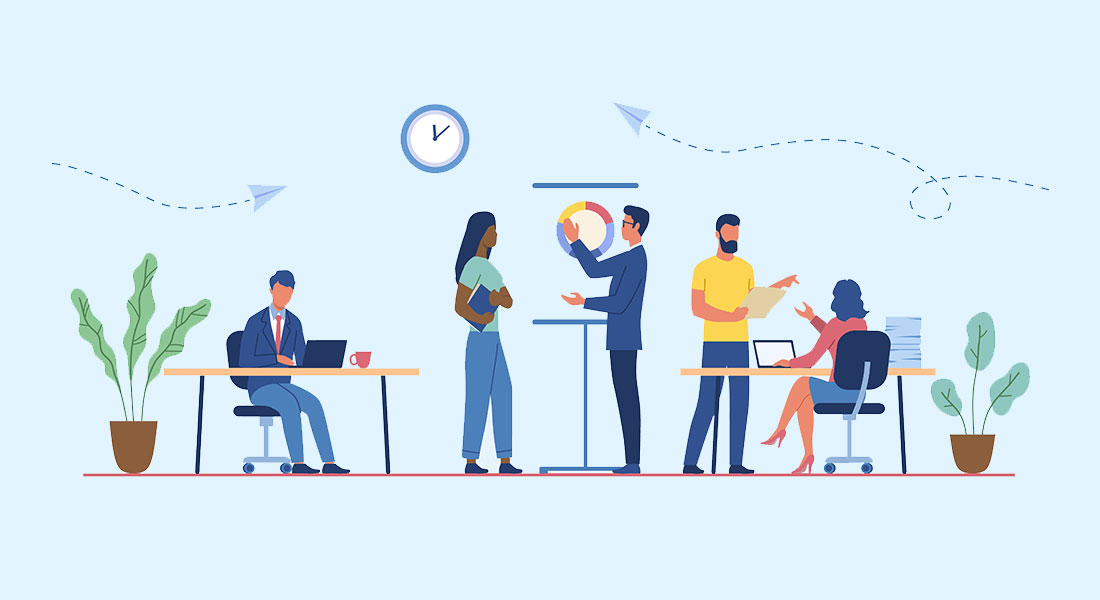 Blended Learning is quite the buzzword in the learning space. And why not? The convenience of combining offline training with digital learning sounds advanced. Additionally, a blended learning program accommodates learners with varied learning styles engaging every learner in the process. Keep reading to explore the flexibility of Blended Learning across the corporate training landscape.
Blended Learning – In a nutshell
A blended learning solution, as the name suggests, is a unique combination of different training programs put together to maximize learning. Ideally, a face-to-face classroom-based training session is integrated with digital learning solutions to enhance performance support.
Different Formats of Blended Learning – Corporate Training
The dynamic workforce prefers hybrid learning. One of the main advantages of blended learning solutions is that flexibility enhances learner efficiency. The combination of digital learning and offline training offsets conventional learning styles improving the efficacy of the blended program. Here's a quick look at some formats of successful blended learning implemented in organizations:
Live Formats:
Classroom-Based Integrated Training
An instructor-led training solution where a classroom-based session is integrated with digital learning solutions like interactive PDFs, how-to videos, infographics, and real-time assessments.
A virtual instructor-led training (VILT) session is a step ahead of the classroom-based session, where the instructor trains learners over a virtual conferencing platform and supplements the training with additional learning material such as a breakout session, offline meet, microlearning videos, etc.
Another live format is workshops, where hands-on training experience is supplemented with job aids and refresher training microlearning solutions.
Social Learning
Learners collaborate through platforms like social networks, online communities of practice, and discussion forums to share their learning in different digital formats leveraging peer-to-peer learning. The learner-led approach to social learning fosters knowledge assimilation. Different resources like microlearning videos, infographics, quizzes, and useful web links are shared in this format.
Self-Paced Learning
Self-paced learning solutions are quite similar to social learning solutions, where learners use the available platforms to access shared learning options. The options that come across in this format are Web-based learning modules, Simulations, Self-help resources, and Assessments. Performance Support systems factor in with this format as well.
Some additional learning resources that often feature in blended learning solutions are eLearning modules, Simulations, Workbooks, Scenarios, Job Aids, and Mobile Apps.
The effectiveness and high adoption rates are the reason why blended learning programs are very popular in organizations. Here's how the impact on corporate training can be summarized:
Improved Learner Engagement
Immersive Learning Experience
Reduce the Forgetting Curve
Reduced Training Time
Cost Effectiveness

Watch this comprehensive video to explore the four reasons why Blended Learning is the Real Game Changer for your Corporate Training:
Blended Learning in Corporate Training – A Quick Overview
Here's a quick recap of the video:
1. Blended Learning solutions influences the cone of learning
2. How the 55:25:20 Model of training can be applied efficiently using a blend of solutions
3. How Blended learning helps to negate and flatten the forgetting curve
4. How Personalized training solutions can be catered to through blended learning solutions
To Summarize
The mixed generation of the workforce and the dynamic workplaces of today demand a comprehensive learning solution. Organizations are constantly on the lookout for a training solution that caters to business needs, enhances performance support, and aligns with budgets. Blended Learning solutions work well with Custom eLearning requirements. The catch is to design the perfect blend of learning solutions that beats the forgetting curve, aligns with business goals, and boosts productivity. Understand what, when, and how Blended Learning. Access our on-demand webinar to implement an efficient Blended Learning strategy today!