Blended Learning: 5 Amazing Benefits to Scale Your Corporate Training Initiatives
Blended learning is one of the most preferred training solution in the present times. Are you planning to reap the multitude of benefits it offers? Well, read this blog to know 5 key reasons to say yes to blended learning for your corporate training.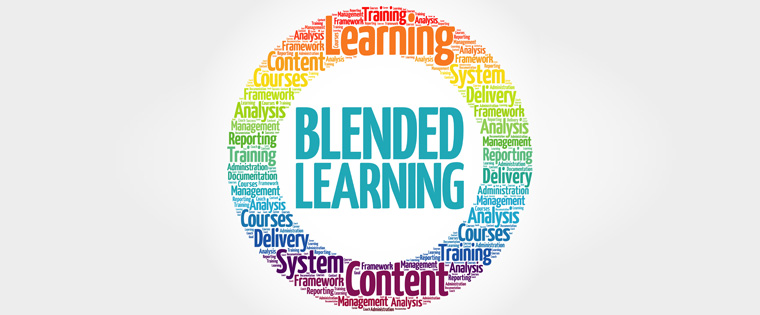 Blending different training delivery methods gives your employees a chance to learn and work at the same time. As a matter of fact, a paper by Charles D. Dziuban indicates that Blended Learning ranks high in terms of satisfaction among both instructors and learners. He also mentions that a blended model 'brings in innovative ways to both increase learning outcomes and reduce instruction delivery costs'.
Blended Learning Can Take Your Corporate Training to New Heights
Here are the 5 key benefits it offers:
Cuts down training costs
Supports gamification
Encourages continuous learning
Accommodates high flexibility
Improves the overall effectiveness of training
But what are the other benefits you gain by implementing blended learning in your training? Let's look at five benefits of using an array of delivery methods.
5 Key Benefits of Blended Learning For Corporate Training
Cuts down training costs:
With blended learning in place, you significantly cut down on the logistics such as travel, food, and living costs for trainers. However, not everything is free of course. You can use the different online learning technologies available to keep your training costs low. Some businesses tend to keep their training costs low to profit-related strategies.
Additionally, you can minimize the number of live seminars, workshops and adopt online video conferences instead. This proves immensely economical when you wish to distribute training material to your employees over the Internet, instead of printing them.
Supports gamification:
Gamification is surely the most popular buzzword in the corporate training world right now. Blending its principles with ILT opens a plethora of benefits. By introducing technology-based gaming elements into your classroom training/workshops, you can spice up the learning process without compromising on the integrity of the content.
You can even reinforce your classroom training sessions with online assessments, reward learners' performance with badges, and display leaderboards publicly to encourage a competitive approach.
Due to the higher level of knowledge transfer provided by gamified training, employees have the advantage of acquiring practical knowledge.. For example, if you want to impart procedural knowledge to your employees, you can incorporate scenario-based games in your online courses in which they get to analyze and execute skills they acquired in the classroom, allowing them observe the consequences in real-time. You can add a scoring system to the game and display the scores on the LMS.
Encourages continuous learning:
As the University of Guelph points out, "continuous learning is increasingly important to the success of the organization because of changing economic conditions. Given the current business environment, organizations must be able to learn continuously in order to deal with these changes and, in the end, to survive."
As trainers, you have the freedom to extend the classroom learning to, well, almost everywhere. With everybody having access to information dynamically nowadays, you can offer content on Smart phones by creating customized apps. This, when done repeatedly and on a regular basis, can facilitate continuous learning.
Accommodates high flexibility:
If there is one word to describe blended learning for corporate training, it is 'flexibility'. Having both offline and online training approaches brings in enormous potential for learners to choose the kind of training they are looking for. This removes the monotony of the conventional training approach where learners are confined to the classroom with a trainer.
You can choose when and where to train your employees, distribute training materials using your company's Learning Management System (LMS). This can be highly useful when you have employees working in diverse geographical locations. After successful ILT sessions, you can provide them additional online materials as needed.
Improves the overall effectiveness of training:
To achieve better results and improve the overall effectiveness, you must include a variety of training and learning strategies in your training program. You can also supplement traditional delivery methods with by introducing podcasts, short videos, and sometimes microlearning. Also, regularly updating the content according to match learning needs will ensure that content remains relevant to learners.
Blending ILT with online learning ensures that face-to-face interactions are part of the entire training and learning package. In fact, trainer and learner interaction is vital to achieving better results.
Final Thoughts!
In all fairness, blended learning has the ability to offer you the best of both worlds. It is extremely flexible and your employees can embrace technology without giving up participating in traditional classroom training.
If you are still weighing the pros and cons of blended learning for your corporate training, here's a checklist that can help you navigate the maze. Download it now and steer clear your doubts.
Editor's note: This post was originally published in 2016 and has been updated for comprehensiveness.