Do You Know the Real Rapid eLearning? [SlideShare]
Rapid eLearning designs and develops eLearning courses quickly using authoring tools. However, this doesn't mean learner engagement, quality, and creativity are compromised. Explore more about rapid eLearning in this post.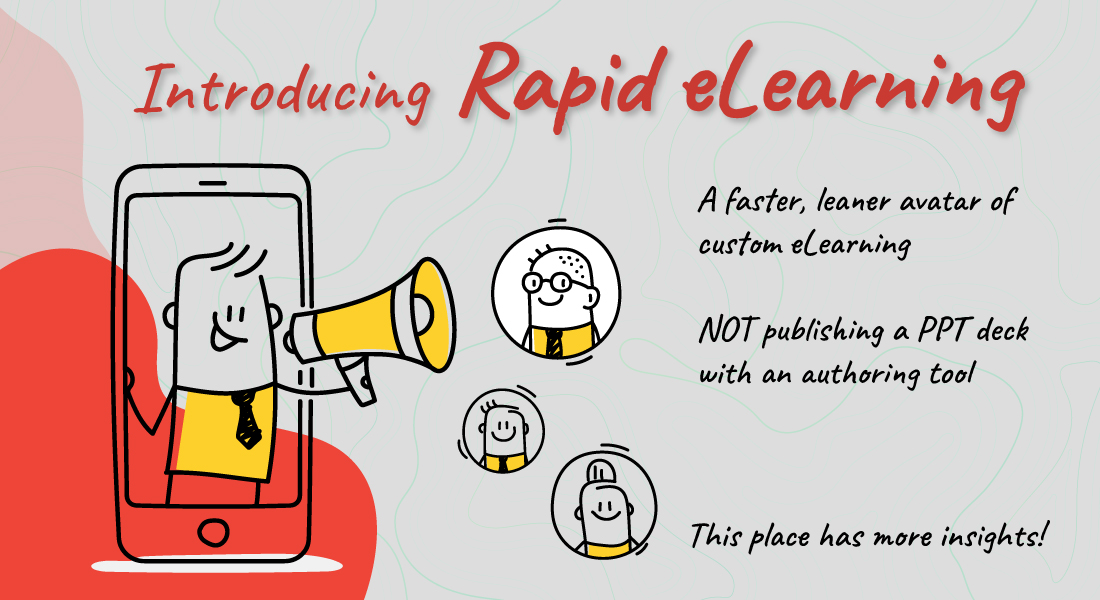 What is Rapid eLearning? Well, it isn't publishing a well-designed PPT deck with an authoring tool, lack of creativity, or monotonous, boring courses. Rapid eLearning is a faster, leaner version of custom eLearning – the Occam's razor of custom eLearning.
Rapid eLearning:
Follows instructional design principles, cutting down the bells and whistles
Uses available content – classroom training material, legacy courses, webinar recordings, videos
Leverages authoring tools
Adheres to agile, iterative project management
Why Rapid eLearning?
According to the 2021 Workplace Learning Report by LinkedIn Learning, 59% of L&D pros identified upskilling and reskilling as their top priority in 2021, while 79% of organizations shared they will continue to shift budgets away from instructor-led training (ILT) to online learning.
All this makes it crucial for organizations to rollout training in sync with changing environment so that employees are agile, productive, and satisfied. And rapid eLearning can help in many ways, including:
Converting classroom material to eLearning, virtual instructor-led training (VILT), microlearning
Making legacy courses mobile compatible
Translating eLearning courses
It does so by leveraging the 4 Rs of rapid eLearning – Record, Republish, Rebuild, and Redesign. Explore them in this post.
How Does Rapid eLearning Maintain Quality?
While custom eLearning development projects can take several months, rapid eLearning makes it possible to design, develop, and rollout courses within weeks. However, this doesn't mean quality is compromised.
A lot of care is taken to ensure rapid eLearning courses are instructionally sound.
Primary content is analyzed by the L&D team with the help of SMEs (subject matter experts) to set performance-based learning objectives aligned to business goals.
A prototype is designed for stakeholders to get a feel of the course and provide feedback early on.
Content, design, and assessments are designed according to adult learning principles.
New-age strategies such as personalization, storytelling, and gamification are used to engage learners.
Authoring tools are leveraged to use the in-built assets and templates.
Rapid eLearning meets all corporate training needs with scale, speed, and quality.
Let's find out more about rapid eLearning in this SlideShare:
What rapid eLearning is and what it isn't
Services rapid eLearning can offer
Role of authoring tools
Essential elements for rapid eLearning
It's a Wrap!
That was all about Rapid eLearning in a nutshell. Hope the blog gave you actionable insights about rapid eLearning. However, there's much more to it. Instructional design is one of the essential building blocks of rapid eLearning. And for best practices that instructional designers can put into practice, check this eBook!