The 4 Rs of Rapid eLearning to End Your Disruptive Training Nightmares [Video]
Do you want to maximize your training ROI? Get budget-friendly online training with scale and quality? Explore how rapid eLearning can help in the webinar 'Rapid eLearning and the 4 Rs'. Good news for all training managers stressed about quality and timelines!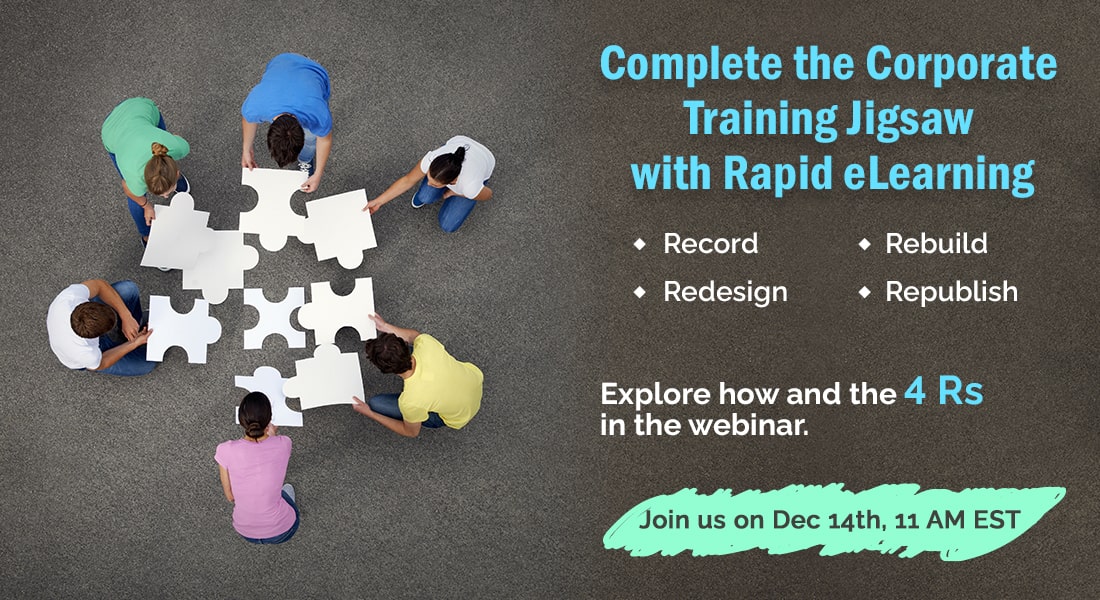 According to the 2021 Workplace Learning Report, 59% of L&D professionals listed upskilling and reskilling as a high priority in 2021 to ensure their employees are better equipped to accomplish their jobs. 79% of organizations plan to continue shifting budgets away from instructor-led training (ILT) and toward online learning. All of this requires training managers to deliver online training at the pace of need to keep employees flexible, productive, and satisfied—and rapid eLearning could help!
What is Rapid eLearning?
Rapid eLearning offers training at scale and speed, with quality – leveraging existing training material or subject matter experts' inputs.
Rapid eLearning serves a variety of corporate training needs, including:
Converting classroom material to eLearning, virtual instructor-led training (VILT), microlearning, and other online assets
Making legacy courses mobile compatible
Translating eLearning courses
Benefits of Rapid eLearning
Custom eLearning projects take months to create and develop, but rapid eLearning allows you to design, develop, and roll out courses in a matter of weeks – without sacrificing quality.
Rapid eLearning courses are instructionally sound and based on performance-based learning objectives that are aligned with business objectives.
Rapid eLearning uses existing content, templates & allows for standardization.
Rapid eLearning and the 4 Rs
Given the dynamic conditions and training requirements, rapid eLearning should be opted for the right training need, at the right time. Thankfully, rapid eLearning doesn't offer a 'one-size-fits-all' solution. So, based on what exactly you're intending to deliver, you have the 4 Rs of rapid eLearning that meet every corporate training need:
REDESIGN
RECORD
REBUILD
REPUBLISH
What are these and how will they help you? This is what the webinar is going to cover – check the video for a sneak peek.
What You Should Expect from this Webinar
If you are a training manager or a member of the L&D community, don't miss this webinar that will discuss the importance of rapid eLearning and the 4 Rs. Join Shalini Merugu, Director – Learning Solutions, CommLab India as she shares her insights and practical experiences with rapid eLearning in the time of the pandemic.