The Why and How of Custom eLearning PLUS Smart Tips
Custom eLearning helps you align online training with your organization's business goals, amd more. Whether you are a project manager, training manager, or an instructional designer, read this article to for a balanced picture of custom eLearning.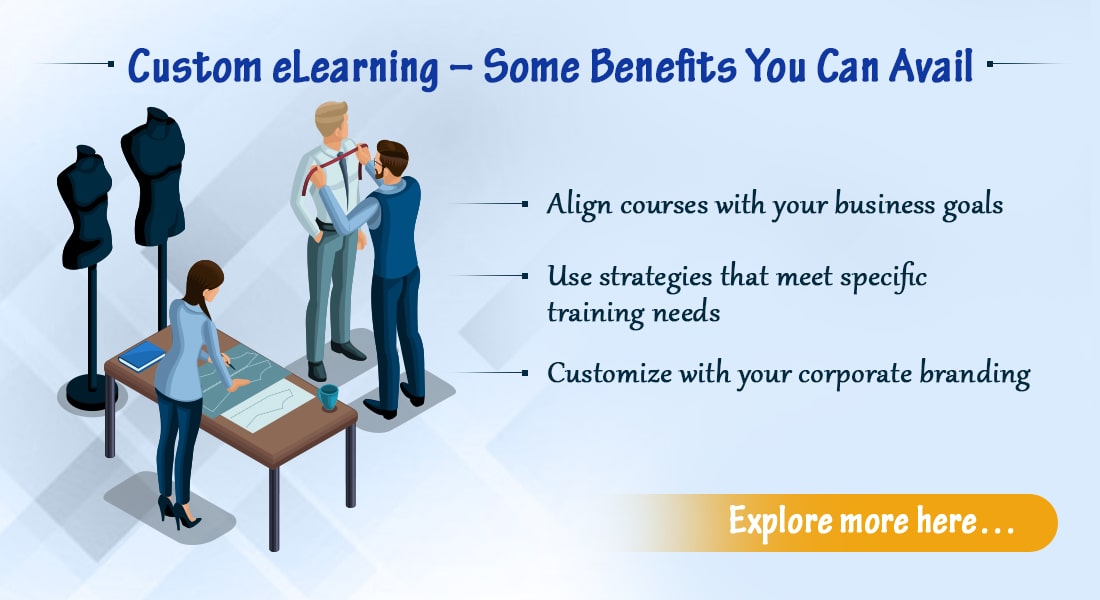 Custom eLearning is becoming the 'go to' format of training, especially after the pandemic. And rapid (custom) eLearning doesn't compromise on quality or creativity – while offering scalability. The popularity of custom eLearning is not without reason. Let's establish this with some statistics.
The global eLearning market size will grow to USD 1 Trillion by 2027, according to a report by Global Market Insights.
Employees can study 40-60% faster via eLearning than in a traditional classroom setting, according to a study conducted by Brandon Hall Group. (Source: Forbes)
According to an IBM report, companies using eLearning can potentially boost productivity by up to 50%. For every $1 that company spends on training, it realizes an estimated $30 worth of productivity. (Source: LinkedIn Learning)
This clearly shows the shifting trend from classroom to online training in organizations worldwide. And why not? eLearning saves on the limited resources of both the organization and its employees.
Scope of Custom eLearning
Align training with business goals
Save time and cost
Measure training impact
Customize courses to meet corporate branding
It's also cost-effective, saves time, improves retention rates, and doesn't need a huge infrastructure to implement. Having eLearning courses customized to meet your organization's goals, brand, vision, and specific training needs is the cherry on top of an already delicious cake.
Let's explore in detail the advantages offered by custom eLearning.
So, what will you be able to do with Custom eLearning?
1. Align Training with Your Organization's Desired Business Goals
The purpose of corporate training is to improve employee performance and proficiency, resulting in greater efficiency and productivity. Using custom eLearning to deliver training that encapsulates performance-based learning objectives is the way to go, as custom eLearning helps align your training with your organization's unique business goals.
2. Save Time and Cost
Custom eLearning enables great ROI. The same courses can be easily updated according to new guidelines and developments and reused. Rapid eLearning authoring tools also offer various templates that go a long way in saving time.
3. Use Learning Analytics to Measure Training Impact
Once you create eLearning courses that are aligned with your organization's goals, you will want to assess if the training brings you closer to those goals. Learning analytics will help you in this process, by gathering data on:
Assessments scores
Completion rates
Participation rates in discussion boards
The number of logins into the LMS
Number of learners taking each course (specific to the location)
4. Customize Corporate Branding
When you opt for custom learning, everything such as the logo, color schemes, and font styles, can be customized to align with your organization's branding. This will help create brand awareness and loyalty among employees, enabling learners to feel a connection with the training, and promote a learning culture in the organization.
Benefits of Outsourcing Custom eLearning

Outsourcing your eLearning design and development requirements to offshore eLearning firms can save your organization cost, and free up you core team to focus on your core competencies. According to a 2016 survey by Deloitte on outsourcing, cost cutting was the highest driver for outsourcing, ranked 59%. Other than being cost-effective, outsourcing also offers the following advantages.
Faster turnaround: When you outsource eLearning projects to the experts, you will be able to develop online training curriculums faster. They will have dedicated teams and will be able to work on your project full-time. Once the design is standardized, you will be able to easily develop a curriculum of customized courses simultaneously.
High-quality deliverables: Experienced eLearning vendors will have competent teams, processes, and quality checks in place that would ensure a high-quality final product.
Let's look at how to choose the right custom eLearning vendor.
1. Check the Vendor's Experience
Good custom eLearning companies that have been in business for a long time will keep their customer's needs in mind and suggest a solution that works best for both the organization and its employees. They will also have expertise in various elements of eLearning design and development such as project management, instructional design, visual design, and use of authoring tools.
Another major advantage with custom eLearning companies with years of experience is their versatility. They usually offer the entire range of online training services so you don't have to search for different vendors for different needs.
Pro Tip: Ensure eLearning development is the vendor's core business (and not one of many) by delving into their website.
2. Assess their Proficiency in Instructional Design
Look for a vendor with expertise in instructional design and a dedicated team of instructional designers experienced in dealing with a wide range of topics. This is essential for the courses to be designed based on solid instructional design, keeping in mind the relevance of adult learning principles.
The eLearning vendor's proficiency in these areas can be assessed by reviewing samples of their previous work – whether they adhere to instructional design principles, the kinds of interactivities they use, and their expertise in using the authoring tool of your choice.
Pro Tip: You can ask your prospective custom eLearning vendor to create a prototype (a fully functional sample of the eLearning course) based on your requirements. This will give you an idea of the look and feel of the course, including its functionality and other technical aspects.
3. Check their Project Management Process
An efficient custom eLearning company will have a tried and tested approach to project management that'll help them to work within to the agreed upon timelines and budget without compromising on quality.
Ensure they have an agile and iterative process in place such as the SAM (Successive Approximation Model).
Verify that they have adequate resources to scale up the project if required.
Ensure they are comfortable working with a global workforce across various time zones and diverse cultures.
Pro Tip: Check if they have a project manager and team dedicated to your project so that there are no delays.
Tips to Maximize Your Investment in Custom eLearning
Apart from what we have discussed about choosing the right custom eLearning vendor for your organization, check if the vendor also offers:
Translation Services
If your organization has a global workforce, offering translations of your eLearning courses will help you connect with your global learners and enhance their learning. A good custom eLearning vendor will:
Offer content translation into multiple languages
Take care of localization of the courses along with the translation
Use the latest versions of translation-friendly authoring tools
Conversion of Legacy Courses
Legacy courses developed in Flash, other software now obsolete, or courses developed in older versions of authoring tools can contain valuable and relevant content that can be salvaged by converting the courses to HTML5. HTML5 is not only mobile-compatible but also supports all the latest versions of browsers like Internet Explorer, Mozilla Firefox, Google Chrome, and Safari. Using HTML5, you can also develop mobile apps for course content to be accessed easily, both online and offline.
Rapid eLearning with Standardization of Curriculum
Standardization of course elements such as the GUI and common screens such as that of learning objectives, assessments, summary, etc. will help:
Ensure consistency
Enable reusability
Cut development time and cost substantially
Wrap Up
So, those were some of the benefits offered by custom eLearning and ways to choose the right custom eLearning vendor for your online training needs. Custom eLearning can be made easier and faster by outsourcing your needs to a good custom eLearning vendor. I want to leave you with a well-rounded resource about it. This eBook is just what you will need for everything you need to know about eLearning outsourcing.