How Outsourcing Rapid eLearning Can Help You Amplify Its Quality Efficiently
Lately rapid eLearning has been one of the best bets for companies to provide quality training. But, not every organization has the relevant in-house expertise, time, or budget, hence they opt for outsourcing. Read on to understand why it's beneficial.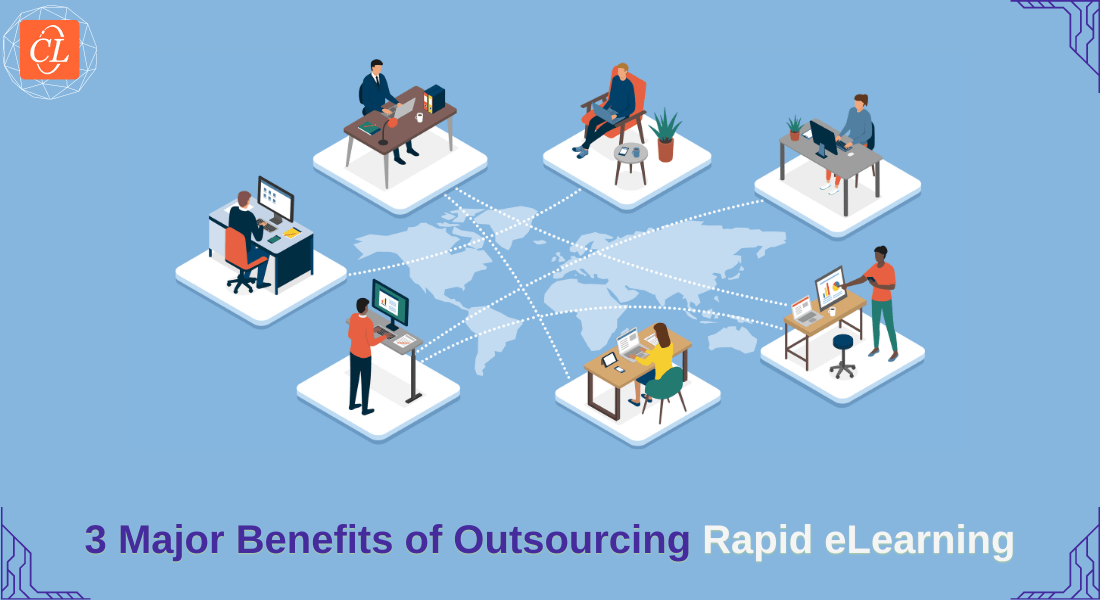 In recent years, outsourcing rapid eLearning has become increasingly popular due to a number of factors, including the increasing demand for online training and development, the growing use of technology in the workplace, and the need for organizations to stay competitive in today's fast-paced global marketplace. The main goal of outsourcing is to improve the quality of a company's learning and development program while reducing costs. By outsourcing their rapid eLearning program, companies can save time and money, access expertise and skills they may not have in-house, and take advantage of the latest technology and best practices in the industry.
Confused Whether You Should Outsource Rapid eLearning Or Not?
Give it a try! Because it helps you with:
Enhanced efficiency
Amplified quality
Increased scalability and flexibility
Explore how you can select the right outsourcing vendor.
What Aspects of Rapid eLearning Can be Outsourced?
The process of eLearning outsourcing typically begins with the identification of a company's specific training and development needs. Once these needs have been identified, the company will work with an outsourcing vendor to design a customized solution that meets its specific requirements. The vendor will then create and deliver the online courses, as well as manage and support the program. This can include tasks such as creating, delivering, and managing online courses, as well as providing support and technical assistance.
eLearning outsourcing services can be customized to meet the specific needs of each company. Some common types of services include –
Content Development: This includes the creation of online course material, such as text, graphics, video, and audio. You can provide a detailed storyboard of the course to your vendor so they get a clear idea of what instructional design to follow and how much interactivity is required.
Delivery: This involves hosting courses and managing the LMS, as well as delivering the online courses to employees on a global scale. eLearning translations partially come under this category as well, because the master course is usually developed in the English language, so when it comes to delivering, the courses are converted into other languages and then delivered. Thus, you can outsource eLearning translations separately as well.
Support: This includes technical support, such as troubleshooting and problem-solving, as well as employee support, such as answering queries and providing feedback.
3 Major Benefits of Outsourcing Rapid eLearning
1. Enhanced Efficiency
eLearning outsourcing can result in significant cost savings for you, as it eliminates the need for in-house resources and expertise. By outsourcing the development, delivery, and management of your rapid eLearning courses, you can reduce expenses related to salaries, benefits, office space, and technology. By having a dedicated vendor manage your eLearning program, you can free up time and resources that can be better used to focus on your organization's core competencies.
2. Amplified Quality
eLearning outsourcing can also result in improved quality of rapid eLearning courses because vendors are often able to provide a high level of expertise and attention to detail. Their knowledge of the latest technology, best practices in the industry, and innovative learning solutions can help improve the overall quality and effectiveness of rapid eLearning courses.
3. Increased Scalability and Flexibility
eLearning outsourcing provides organizations with greater flexibility and scalability, meaning they can adjust the scope and scale of their rapid eLearning program to meet changing business needs and requirements. For example, if a company experiences exponential growth and needs to train a large number of new employees, it can easily scale up its eLearning program by working with its outsourcing vendor. Additionally, outsourcing provides organizations with the flexibility to quickly adapt to changing technology and market trends, ensuring their learning and development program remains up-to-date and relevant.
How to Find the Right Rapid eLearning Outsourcing Vendor?
Finding the right eLearning outsourcing vendor can be a major challenge and you must select a vendor that has the expertise, skills, and experience to meet your specific needs. Factors such as reputation, customer service, and cost when selecting a vendor are to be equally considered as well to ensure that you are making the best decision for your organization.
For example, consider a large retail company that is looking to outsource one of its employee training and development programs. The company has a diverse workforce, with employees working in retail stores, distribution centers, and corporate offices. The company also has a strong commitment to sustainability and wants its training program to reflect this. The company begins its search for an eLearning outsourcing vendor by researching different options and evaluating its capabilities. The company considers vendors that specialize in retail, as well as those with experience in sustainability training.
After evaluating several options, the company selects a vendor that has a strong track record in both areas and that offers a comprehensive eLearning platform and content library. The company works closely with the vendor to ensure that the eLearning program aligns with its goals and values and that the program is effective in achieving its objectives. The company also provides ongoing feedback and makes adjustments as needed to ensure that the program continues to meet its evolving needs.
Parting Thoughts!
Once you have decided to outsource your rapid eLearning development and successfully selected your vendor, it becomes relatively easier to provide quality training within a limited budget and tight deadlines. If you are still unsure about how you can select the right vendor for rapid eLearning outsourcing, or you just need more information for the same, don't worry, we got you covered. Check out this free eBook and begin your outsourcing journey successfully.