7 Must-Include Elements for the Success of Rapid eLearning Design and Development
Just like in any other process, rapid eLearning development too has some must-have elements, and following them ensures a high-performing output – i.e., the eLearning module. But what exactly are these elements? Continue reading to find out…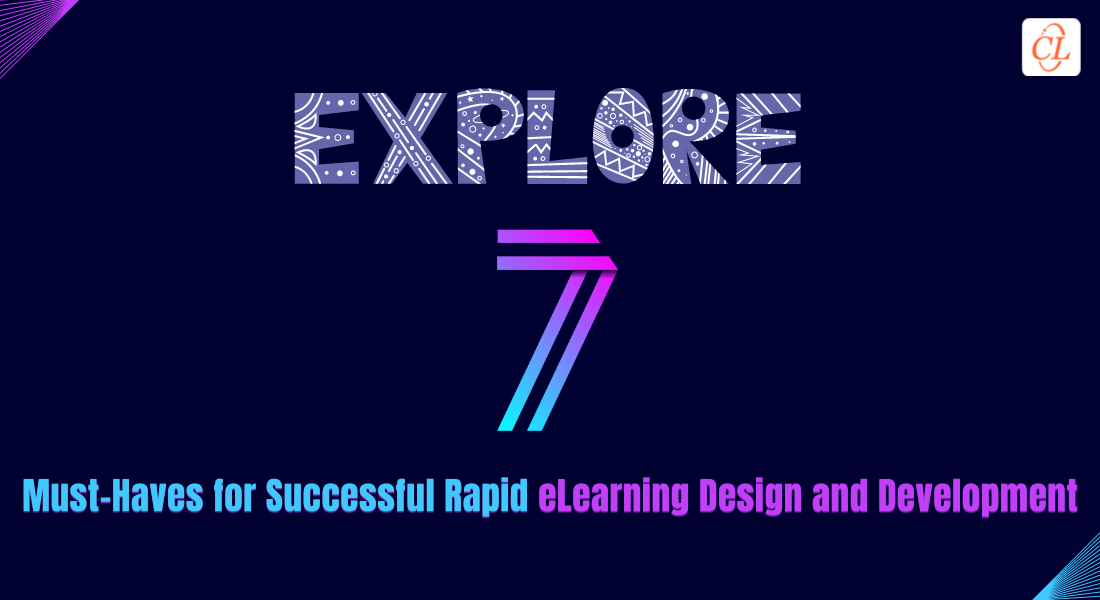 A robust structure, made up of several key elements, serves as a strong foundation to Rapid eLearning design and development. But the absence of even one of the elements can disrupt the structure and compromising on eLearning module's quality or even lead to the failure of the initiative.
So, it is very important that you get all the elements right in order to lay a strong foundation to your eLearning design and development. And to help you prepare for it, I have listed out the key elements of rapid eLearning development that make the approach more impactful and success-oriented.
The Success of Rapid eLearning Design and Development Relies on its Robust Structure
Here are the elements that make up its structure:
Well Defined Goals
Subject Matter Experts with Industry Experience
Reusable Assets in the Existing Assets Library
Rapid Authoring Tools
Customizable Templates
Clear Evaluation Criteria
Interactive Elements
These important elements are crucial for the rapid eLearning design to be more effective and beneficial for both the course provider and the employees. So, without any further ado let's jump onto the list of important elements for Rapid eLearning design.
7 Key Elements of Rapid eLearning Design and Development
1. Well Defined Goals
The first and foremost requirements of an effective rapid eLearning project are well-defined eLearning goals. It is not possible to develop an impactful eLearning course without properly defined learning goals. So, it is during the planning stage of the eLearning project that you need to know map out where you are headed to.
Having well-defined learning goals also helps you find out relevant course materials from your existing learning assets. Goals are also needed to define objective statements for your rapid eLearning projects. They help you sort different eLearning projects based on their priorities. Without well-defined objectives, one can neither assess the performance of the learners nor the success of the course.
2. Subject Matter Experts with Industry Experience
Subject Matter Experts (SMEs) with relevant industry experience are extremely important for rapid eLearning. Their expertise on the subject is one of the most important elements of any rapid eLearning design. While an instructional designer (ID) is important for creating an interactive eLearning course, you will need the inputs of an SME to get relevant content required for the eLearning course. You need not and hire someone for this reason because you will most probably have someone in your organization who are very knowledgeable and experienced in their domain. All you need is to identify the expert in your organization who can go through the designed courses and provide recommendations for improvement. The SMEs need not host live coaching events. Rather, the Record strategy – which is one of the 4Rs of rapid eLearning can be used to help the instructional designers (IDs) when working on the course development.
3. Reusable Assets in the Existing Assets Library
Creating each eLearning course from scratch is not always feasible. In fact, it will only put an extra burden without any impact on quality. You must target to have some reusable assets for your eLearning courses. You can find the reusable eLearning assets in your online training repository or you can also get them from external sources. You can search for online guides, tip sheets, and videos from sources that are copyright free. Alternatively, you can also hire an eLearning content provider to develop high-quality learning assets that can be reused in different course content. Remember that these reusable assets must be high-quality and should not breach intellectual property rights.
4. Rapid Authoring Tools
Rapid authoring tools are very important for developing eLearning courses. They help you update your courses much faster and that too without the need for tech-savvy resources. They can help you do most of it with ease. For instance, you can make minor edits to your existing modules very easily and quickly. When you are equipped with a rapid eLearning authoring tool you can do these small or frequent updates on your own.
5. Customizable Templates
Customizable templates are time and energy-saving boons for rapid eLearning design. With customizable templates, you can create your courses within a very out any specialized knowledge of creating rapid eLearning courses. You can find many rapid eLearning authoring tools with customizable templates that are very easy to use. These customizable templates come with placeholders for your branding elements to completely transform a template as per your branding requirements. Even if you are hiring course designers, customizable templates will help in getting the job done faster and at a lower-costs.
6. Clear Evaluation Criteria
Evaluation criteria are another important element of a rapid eLearning design. Unless you have a clear evaluation criterion you cannot evaluate the performance of the learners and may also find it difficult to evaluate the effectiveness of your eLearning module. You must know whether your eLearning course is apt for the goal you need to achieve. In short, you need evaluation at every step of the eLearning course development and afterward. This won't be possible without having clear evaluation criteria.
7.Interactive Elements
Last but not the least, rapid eLearning design must be equipped with interactive elements. Without embedded interactive elements, no eLearning course can hold the attention of learners for a long thus defeating the entire effort of creating a learning course. When you want the learners to stay focused on the course content and learn from it, having interactive elements become a necessity. Each activity you put in your online training course must have interactive elements such as gamification, videos, scenario-based questions, etc, to keep the learners hooked and interested. This will not only improve the understanding of the learners but also enhance the completion and pass percentage.
Wrapping Up
Rapid eLearning has the word 'rapid' suggesting speeding up but this should not mean that the process should be rushed without paying attention to the quality. You must plan and prepare the eLearning course well without rushing to avoid any costly mistakes. The process of developing a rapid eLearning course is inherently effort and time efficient. So, it won't take much time to develop and publish an eLearning course. But, not giving enough thought to pre-planning can create a blunder.
And to avoid these mistakes and create impactful eLearning courses, it is important that you have a good understanding of what eLearning is, who the people involved in the process are and what are the different factors to be considered when designing an eLearning solution. Want to know all these and become an eLearning champion? This eBook can help you with it.