6 Dos and Don'ts of Rapid eLearning to Scale Your Corporate Training to New Heights
Want to scale your corporate training to new heights? Rapid eLearning is your answer! But how to do it right? Well, these dos and don'ts will guide you with the process.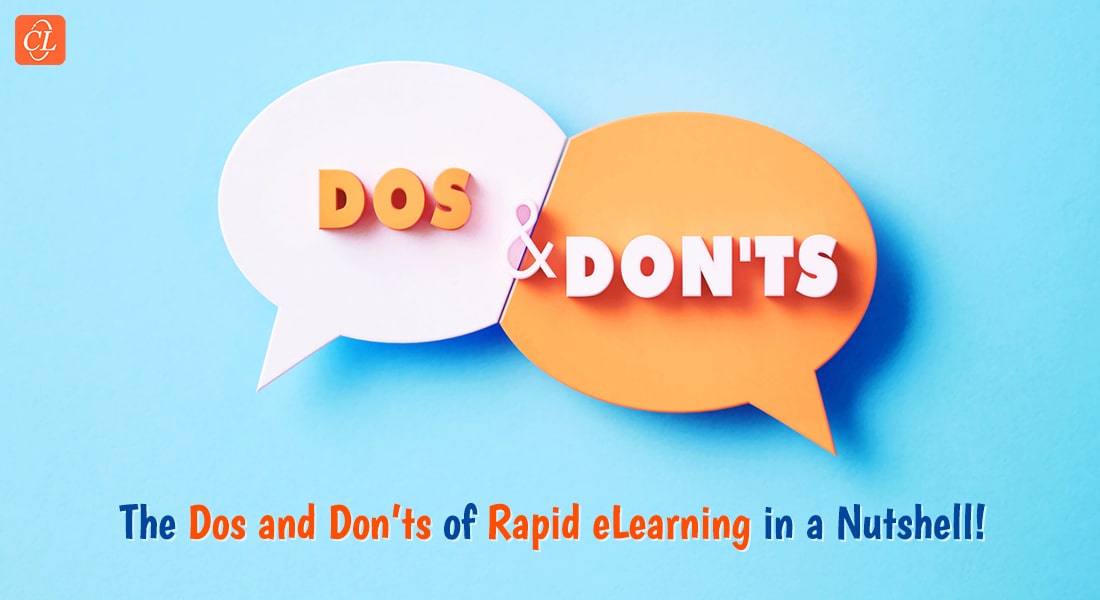 Rapid changes and advancements in processes, technologies, and customer behaviors have impacted corporate training. Companies today do not have the luxury time to devote months to developing training courses that need continuous improvement and development. Owing to this, it has become mandatory for businesses to adopt rapid eLearning development practices.
While the adoption is significantly high, most organizations miss getting it right. Most are under the impression that they need to dump their pre-available materials such as lectures, presentations, books, etc, to build a rapid eLearning course. While we have quoted just one assumption, there are many. So, to clear such misassumptions and help organizations do it right, we have listed certain dos and don'ts to keep in mind when developing or publishing a rapid e-learning module.
Want to Develop a Successful Rapid eLearning Solution?
Follow these Dos and Don'ts –
Do Make Your Course Interesting by Mixing up Multimedia
Do Understand Your Audience before Creating a Course
Do Show the Relevance of Your Course
Do Maintain the Professional Standard in Your Course
Don't Wait for the Perfect Time or Perfect Module
Don't Assume that the Learners Know Everything About eLearning
Dos of Rapid e-Learning
Understand Your Audience before Creating a Course
Knowing and understanding your audience are perhaps the most important things that need to be done before creating an online course. Unless you don't understand your audience, you won't be able to cater to their needs. If your target audience doesn't have ample time at their disposal for the course, you'll do a disservice by including a range of training materials in your course.
Gamification of the course content is considered a good way of making an online course interesting. However, planning it for courses used to train the top management on leadership skills, it might not be a good fit. The best way to figure out what works and what doesn't, is by going the trial-and-error method. On the other hand, you should also figure out the preference of your target audience. This helps in creating sustainable rapid eLearning courses for long-term success.
Make Your Course Interesting by Mixing up Multimedia
Want to make your corporate training more efficient and boost participation rates? Then your primary focus has to be on making your training more engaging and interesting! At the same time, you will also have to keep in mind that your employees may be having a lot of distractions as they take the training from remote locations on their mobile devices.
Keeping all this in mind, you will have to go the extra mile to keep them engaged in online training sessions. Make your eLearning courses interesting by spicing them up with presentations, audio, video clips, etc. You should also consider breaking long training sessions into mini modules to keep the learners' interest alive.
Show the Relevance of Your Course
When you want your employees to enroll and focus on your online training sessions, you need to make it relevant for them. Remember that adults are not like kids who try to study anything they are told to. Adults ask questions. And unless you give a reasonable answer, they won't show much interest in the course. And, your employees are adults. So, before presenting your course to your target audience you need to make sure that you show them the relevance of the course and how it helps them approach work with greater efficiency.
Maintain the Professional Standard in Your Course
Always remember that your rapid eLearning solution is for professionals! You will have to focus on maintaining the level of the course according to learners' expectations. Make sure that there are no grammatical or spelling errors in the course, and also check if the image quality and audio quality are good and appropriate for the proposed course. At the same time, you should also ensure branding throughout the course. Use your brand logos, colors, and even fonts to maintain uniformity for a visually appealing course that would captivate learners and drive engagement.
Don'ts of Rapid eLearning
Don't Wait for the Perfect Time or Perfect Module
Perfection is a myth. If you wait until you achieve perfection in all senses, you'll keep waiting forever. The market has now adopted the method of rapid eLearning because everything is going swiftly, and nobody has the time to wait. But this does not mean that you can dish out below-par material. You have to do all you can to make your course the best but don't use it as an excuse to wait until everything is perfect. These courses always have the scope for modification and updation, so launch your course and keep modifying it as per your need rather than waiting for the day when you can create the perfect solution.
Do Not Assume that the Learners Know Everything About eLearning
Instructions are important. Instructions are really important in any online course for guiding the learners to proceed forward. Your employees may be highly qualified professionals. But you should never assume that they know everything about the eLearning solution and that they can proceed with the course without instructions. The instructions or the narrative voice throughout the course is a way to build a relationship with your audience and no business should ever lose such an opportunity.
Final Words
Rapid eLearning is growing rapidly. You need to get on the bandwagon of 'the right way' to glide swiftly on the path of growth and success. The above-mentioned dos and don'ts are meant to guide you through the right path of creating and excelling in your eLearning course. You can use your creativity as there is no one way to do a certain task.
Now that you know the dos and don'ts, you may be interested to know the best practices for rapid eLearning rollout. And what better than this eBook. It discusses the 5 best practices for IDs to follow to design a successful rapid eLearning solution.