10 Best Practices for eLearning Design in 2022
The 10 best practices of eLearning design are all you need to get started. Organizations all over the world are adopting eLearning practices. You can benefit from eLearning with its easy accessibility, lack of restrictions on learners' locations and time zones, as well as elimination of classroom training logistics. Read on to know more.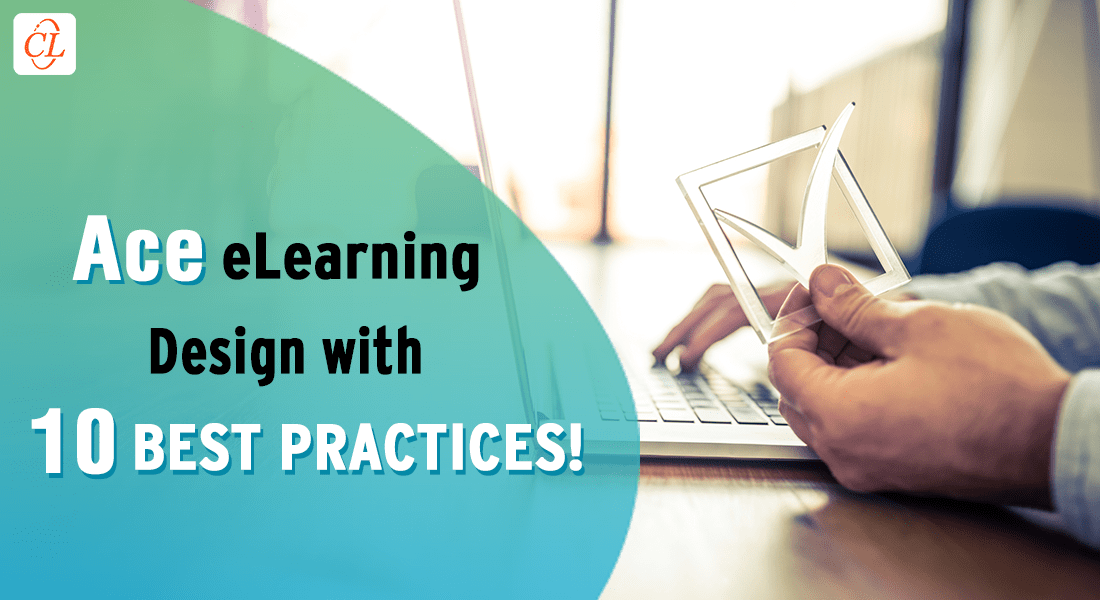 Are you transitioning from Classroom learning to eLearning?
Do you think that moving from classroom learning to eLearning is jarring and impractical? If so, then these 10 best practices of eLearning design are all you need to get started! Organizations all over the world are adopting eLearning practices. This is due to its numerous benefits which include easy accessibility, the lack of restrictions on learners' locations or time zones, the ability to learn and train at a convenient pace, and the elimination of classroom training logistics.
10 Best Practices of eLearning Design
Set Performance-based Learning Objectives
Follow an Agile Project Management Process
Leverage Instructional Design Strategy
Include Interactivities
Use Audio Formats Judiciously
Read on to explore all the best practices of eLearning Design….
What is eLearning?
eLearning is digital training that includes course design, development, delivery, rollout, and evaluation. eLearning is more than just adding audio to PowerPoint presentations or recording live sessions and uploading them on the LMS (Learning Management System).
Well-designed eLearning courses:
Enable the active participation of learners – even if there's no instructor present.
Can be remodelled for different groups of learners and used in blended learning.
Ensure simple translations and provide uniform and consistent training.
Reduce the amount of paperwork associated with training and evaluation.
10 Best Practices of eLearning Design
1. Set Performance-based Learning Objectives
You need to analyse the data on how well or poorly your learners are performing as well as insights into what needs to be done to close these performance gaps. This will allow you to develop performance-based learning objectives that communicate the importance of your training both to you as well as to your learners.
Ensure that your learning objectives cascade from your organization's goals.
Confirm that your content and assessments are aligned with your learning objectives.
2. Follow an Agile Project Management Process
Your stakeholders must be involved in the development of your online courses. Since the client is involved at every stage of the development process, there are fewer changes made and the course can be swiftly delivered in its final form. SAM (Successive Approximation Model) is an agile development model created by Michael Allen. Each of its 3 phases involves an iterative process with constant communication between the design team and the stakeholders. The 3 phases are:
The Preparation Phase,
The Iterative Design Phase, and
The Iterative Development Phase.
3. Leverage Instructional Design Strategy
Instructional design strategies breathe life into eLearning courses, turning learners into active participants. As a training manager, you need the right information and strategies to make informed decisions. Training courses that are based on instructional design and adult learning principles will fulfil the desired objectives.
Select the best strategy based on the topic and the learners' demographics. Here are a few strategies you can choose from:
A. Storytelling
Compelling narratives for learners to connect with the content.
Intriguing anecdotes, scenarios, case studies, and personal encounters.
B. Simulations
Risk-free learning through scenarios that mimic real life.
Learning by making mistakes.
C. Learning through Exploration and Discovery (LEAD)
Discovery and assimilation of knowledge by interacting with the learning environment.
Acclimatize to a specific place or product
D. Scenarios
Before implementing scenarios, you need to ensure that learning objectives cascade from your organization's goals. You also need to verify that content and assessments are aligned with your learning objectives. Scenarios
Are situations mirroring actual job-related problems.
Enable learners to make decisions in a risk-free environment.
4. Include Interactivities
Think: Include icebreaker questions such as, 'Did you know?' and 'Can you recall?'
Do: Create click to reveal animations, drag & drop activities, interactive videos, and assessments.
Apply: Utilize scenarios and simulations.
5. Use Audio Formats Judiciously
Audio does not need to be solely associated with narration. Most of us overlook the fact that music and sounds can be used to assist online learning. As a result, an eLearning course's audio component can be defined as a collection of narration, music, and sound bites that are employed to improve the course's effectiveness. The use of narration, music, and sounds will also improve the learners' engagement.
Ensure that the audio component is not a repetition of the text onscreen but instead provides a summary of each slide.
Create an audio script with a fast forward button to enhance control.
Use a professional voiceover that is not robotic to enable the learner to connect with the content.
6. Include Formative and Summative Assessments
There are two sorts of assessments used in eLearning courses: formative and summative. After completing each module, formative assessments are given. A summative assessment, on the other hand, is given at the end of the course. After each question is answered, formative assessments provide feedback. A formative assessment's objective is to support learning. Summative assessments, on the other hand, are used to evaluate the learner. A summative assessment resembles a final exam in that no feedback is given and results are presented at the end of the course.
A. Formative Assessments are
Given after every module/learning objective
Diagnostic, offer immediate feedback
Designed in several ways such as drag and drop interactivities, scenarios, and game-based questions
B. Summative Assessments are
Provided after completing the course
Created to assess achievement of learning objectives
Multiple choice or single select questions
7. Work with the Right Authoring Tool
The authoring tool you use is determined by what you want from a course and how you anticipate your learners to utilise it. You don't want to spend money on an authoring tool only to find out that it lacks the capabilities you need to design your courses with. Simultaneously, you don't want to waste money on an authoring tool that has capabilities you don't require or will never use. The right authoring tool gives you the following benefits.
It speeds up course development
It lowers costs
It supports translation of content
It creates courses that are multi-device compatible
8. Plan for Translation Right from the Start
Translating your eLearning courses is one way to provide training practically and consistently to your geographically scattered and multilingual users. eLearning translations are the process of converting an eLearning course from its original, master language to the "target" language.
If you develop courses in just one language, you risk alienating a large section of your audience. Learners must understand and implement what they have learned at work. Therefore, eLearning translations are critical to the success of your global business' online learning platform. You can design the master course in a learner-centric manner by
Ensuring at least 30% white space is present to accommodate translated text
Using internationally accepted formats for units of measurement, dates, and currency
Avoiding the use of slang, idioms, colloquialism, and culture-specific humour
Avoiding embedded text/labels on images
9. Standardize Before Scaling Up
It is preferable that you standardize your eLearning courses. You need to establish an asset library and stockpile resources for future use. There are 4 primary components that can assist you in accomplishing this.
Create and follow a style guide
Use templates and checklists
Utilize one preferred authoring tool
Partner with an experienced eLearning vendor
10. Check for Compatibility with Technical Standards
Technical standards determine how eLearning courses interact with the LMS.
SCORM compatible courses function on most LMSs as well as transfer content between multiple LMSs whenever needed.
Tin Can (xAPI) can receive, store, and share information on Learning Record Stores (LRS) across different learning environments.
It's a Wrap!
It's important to remember that eLearning isn't a one-time solution. To reap its benefits, you need to work with an experienced vendor for accurate implementation. Rapid eLearning allows you to achieve scale and quality while also staying focused. There's a lot you can do to maximise training ROI as you progress through your eLearning journey! Read this eBook to find out what is trending in the eLearning corporate space in 2022!